The markets are closed on Monday. What are you going to do? Hopefully, you are taking the day off. Whether it is "A Wonderful Life," "A Christmas Carol," or "How the Grinch Stole Christmas," a popular theme of the season is finding time to reflect about your life and making sure that you take time off from the demanding world of trading to spend time relaxing and celebrating with family and friends.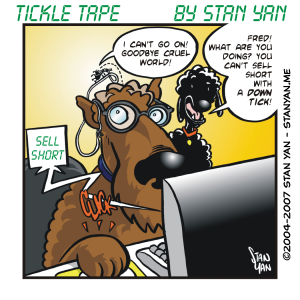 Each Christmas parable reminds us to appreciate the true meaning of our lives; we should decide what we find personally meaningful. On the surface, many people outside of the trading business would say that trading is merely about accumulating wealth, themes addressed in "A Wonderful Life" and "A Christmas Carol." The irony is, however, if you focus only on the money, you won't last very long in the trading business. Seasoned traders don't merely focus on the money.
They make sure that they enjoy the inherent rewards of trading, such as working for themselves, and more importantly, feeling a sense of accomplishment when they master the intellectual challenges of the markets. At this time of year, it is useful to remember these themes. It's not about money. It's about using the money to do whatever it is that you find meaningful, whether it is providing for your family or giving to charity. In addition, you have a skill that few people do, and you should celebrate the fact that you can use your skills to master the markets. So don't be like Scrooge on Monday. Take the day off and have a good time.
At this time of year, it's vital to reflect on your life. Make sure that your life is multi-faceted, rather than focused solely on trading. Make sure that you have fun in areas outside of trading. Enjoy spending time in fulfilling relationships, and enjoy life to the fullest. Don't be all business and single-mindedly in pursuit of profits. If you do, you may lose sight of what is truly important to you, and end up like Scrooge or the Grinch, bitter but not sure why.
So regardless of whether you have had a profitable year or not, reward yourself by taking a nice, well-deserved break. That's why the markets are closed on Monday, right? One of the reasons you're trading is to enrich your life. It's important to remember that. It's important to celebrate what life has to offer. If you are not enjoying your life to the fullest, it will gnaw at you. In the back of your mind, you'll think, "Why am I spending my life trading?" Use this time to remember why you trade. Use this time to remind yourself about what really matters to you. And more importantly, rest up. Take a well-deserved break. You deserve it.