The Indigo Paints IPO is expected to launch this month. The company is going to raise Rs 300 crores by issuing fresh shares. In addition to the fresh issue,
Sequoia Capital
and Hemant Jalan (promoter) will be selling up to 58,40,000 shares from their shareholdings. The Promoter group currently holds 94.26% of the overall share capital. This may reduce to about 75% after the IPO in line with SEBI's minimum public shareholding requirements.
What does Indigo Paints do?
Indigo Paints is a decorative paint manufacturer. Its peers are companies such as Asian Paints, Berger, Kansai Nerolac, and Akzo Nobel. The size of the decorative paints industry in 2019 was Rs 40,300 crores and as per research by Frost & Sullivan, Indigo Paints had about 2% market share: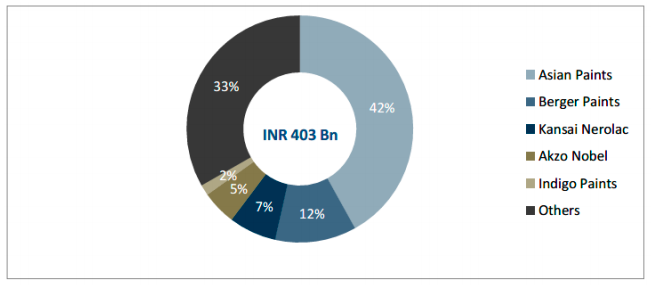 How much money does Indigo Paints make?
The earning per share figures of the company are listed below:
| Fiscal Year ended | Basic EPS (in ₹) | Diluted EPS (in ₹) |
| --- | --- | --- |
| March 31, 2018 | 2.88 | 2.82 |
| March 31, 2019 | 5.98 | 5.90 |
| March 31, 2020 | 10.61 | 10.49 |
| For six months ended September 30, 2020 (not annualised) | 6.03 | 5.97 |
How do I apply for the Indigo Paints IPO?
You can apply for the Indigo Paints IPO using any
supported UPI app
 by following two steps:
Enter your bid on Console
Accept UPI mandate on your phone
On acceptance of the mandate, the bid amount will get blocked in your bank account. 
Click here
to learn more. Visit
this TradingQ&A thread
to discuss the Indigo Paints IPO.