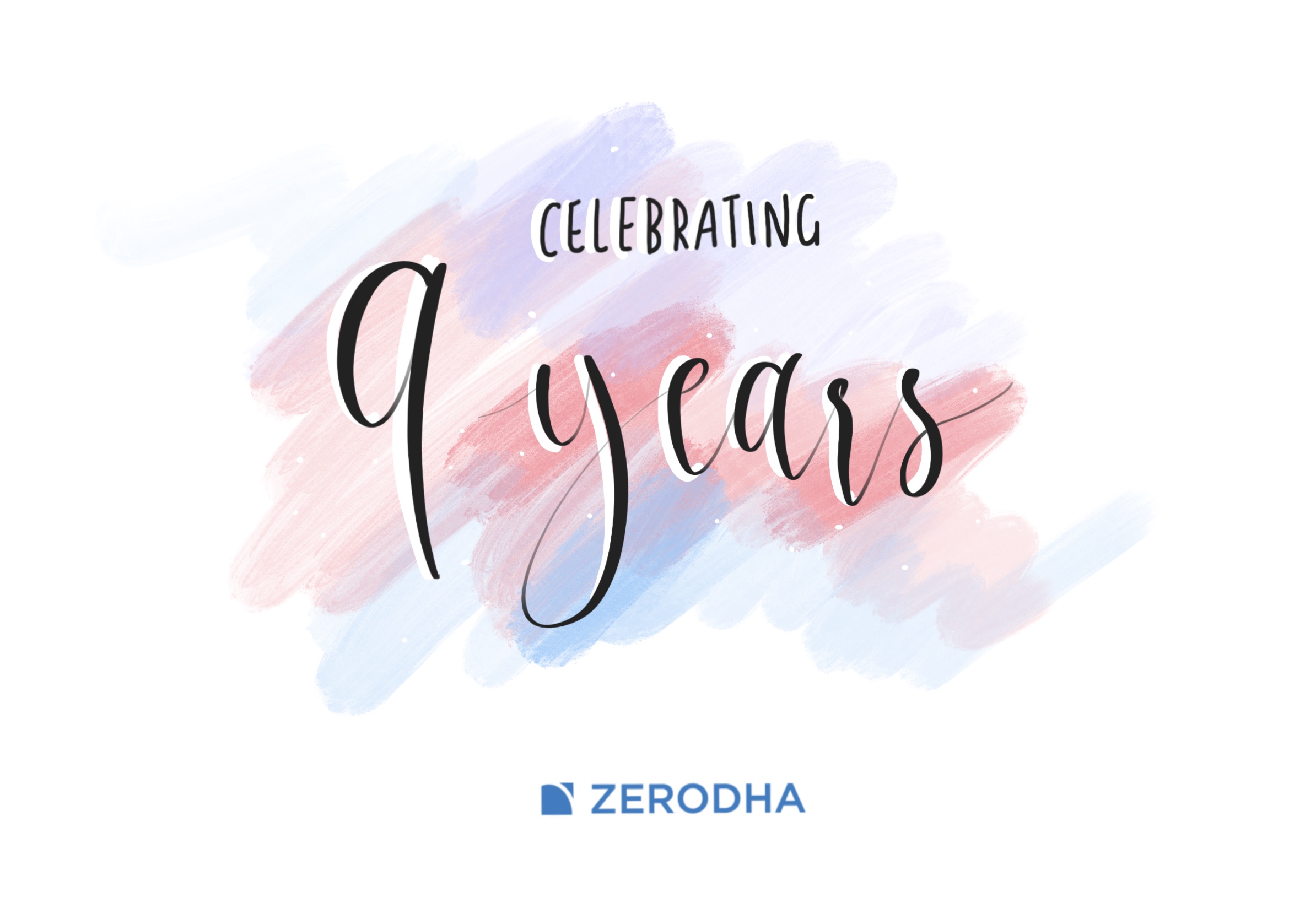 Aug 15th, 2019 is 9 years since we started Zerodha. All of us have had the best time of our lives, building a brokerage firm that we wanted as traders. We are now:
India's largest retail brokerage with over 1 million active clients
Maybe the largest retail brokerage in the world in terms of the number of trades, processing over 2 million trades a day. Also one of the fastest in the world with sub-50ms order execution speeds.
The largest direct mutual fund platform in India in Coin – over Rs 7500 crores transacted.
Among the top 20 investing related websites in the world and our open education initiative Varsity among the top 3 in the world on capital market education.
The craziest metric of all is that we now have 1.6 million customers and over 15% of the retail trading turnover on the Indian exchanges without spending any money on advertising!
All this has only been possible because of you. 🙂 Many thanks from the entire team at Zerodha. We will continue to work hard to bring you the best platforms, features, tools, utilities, educational initiatives, and more.
Some highlights from our 9th year:
While we continue to work towards offering everything under the sun that a trader or investor needs, we understand that many of you primarily need help in taking the right trading decisions. This is what we are focusing on solving going forward.
On stop-losses: I'd also like to use this opportunity to share one of the most fundamental rules of trading — make sure to not lose more than 1% of your trading capital on a single trade, even if your account size is small. For this to happen, you might end up being forced to take a really small trade which might seem immaterial. For example, if you have Rs 1lk, a single trade of maybe Rs 5k with a stop-loss of Rs 1k (1% of 1lk). But by doing this and making peace with your loss, you will place yourself in a much better situation to make the right trading decisions. Most people who lose money do because of unwise choices made in a panic, as the money on the trade is something they can't afford to lose. For all of you actively investing, make sure to use GTT to place a stop-loss whenever you buy a stock. As you gain experience and start making money, then gradually increase this 1% number.
Thanks again for all the love. I look forward to your continued support.
Happy Independence Day,