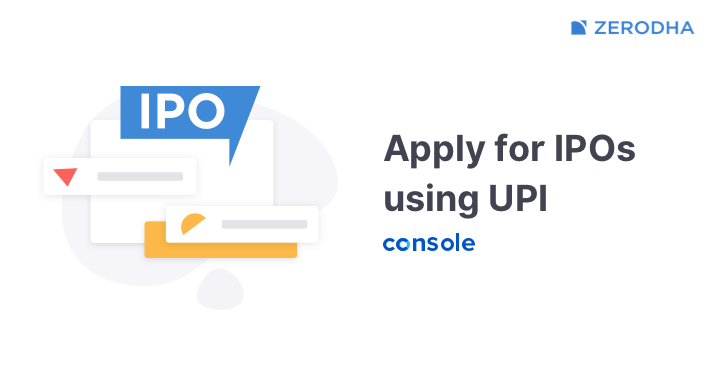 You can now apply for new IPOs (Initial Public Offerings) from within Console. Until now, we asked customers to apply for IPOs using the ASBA (Application Supported by Blocked Amount) from their respective bank's netbanking portal or by visiting a bank and submitting a physical application with your Zerodha demat account number.
SEBI has now made it mandatory for all IPOs to be supported by UPI 2.0. This means that we can now support IPO applications on our own. This is a much simpler, online process. All you need to do is enter the bid price, quantity and your UPI ID.
How to apply
You can use any UPI 2.0 enabled app (listed here) to apply for an IPO through Zerodha. Install one of the supported UPI apps and follow the below steps to apply for an IPO through Zerodha.
Login to Console and select 'IPO' in the 'Portfolio' menu.
Select the IPO you want to apply for from the list of open issues.
Once you select an IPO to apply for, you'll see all the details of the offer, like open date, close date, issue size, lot size, and (D)RHP. 
Enter your UPI ID and click on 'verify'. Make sure this is the UPI ID mapped to your personal bank account. The IPO application is liable to get rejected if the person who is applying is different from the one whose bank account is used to apply.
Place your bid(s). Select the investor type for your application. While placing the bids, only quantity that is a multiple of the lot size is allowed. If you wish to apply at the cut-off price, simply click on the checkbox next to 'Cutoff-price'. If you want to place a bid at a different price, you can do so by entering a price in the 'Price' field.
Once you've completed all these steps, click on the checkbox to confirm that you have read the issue size, lot size, and DRHP and click on submit.
Once you click on submit, you'll receive a mandate request on your UPI app. It may take a few hours for you to receive this mandate in some cases since this system is still in the initial stages of operation. Accept the mandate and you're done. This will block the funds required for the application in your bank account until the date of allotment (2 days before the listing date). If you receive an allotment, the money is debited from your bank account and shares are credited to your demat account.
At the end of the day after submitting the IPO bid, you will receive an SMS from the exchange confirming your application. Meanwhile, to check the status of your order you can select the IPO you have applied for and you'll be able to see the last updated bids in your application.
If you don't receive an allotment, the blocked funds are released on the date of allotment.
Happy Investing,