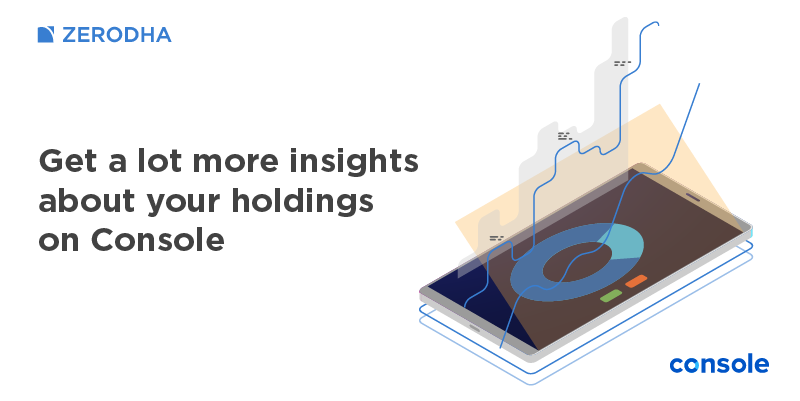 Our tech team has been working on Console – our reporting tool for the last two years, and it has been a grind covering for all the edge cases. It is probably the only platform that includes P&L and the average price even for stocks transferred in from another demat, all types of corporate actions, tax P&L with turnover reports, and many more. We are now working on adding visualisations and features that can give better insights on your investments and trading behaviour, and help in your goal of earning profits.
Over the next few weeks, we will put out posts explaining everything you can do on Console, starting with Holdings.
Holdings sectoral visualisation
Track your overall portfolio by distribution across sectors, know if it is skewed too much towards any one industry and hence carry much higher risk. Also, check by the profitability of sectors. Drill down to see the percentage weightage of stocks within a sector and its contribution to P&L of that sector.
Ageing of stocks
Gains made on stocks held for more than 365 days are Long term capital gain (LTCG), and those under are Short term (STCG). There is no tax for up to Rs 1lk of LTCG per financial year and at 10% above that. STCG is taxed at a flat rate of 15%. It is wise to know before selling a stock if gains would be LTCG or STCG, you could potentially save on taxes just by holding off selling for a few days. Our breakdown of stocks/ageing report shows trades with price and number of days held to let you know if any sell transaction would lead to LTCG/STCG. Note that FIFO (First in First out) methodology has to be used while calculating capital gain if you have multiple trades breakdown for a holding.
Track dividends on stock holdings
This data is available from April 2018 and also shows up in the EQ dividends breakdown section (other credits and debits for pledged holdings) on the P&L statement. With dividend information, you can track your net P&L and even reconcile with your bank account on if you have received the dividend or not.
Entering discrepant values
If a stock is transferred in, Console wouldn't have the buy price for it which is required for all the above reports. We are probably the only platform that allows you to enter not just the buy price but also create a breakdown of multiple trades for the shares transferred in. This can be done, as shown below.
If you haven't transferred stocks from other demat accounts worried about not being able to enter the buy price and track P&L, we have that covered now. 🙂 Stay updated on Z-Connect on all our announcements, and do help spread the word.
Happy Trading,