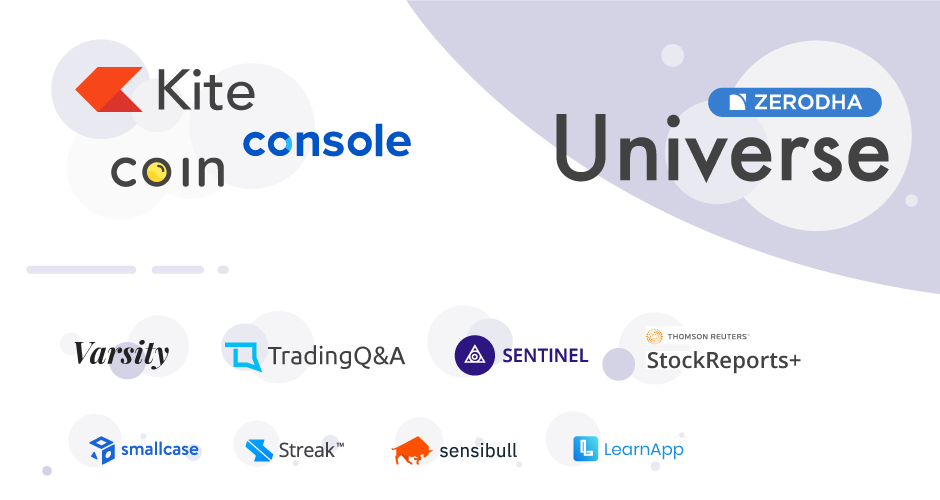 Traders,
Thanks to our Tech team and all partner startups who have leveraged our brokerage as a service model, we have been able to build many products over the last few years. Hopefully, you are enjoying using them as much as we are building it for you.
With so many products, one of our biggest challenges has been to make the right products visible to the right users. We've also received a lot of requests for free trials of these products so users can evaluate if it's something they would want to use.  We are using this Diwali as an opportunity to introduce you to the entire family. We will also be running special discounts & offers on all products so you can try them out. 🙂
Visit https://zerodha.com/investments to check out all the instruments you can trade at Zerodha and all products that will help you with the same.
Here are the offers we will be running on premium products:
Sensibull
Sensibull is India's first options trading platform, offering everything from simplified options trading for new investors to powerful trading tools for the pros. It allows you to build and trade strategies, track real-time P&L and Greeks, spot trading opportunities with IVs, IV percentiles, Events, Volume Breakouts, OI Buildups, PCR and a whole lot more.
Signup here to enjoy one month of free access to all features of Sensibull.
smallcase
smallcase is a thematic investing platform that helps you invest in intelligently-weighted low-cost portfolios of up to 20 stocks. Each smallcase is designed to help you capitalize on a theme or trend.
This Diwali, you can invest in All Weather Investing & Smart Beta smallcases for no fees for lifetime. Also, invest in any 1 thematic/model-based/sectoral smallcases for zero fees. To see what offers you are eligible for on smallcase, log in now.
No fees charged for screener Pro users paying via Zerodha funds in November, also all new users can take a 30-day free trial anytime this month.
Streak
Streak is an algo trading platform that helps you create, backtest, and deploy algos live in the market without coding. With Streak's intuitive strategy builder, you can create algos, backtest them to measure their performance, and deploy then live in the market in just a few minutes.
Streak is offering 20 backtests and 2 algo deployments per day up to 30th November for free. Do try it out.
LearnApp
LearnApp makes high-quality financial education taught by industry veterans and leaders accessible to everyone. The meticulously constructed courses on all things finance are taught by some of the biggest names in the industry such as S Naren (CIO, ICICI Prudential AMC), Archit Gupta (Founder, Cleartax), Gautam Magoo (Former partner, Sequoia Capital) among others.
Register here for a 3-day trial access to LearnApp. Get one Month extra access if you subscribe after the trial and 3 months extra if you subscribe to the 12 month plan.
Do keep tracking https://zerodha.com/products, we will keep it updated with all new product launches.