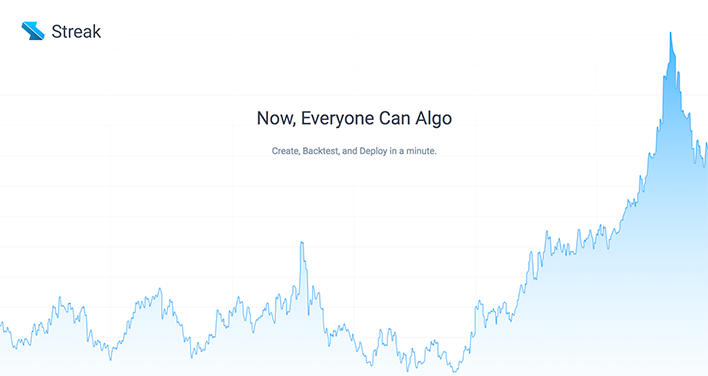 Traders,
Streak is a startup that we have partnered as part of Rainmatter in our quest to broaden retail participation in the Indian capital markets.
Over the years, we have offered various tools to help our clients trade systematically – Kite Connect, Pi bridge, NEST-AMI bridge, etc.  Systematic trading brings in the discipline required to trade profitably. Even though Kite Connect has become extremely popular, since most retail traders have no programming knowledge, they have not been able to leverage it to their advantage.
I am excited about Streak and how it can hopefully be that change retail traders needed in their quest to stay profitable.
Find below a post by the team at Streak introducing to the first version of their platform. Do note that the platform will evolve and will incorporate a lot more technical indicators, and fundamental data over time. We have opened up a section on Tradingqna for you to discuss strategies and algos.
Streak simplifies algo trading
Technology has evolved drastically over the last decade and so have the stock markets. Algo trading in NSE has taken mainstage with over 40% of cash market orders being executed by algos as of Dec 2017.
On the other hand, we traders spend our market hours glued to trading screens, tracking multiple stocks and monitoring market movements, tediously trying to find trading signals. It's practically impossible to make smart, timely trading decisions without human error, especially when emotions get in the way.
We need a platform which tracks the market for us based on backtested strategies and alerts us when the right signals are generated, giving us an algo trading edge.
Streak gives you a platform to algo trade, without coding.
With Streak, you can algo in 3 simple steps:
Create

Backtest

Deploy
Create Algos in a minute
Using Streak's intuitive interface, creating an algo is as simple as typing out technical indicators, keying in stop loss and target profit percentage and selecting the stocks you want to trade with.
Backtest to measure performance
Streak has a powerful backtesting engine that generates performance metrics for multiple stocks in a click. The backtest results include maximum gains, maximum loss, avg gain per winning trade, avg loss per losing trade, maximum drawdown and much more. These metrics give you a comprehensive idea of your algo's performance.
Why is backtesting required?
Backtest essentially means testing a trading strategy on relevant historical data before you risk any actual capital. It is important to analyze the levels of profitability and risk before taking any trade in order to gain insight into the effectiveness of a trading idea.
Deploy live in market
Once you deploy an algo on Streak, you no longer have to track the stock manually.
Streak bots track the stock movements for trade signals and send one click actionable alerts to take action when the strategy conditions are met.
Get started
You can log into Streak with your Kite credentials and get started. The platform is free until 31st March 2018 for up to 25 backtests and 5 live algos a day. 
Streak is an extension to Kite – Zerodha's exchange approved trading platform (accessible at https://www.streak.tech) . Alerts by the algo are essentially triggered as buy and sell order forms which you need to confirm. All such orders are placed through Zerodha and will show up on the Kite order book and positions as well. Today, you need to have your browser open to receive alerts, but very soon you will start getting these on emails/push notification on Kite. 
Go ahead and try it out – https://www.streak.tech/. Let us know what you think by writing to [email protected] or give your feedback here.
Now, everyone can algo.
Team Streak.