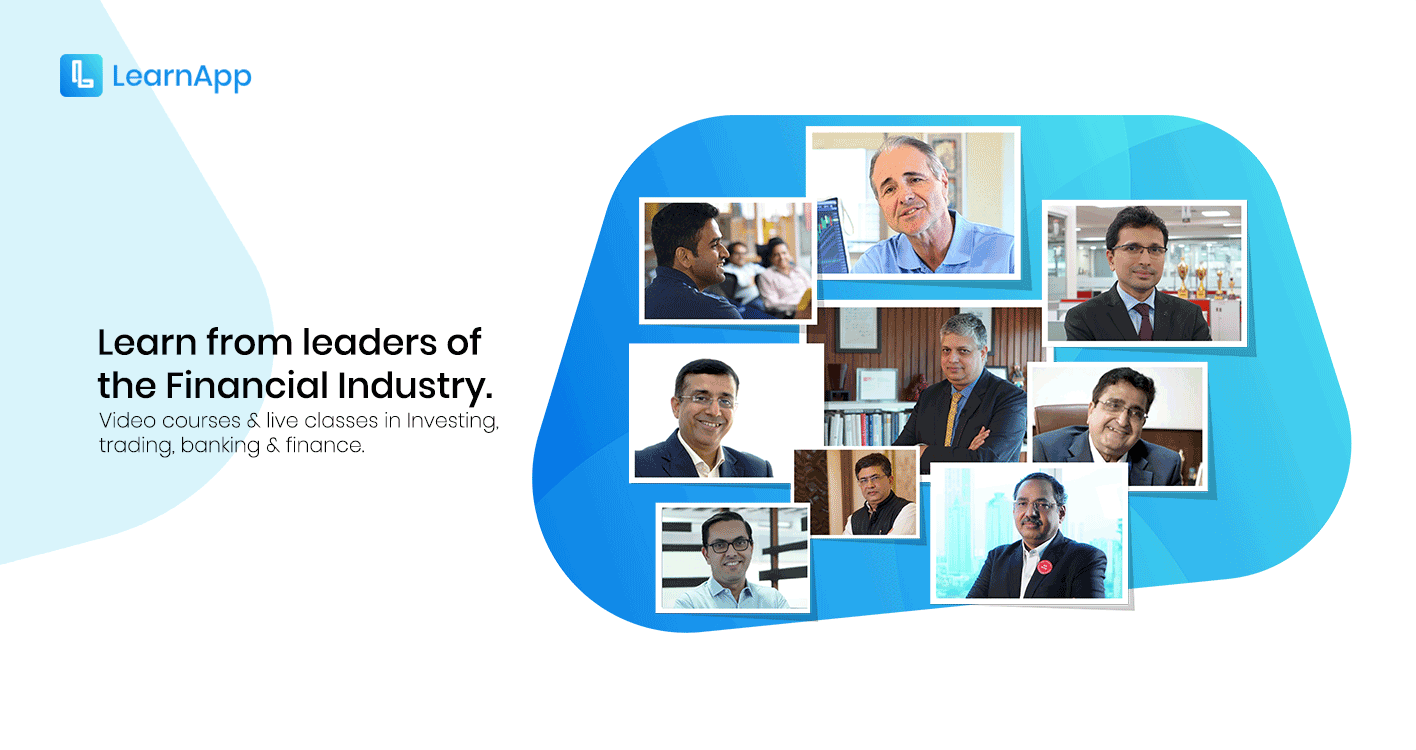 Investors & Traders,
Through Varsity, TradingQ&A, and Z-Connect we have continuously tried to share as much knowledge as possible. After 8 years as Zerodha and interacting with lakhs of investors and traders, there is still a lot to be done to empower/upskill people through education.
To make information about trading, investment, and finance easier, accessible, and industry-driven, we have partnered LearnApp as part of our Rainmatter initiative in our quest to broaden financial literacy. Prateek Singh is the founder and CEO of LearnApp.com and the co-founders are Swati Sharma, Ankush Oberoi and Sohail Alam who have all been friends for about a decade now. Below is the post by Prateek introducing the platform.
Find below a post by Prateek introducing the platform.
---
What if you could learn from the Chief investment officer of ICICI, Aditya Birla or IDFC? What if traders could learn from hedge fund managers managing hundreds of millions of dollars? With LearnApp, you now can.
Movie like video courses on Investing and trading
Strategies taught by Industry leaders
Assessment quiz after lessons
Live interactive classes by practitioners
Enrol @Rs. 375 per month (charged yearly) or Rs. 500 per month (Charged 3 monthly) to access all courses and live classes.
To learn more or visit learnapp.co.
What is LearnApp?
There exists a skill gap between our college education and the real world. LearnApp fills this gap. Industry leaders teach real-world skills that we cannot learn in any institution.
LearnApp is our attempt at building world-class video courses and live classes at an affordable price.
The Course Lineup
Here are some useful courses that could get you started, there are 14 courses to explore:
Investing
S. Naren teaches value investing
Naren shares what strategies worked and what did not in his career in fund management. He teaches value investing with a framework you can use. One huge pro of this course is that you get a ready framework to apply to your investments. One con is that value investing is a slow process, you need to have patience.
Mahesh Patil teaches how to decode economic indicators
When I first started trading I would try to find stocks that would react to oil, inflation or GDP numbers. Back then It was a bit difficult since I didn't understand the implications of the economic data. This course not only explains each indicator but also its impact on sectors. One huge pro of this course is that you can pinpoint sectors that will react to the upcoming news. One con is that you will have to find the stocks yourself that lead a sector.
Trading
Tom Basso teaches trend trading
The first Book I first read as a budding trader was Market Wizards by Jack Schwager. Tom Basso was one of them, I am proud to say that he has built an amazing course on trend trading. A huge pro for this course is that they teach in Indian stocks as well. It is expected in September that he will take a live class as well, get ready!
G Bharadwaj teaches scalping
In and out within 60 seconds. That takes some skill! G. Bharadwaj shows stock selection, entry/exit criteria and risk management. One pro of this course is seeing a unique trading style, after all, Bharadwaj has won the 60-day Challenge 10 times in a row. One con of this course is that the stock selection criteria could be taught in more detail, to mitigate this Bharadwaj is taking two live classes.
Quiz Assessment
Learning happens only when there is a feedback loop. Once you learn, you must revise. To do this we have an interactive quiz with a timer. Soon we'll release an update where you will experience quiz with charts/graphs and analytics on your learning progress.
Live Classes
Live classes offer a platform to interact with mentors realtime. A live chat two-way communication with the mentor on voice stream. These classes are intermediate to advanced and must be attended after you take the relevant video courses.
LearnApp will conduct over 24 live online classes in Hindi/English on Trading & Investing in August. The mentors try their best to read the live chat and answer your questions on the spot. The lineup for August can be found here.
Pricing
Enrol to access all courses and all live classes. Nothing is charged after you enrol.
Rs. 375 per month for 12-month enrollees. (Rs. 4500 +GST)
Rs. 500 per month for 3-month enrollees. (Rs. 1500+GST)
Upcoming features
Hindi Dubbing
All courses being dubbed in Hindi by artists working with National Geographic and discovery.
New series
Apart from working on new trading and investing courses, we will release a series on Entrepreneurship too. The best in the country are participating.
IIM Professors
In our quest to create the best content possible we are filming additional video courses with IIM professors.
Get started, visit LearnApp.co
Happy learning!