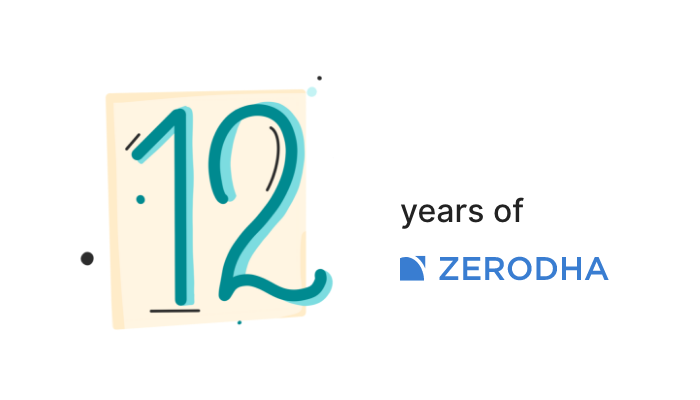 Hindi: इस पोस्ट को हिंदी में पढ़ने के लिए यहाँ क्लिक करें।

Happy Independence Day,
We just turned 12 years old on August 15th. Thanks to your support and the market action, we have grown spectacularly over the last two years, from twenty lakh customers to over one crore customers without ever spending on marketing or advertising. Not spending on user acquisition is probably why Zerodha is a resilient and sustainable business. Thank you once again. 
I want to use this opportunity to answer some common queries and concerns. I will also update you on the developments in terms of our products and services. 
Broking industry update
While the last two years have been phenomenal, we are seeing a plateau in trading activity and a 40% drop in new user addition since the market topped earlier this year. This isn't just with the Indian broking industry, but globally. We are unlikely to have the same activity as last year, unless we maybe hit all-time highs and are in another bull market. 
The regulatory reforms in the industry are now at full throttle. While almost all of the changes are for the good of the industry and participants in the long run, they can disrupt brokerage businesses in the short term. Not just changes affecting revenue models, but drastic operational changes. Inability to quickly adapt to regulatory changes is probably the biggest risk for the brokerage industry, apart from the risk of markets going lower. As Zerodha, we are confident of our position to handle such regulatory changes.
Having interacted with brokerage firms from across the globe, I do not doubt that our capital markets, thanks to SEBI, are by far the best regulated and the safest for retail investors in terms of intermediary risk. 
Account safety
Since we don't charge any brokerage for equity delivery trades, usually, the question I get asked is if the business is profitable and sustainable. This is an important question to ask when dealing with any platform that you trust with your savings and investments. 
When we started in 2010, we first started building the business for very active traders who pay us Rs 20 per executed order. Only in 2015 did we reduce our equity delivery charges to Rs 0 to attract investors. Today, we have not only the largest group of active retail investors in India, but also active traders. Traders who pay fees and, in turn, help keep investments for free. While many of our newer competitors started with free investments, they have now started charging for it. We intend to keep it free unless regulatory changes reduce the active trading activity. 
We have been extremely frugal in how we operate. This, combined with not spending on marketing and advertising, has meant that we are now amongst the most profitable new-age businesses in India. We have over thirteen years of runway. That is, we have sufficient capital to continue running our business for 13 years, even if our revenue went to zero. Our networth as a percentage of total customer funds is now more than 25%, which must be amongst the highest globally. We have been a zero-debt business from the start. Everyone on our team also hold significant stock options and is invested in the business doing well, which can only happen if you as a customer are happy with us. 
The new SEBI regulations have also significantly reduced the risk in the ecosystem, from capping all leverages to ensuring the broker has more skin in the game as the business grows. Some of these regulations are also why I think our markets were less volatile, and the stock prices fell lesser than the larger developed markets between March and June this year, the first time I have seen such behaviour. 
There has been some noise about the account compromises at Zerodha. I want to reiterate what I recently shared on social media. 
Out of the ~65 lakh customers who traded with us last year, we had about 100 complaints of fraud. In around 80 cases, the customer willingly shared login details with the fraudster, and in another 20, the email was hacked, and these were all Rediffmail IDs. As a percentage of such cases or even normal complaints to overall active customers, we are amongst the lowest in the broking industry. 

So this isn't just about us; regardless of the broker, you need to be careful not to share your login details & use a secure email. Since all email hacking cases happened to be Rediffmail accounts, it must have been some vulnerability that's being exploited. We blocked Rediff IDs on trading accounts a while ago and have constantly been notifying users to switch to a different email service provider. We also now don't send password reset emails to Rediff email IDs. 

We will soon launch a tool that will disallow trades in illiquid options far away from theoretical price + a Kill Switch option to block orders in all penny stocks similar to F&O. These will also address the root causes of most hacking attempts.
We are already transitioning all our customers to 2FA using TOTP by Sep 30th 2022, as mandated by the exchanges. This was optional until now. This will further improve the safety of your account. 
Our improving support
By far, the weakest link in the business historically was our support. It deteriorated when the business scaled up quickly. We made a bunch of large changes over the last 18 months, and I am happy to let you know that the average wait time on calls is less than 2 minutes and our average first response on most tickets is within 1-2 hours. Thanks for using our support portal before deciding to call or raise tickets; this has also helped reduce response times. Our customer ratings have also significantly improved over the last 12 months. 
I understand that averages can be deceptive and hide calls or tickets that had to wait much longer than the average or where our response wasn't up to the mark. We are working on it. Our quality team tracks almost every low-rated call or ticket and sees how we can improve, and it also brings in more accountability to everyone on the team responding to you. So make sure to rate interactions when you are unhappy with the quality of the response. It will help us get better. 
Don't do unto others what you don't want done unto you
This has been the foundation on which we have built the business from the start, not just in our product but in every aspect of the business. You can read this post by K or Kailash, our CTO, to know more about how we actively disengage. We don't do any data mining and find ways to trigger you to transact in the markets. When trading and investing, we understand that doing less or nothing is the right thing to do. This is also why we haven't ever sent emails or push notifications nudging you to trade. 
We only reach out digitally to customers when there is a product or business update. We did have a sales team who would call back customers who signed up but didn't finish onboarding, but we stopped that process and moved the entire team to support. We didn't want to call and disturb customers or prospects who have not asked us to reach out to them. Interestingly, it didn't make any difference to the customer onboarding rates.
Investing in the future through Rainmatter Foundation
I was reading this excerpt from Rohini Nilekani's new book.
Today in many societies around the world, there has been rapidly escalating economic inequality, with the staggering rise in the wealth of the top 1%, ironically even during the pandemic. This has invited a rethink on the role and responsibility of wealth. I believe no Samaaj can tolerate the rise of such wealth for too long, unless such wealth creation is seen and believed to be acting in the public or national interest.
Almost the entire core team at Zerodha can't agree more on this topic. We believe that wherever there is a concentration of wealth, the onus has to be to give back or, as our team asks me to say, "Invest in the future". We set up the Rainmatter foundation with the same objective two years back with a commitment of Rs 750 crores. We have partnered with amazing organisations over the last two years, invested over Rs 250 crores, gained experience, and are now confident to do more. As Zerodha, we have no plans to get into any business that is capital intensive. As long as we can remain profitable and capital isn't required to grow like in the past, we will continue to allocate the majority of our profits to invest in the future. 
Business and product updates
We spent most of our time last year on significant improvements to various backend technologies. While you might not have seen as many changes in the user experience, these changes are why we probably were amongst the best in terms of uptime of trading platforms not just in India but globally over the last 12 months. Our priority is to keep improving on this metric. A lot of time over the last year was also spent ensuring there's no business disruption due to the regulatory changes, which was a big challenge at our scale. 
Here are some important updates from the last year:
We thank you again for your love and support over the years.