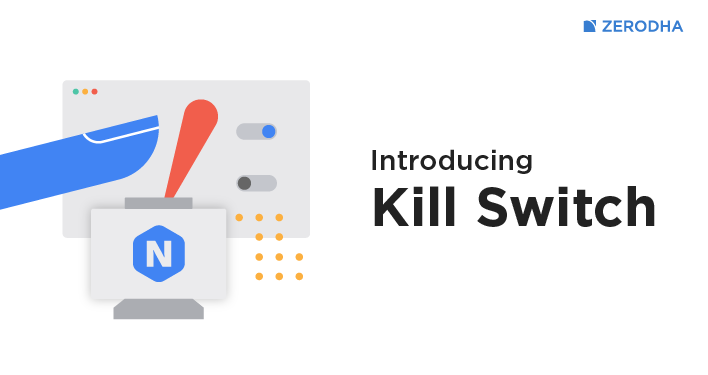 Over-trading is the biggest destroyer of capital when actively trading the markets. The trading frequency is usually inversely proportional to profitability for most traders. This means that when in a drawdown or making losses, the average number of trades are significantly higher than when making profits. Good traders typically either reduce their trading size significantly or take a break from trading when in a drawdown. This is maybe the only way to survive trading the markets in the long run. Being aggressive or trading more when losing rarely ever works out well.
With Nudge, we have been slowly incorporating warnings and nudges into Kite, alerts that help clients better the odds of winning when trading. We have just added Kill Switch as a new Nudge. If you're making losses, this new feature helps with your trading discipline and risk management by allowing you to instantly disable trading in one or more segments on Kite, forcing you to take a break from trading. Once a segment is disabled, you can only re-enable it after 12 hours.
To use the Kill Switch and deactivate trading, visit Console -> Accounts -> Segments.
Kill Switch also doubles up as a utility for those looking to temporarily deactivate the trading account or specific segments for any reason. Do note that you will have to exit all open positions and cancel all open orders before disabling a segment.
We are now working on setting up Kill Switch to automatically trigger based on a predefined loss or drawdown level set by you. We are also working on allowing you to define the maximum order and position sizes for every instrument as a percentage of your overall trading capital. This is to help you avoid taking large positions due to anxiety induced by greed or fear when trading.
Like we have always said, what differentiates profitable traders from those who aren't isn't a specific trading strategy but risk management. Taking a break from trading or reducing trading size significantly when you are in a drawdown is an important risk management rule.
I have two basic rules about winning in trading as well as in life: 1. If you don't bet, you can't win. 2. If you lose all your chips, you can't bet. – Larry Hite
Happy Trading,