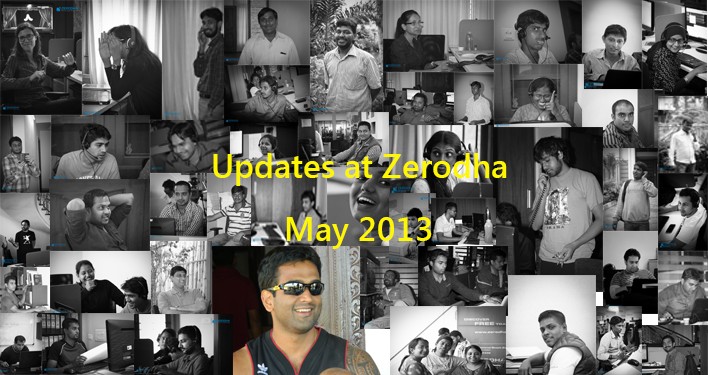 Hi Traders,
Hope that your trading has been going good. I would like to share with you some important updates that have taken place at Zerodha in the last few days:
New Password Policy: After getting approvals from the Exchange, you will now be required to change your trading passwords once in 90 days unlike before when you had to change it once in 15 days. One password less to remember now 🙂 .
Zpin: Your Zerodha PIN (Zpin) is your personal identification for placing orders when you call our Call & Trade Desk.  You will all be sent an SMS of your Zpin. This initiative is to improve privacy and security of your Trading Account at Zerodha. If you've forgotten your Zpin, we will have it resent to your registered mobile number, on request. This process will go live on May 22, 2013.
Margins reduced for trading futures on NSE: With NSE launching the "T+0" same day settlement scheme and Zerodha opting for it, your margin requirement for trading futures on NSE will come down by 20% effective May 20, 2013.For e.g.: If the margin required to carry forward one lot of Nifty was            Rs.30,000, it has now been reduced to Rs.25,000/lot. The new SPAN margin files are available for download on your backoffice. If you don't know how to check the SPAN margin file, check out this blog.
We are launching "i3 – Execution based Algorithms" for our high volume trading clients. To know more on i3, click here.
We are on the verge of announcing a tie-up with a few International Trading Firms and Hedge Funds, who would be using the Zerodha 60- Day Challenge as a screener to hire potential full time professional traders. If you can display trading skills and are looking at working at such firms, we will help you connect with them through our new initiative "Zerodha Podium". If you haven't started the 60 day challenge yet, click here to know more, get started and trade smart.
A gentle reminder to all our clients who have opened a Trading Account more than a year ago to send us their financial details which is mandatory as per SEBI guidelines.
Are you a technical analyst trading with Zerodha? Have you started using algoZ yet? If not, click here to know more.
These updates are in line with our plans of providing you with the best tools and services for your trading needs and look forward for your continued support.
If you have friends and family who trade the markets or are looking at trading the markets in the future, you can refer them using our Associate Program Module.
Happy Trading.