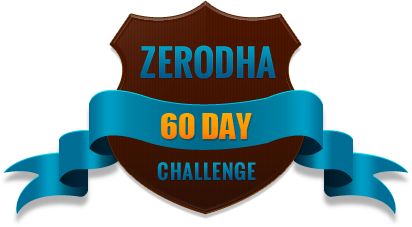 W.e.f. 25th April 2018, winning the 60-day challenge will not entail brokerage refunds. Digital winner certificates will continue to be issued.
Traders,
We've been running the Zerodha 60-Day Challenge successfully for the last few years now.  We were the first and still the only brokerage in India to run such a challenge to recognize and reward the hardworking trading community. The idea of the challenge is to keep you more focused on winning rather than just trading, and at the same time bring the fun back into it. This year the challenge is getting bigger and better! Not only are we going to reverse brokerage for winners of the challenge, we will also give them opportunities at becoming star traders on OpenTrade.
What is the challenge?
The challenge is to trade profitably over 60 trading days. You can login to your Backoffice and you will see 3 challenges: Equity, Commodity and Currency. By Equity we mean, Equity and F&O. Once you click start, over the next 60 trading days if you are net profitable, you are declared as a winner. By "net profitable" we mean profits after paying all brokerage, taxes and other charges.
How to Start the challenge?
If you wish to start the challenge using the new back office, visit our new reporting tool Q at http://q.zerodha.com and follow the steps mentioned in the image below :
Starting the 60 Day Challenge from the New Back Office (Q)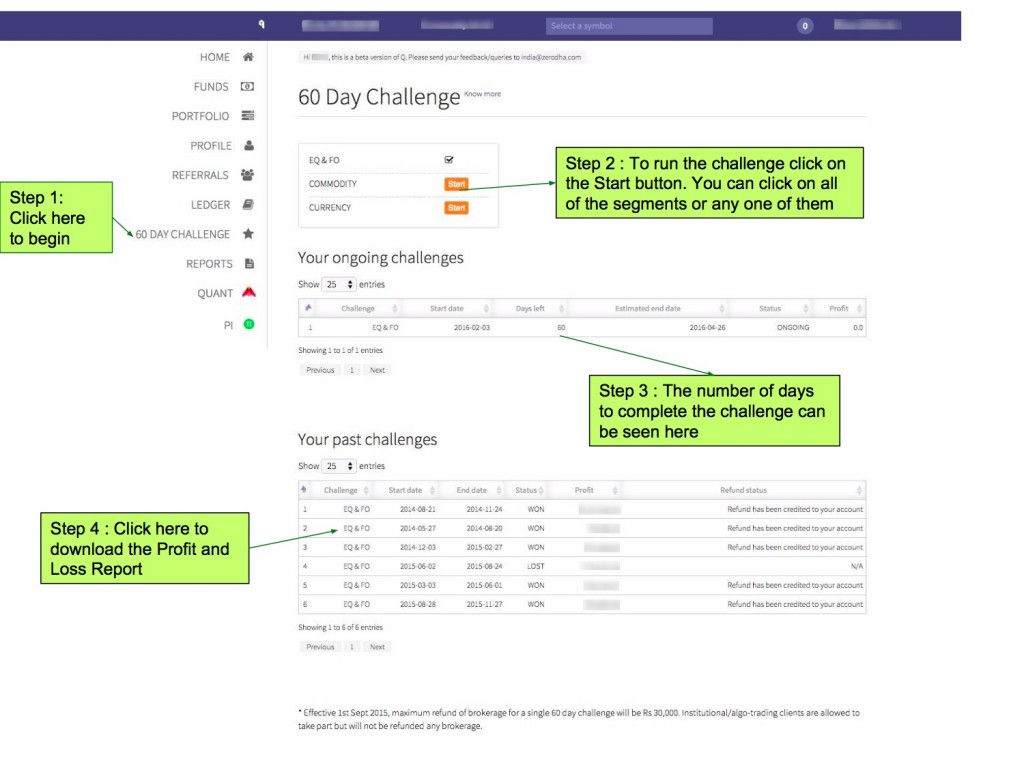 Invoking the Profit and Loss report from Q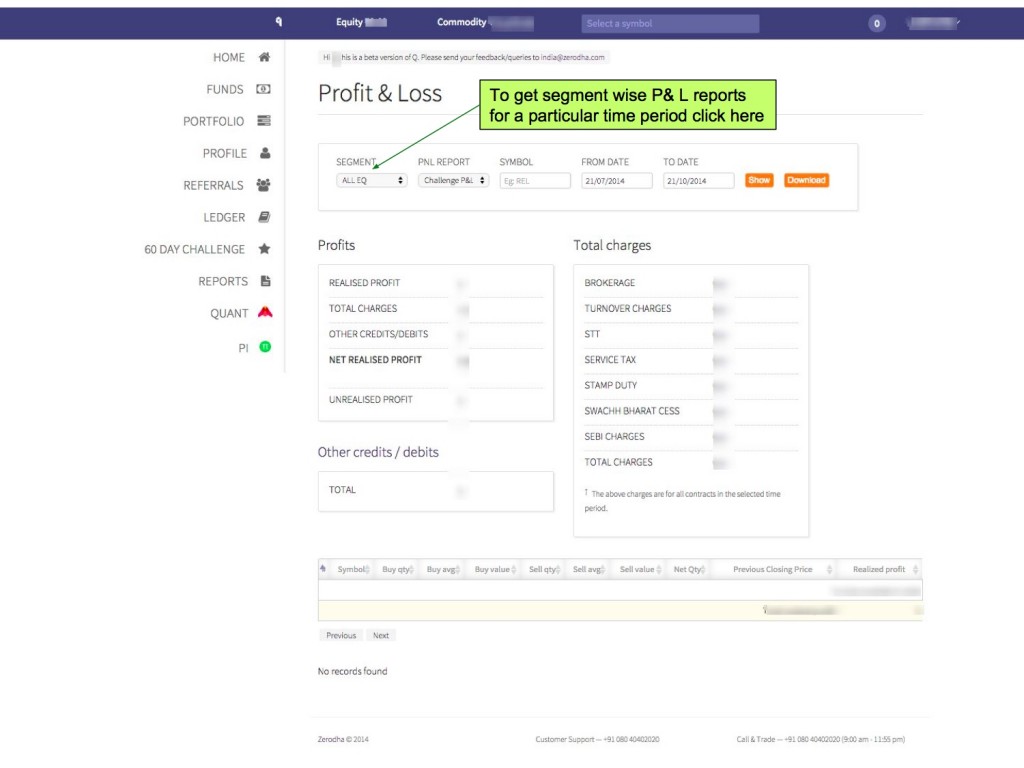 Click here for a brief on Q if you haven't already figured out everything about Q and Quant.
How are Trading Days considered?
When you click on start, that day will be considered as your first day, it doesn't matter what time of the day you click start, morning or night. If the day you click start is a holiday, the next working day will be considered as your first trading day.
Do note that by 60 trading days, we mean days on which the markets are open for trading. So 1 week will have 5 equity trading days, 5 commodity trading days and 5 currency trading days. If there is a market or segment holiday in between, that day won't be counted as a trading day.
What do you get as a Winner?
Each and every winner of the 60 – Day Challenge gets a mention on our Winner's page with his photo and also a badge saying how many times the challenge has been won. Go ahead and show off to your friends and family by sharing your winner's page on social media.
All winners will be emailed a certificate from Zerodha acknowledging your success in the 60-Day Challenge. You can print this and put it up on your wall as a memorabilia. Additionally, if you authorise us, we would share a brief profile of yours on our website which gets lakhs of unique visitors every month and on our Facebook page which has over 50000 likes.
As a consistent winner, you would also get an unbelievable chance to get featured as a Star Trader on
OpenTrade
, India's first and only social trading app which allows you to publish your trades real-time and garner followers. If you have a good track record as a trader, you could have many followers who will pay to view your market action.
Last but not the least, you can claim your brokerage reversal for the 60-day challenge period by logging into https://q.zerodha.com as shown in the image below.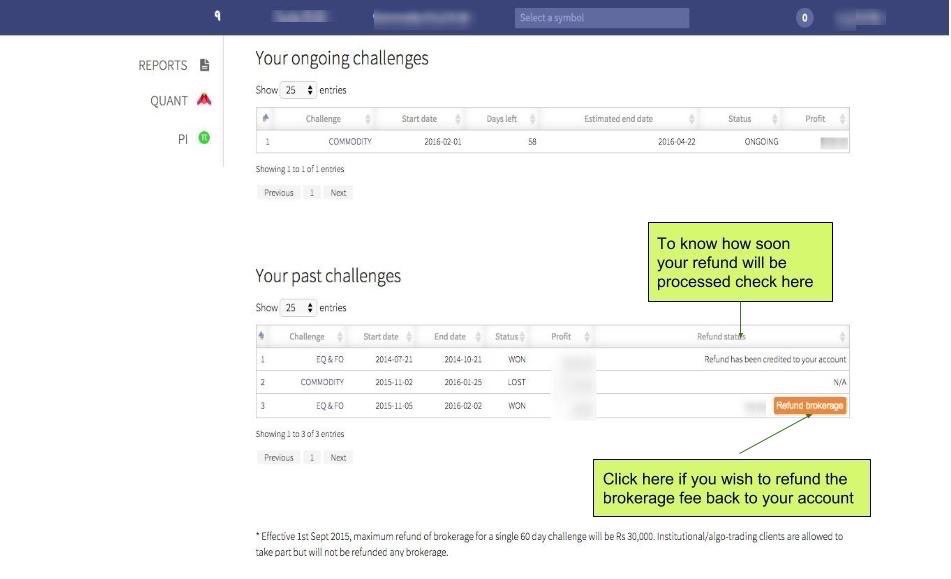 We have capped the maximum brokerage reversal at Rs. 6000/- for winners.
Note:
To be considered as a winner, you need to have been actively trading during the challenge. Cases where clients have stopped trading completely after making a small profit won't be considered.
Brokerage refund is applicable only for individuals. Non-individual/algo-trading clients are allowed to take part but will not be refunded.
How does it workout for Zerodha?
Our business revolves around word-of-mouth advertising and keeping you profitable is a key to it. As we have seen in our earlier challenges, the profitability of contestants during the challenge shoots up considerably, and a profitable you would probably mean that you will refer more people to the business.
Finally, today if you want to set up a cricket team, you can visit 20 cricket grounds, spot the talent and you can set up a pretty decent team. But what if someone wants to set up a trading team? Trading, similar to sports and arts, requires the person to have an inborn talent and is very tough to spot as everyone is trading on their own online. For all of you talented traders who wish to be professional traders, we see a business model being a scout, connecting you to the world of prop shops and hedge funds who are continuously looking for traders with skills.
Check out the discussion threads for Equity, Commodity and Currency under the section "Zerodha 60-Day Challenge" for all of you to share your views on the market, trading ideas, strategies and any others which can benefit our trading community.
I hope that you like this program and I wish you all the best!
Happy Trading