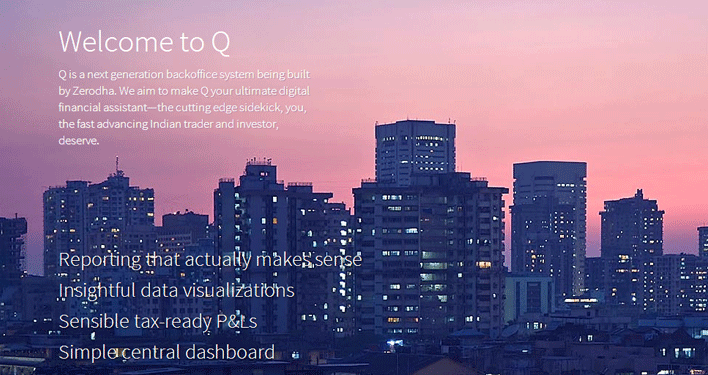 Traders,
"Q" is our new reporting/backoffice tool built to be your next generation – trading journal and financial assistant. Some features on the first release other than the fact that it works on all browsers 🙂 are
Summary of your account shown using a donut chart
Funds page to place/track withdrawal requests
Portfolio to track your average buying price and current unrealized profits of holdings, pledged holdings, and open positions
You can even enter buying price of stocks which were transferred to your Zerodha demat account from your other demat accounts to help track your portfolio better and in generating capital gain reports for filing your tax returns.
Check your historical open positions and also download all reports if required to an excel.
Refer friends, track leads and withdraw sharing using the wallet
60 day challenge – Start, Win, Claim your brokerage refund & winner certificate
Tradebook with heatmap to better visualize your trading activity
P&L Statements: A
bsolute & Indicative statements. Q is the only reporting tool in India to provide both reports
Complete tax ready P&L with calculation of turnover and breakdown of capital gain. Moreover, easily downloadable Excel report for you to send across to the CA. 
If you have tax related queries,

 please visit our popular post "Taxation Simplified" or visit "Trading Q&A".

This is just a start to "Q". Soon, we will be adding advanced analytics and reporting that will help improve your odds of winning by analyzing your past trading behavior. If there are any reports that you need specifically, do feel free to either request it here or ask us over e-mail. 

Click here to login and get started.

Happy Trading,