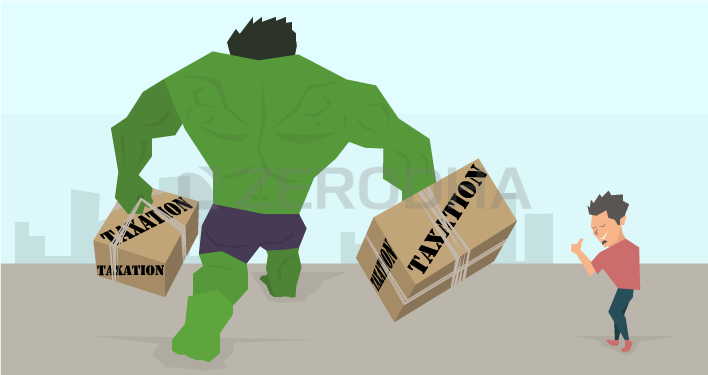 "Check out our detailed module on taxation while trading/investing on varsity."
Note: This article might contain information that will not comply with the current tax laws. Please read the Taxation module on Varsity for updated information
Traders,
Taxation is an often neglected aspect especially more for people who trade/invest on the capital markets. With the income tax department getting access to your trading data from the exchanges and with automated computerized notices that are being sent out, it becomes imperative that you are compliant, file your returns on time, and correctly.
Over half a million notices under section 139 (9) were sent out by the Income Tax Department last year, and the number is only set to increase. Filing your returns and declaring your income becomes so much more important when you are trading. To make your job easier, efficient, and correct, we at Zerodha have introduced unique reports and initiatives over the last 1 year. This post will give you a brief on each of them, and how we aide you with your taxation burden while you trade.
All your taxation queries answered
Firstly, it is important that you understand exactly how taxation works while trading in India. Did you know that all F&O trading should be declared as a business income using ITR4, any loss incurred while trading F&O (including expenses) can be put to use by carrying forward for 8 years and set off against any other business gain of yours? An audit from a CA is mandatory if your turnover is over 1 crore or if your profit is less than 8% of your turnover. This and a lot more explained  in colloquial language with over 1500 Q&A in the following blog posts.
Tax P&L statements on Q
Tax compliant, ready to use P&L statements for various exchanges and segments are available on Q with separate reports for speculative (intraday trading) and capital gains (short term/long term investing).
Turnover Statements
When using ITR4 to file your returns (which you have to if you trade actively or if you are trading on F&O), an audit is required either if your turnover is over Rs 1 crore or if your profit is less than 8% of your turnover.  Turnover, unlike what you might be thinking, is not contract turnover but gross sum of settlement profits or losses either scripwise or tradewise. You could use either of the methods to calculate turnover, tradewise is probably a more compliant way as per this guidance note on Section 44AD (Section 5.12, Page 23). Remember that any query that you may have on this is already answered here.
Not getting an audit done is one of the reasons many people have received notices under section 139 (9). Check this post to know more.
This is how your tradewise turnover will look after you download (scripwise turnover is made available along with the Tax P&L). As you can see, turnover is not contract turnover but absolute sum of all profits and losses. Also as per the guidance note, the conservative approach will be to consider the sell value (in case of options) also into turnover. Remember again, the only reason of looking at a turnover statement is to determine if you need an audit or not. If you are trading actively, my advise would be to get an audit done in any case.
Day Counter for short/long term holdings
You must be aware that as an investor in India any stock held for more than 1 year or 365 days from when you bought is exempt from any tax on the gain (also called long term capital gain), and short term capital gains (STCG) made by selling stocks held between 1 day to 365 days are taxed at 15% on the gain.
If you have bought the same stock multiple times, the IT department says that what is bought first has to be delivered first (FIFO or First in First out), if you sell to determine if it was LTCG or STCG. Now it is quite tough to keep track manually of how many days since you have bought a stock, and you could very easily end up paying 15% of the gain as taxes by selling a few days before 365 days since buying.
A few months back, we had this client who sold  ITC with a profit of Rs 20 lakhs, 360 days from when he had bought. If he had just held on and sold it after 5 days, he would have saved paying STCG of 15% or saved a whopping Rs 3 lakhs. This incident gave us the idea to build this feature onto the holdings report. 
Now, you don't need to worry of manually keeping a count of how many days have elapsed since you bought any of your stocks. We have given you a day counter on the holdings page of Q. We have even brought in the feature to show days (and date) since buying separately, if you have bought the same stock multiple times.
Day counter
A green arrow signifying holdings more than 365 days, selling which won't attract any taxes.
If you have bought the same holdings in multiple trades, the split up showing the same.
Tax Loss Harvesting
A report which will help you plan IT returns efficiently when trading equity delivery based is also available on Q. It is the act of booking any notional loss to reduce tax impact on any short term gain that you might have had in the year. We have given you a report of any tax loss harvesting opportunity in your account on Q. Read all about tax loss harvesting here.
Open Option Position
*added on 8th June 2015
An additional report that we have included in the excel download of the Tax P&L is an easy way to calculate the value of your open options positions as on start and end of the financial year.
Check the example below:
The starting ledger balance on April 1st 2014 for this client is around Rs 6.94 lks. But he had open option positions as on closing 31st March 2014, long option premium of Rs 13272 and short option premium of Rs 2430. To get the actual ledger balance you need to add the long option premium and debit the short option premium as on close of 31st March 2014. This is already done on the report to show the actual starting ledger balance for this client which is Rs 7.05lks. Similarly, the closing ledger balance is also calculated based on the value of the open option positions as on close of of 31st March 2015.
This report is extremely useful to tally your ledger with the P&L statement while filing your returns.
All the above reports/initiatives should make your life easier around the taxation season, and help you stay compliant.
Happy Trading,