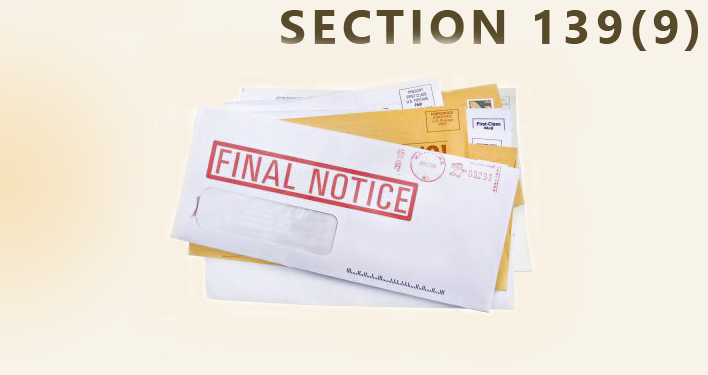 Traders,
Firstly it is important to understand the difference between Assessment Year(AY) and Financial Year(FY). If someone is saying that he has just filed his returns for AY 2012-13, this means it is for income in the financial year 2011-12(Apr 1st 2011 to March 31st 2012). So technically AY 2012-13 and FY 2011-12 are the same.
Notice under Section 139(9)
A lot of us traders would have probably received notices from the IT department in the last few months or might receive in the future under section 139(9). These notices have been a cause of concern of many and this post is to discuss on a possible reason for you receiving this notice.
I'd also suggest you to read our blog " Taxation Simplified" where we have discussed on best practices to follow in terms of taxation when trading the markets.
As discussed on the above blog, everyone trading the markets actively (as a business) have to use the ITR4 forms to file their returns. Any trading in futures and options active or passive is considered as a business and hence you have to use ITR4 compulsorily. When filing the ITR4 traders are required to have an audit by a CA only if the turnover exceeded Rs 1 crore. (Turnover of 1 crore while trading would mean settlement profits + settlement losses and not the contract turnover).
To give an example if you bought 1 lot of 50 Nifty futures at 6000 and sold at 6100, your settlement profit is Rs 5000 (50 x 100) and this is the turnover. Only if all such profits and losses during the year add upto 1 crore would a trader have his books audited by a CA.
This was what a trader would have followed, but over the last few months since a lot of us received notices, we tried to dig into the possible reason behind this. These notices would be under Section 139 (9) which is for defective returns.
We have realized that most of these notices are due to an amendment of Section 44AD. Until AY 2011-12, only the civil construction business was included in this section, but from AY 11-12 all business including the business of trading was brought under this section. What 44AD says is that if in case the turnover is lesser than Rs 1 crore and the profits are lesser than 8% of the turnover, an audit by a CA is mandatory and this now is applicable to the business of trading stock/currency/commodity markets. What this would mean is that  if your profit is less than 8% of  turnover for the year, even if your turnover is less than 1Crore (however small) you will need your books audited by a CA. So if you made a loss while trading, since it is less than 8% of your turnover, you will need to get an audit done by a CA.
*In case your turnover is less than 1crore and profits more than 8% of turnover, you will not be required to get your books audited by a CA.
In the business of trading stock/commodity/currency markets, the relation of turnover and profits are not similar to traditional businesses and including this under section 44AD will cause inconvenience to retail traders as almost everyone irrespective of the turnover would then have to maintain a book of accounts and have it audited by a CA. This would mean added costs in terms of fees paid and time spent with your CA for people trading the markets.
But note that if your total income for the year (trading + Salary+ any other income) is less than Rs 2.5lks (the minimum tax slab), this would mean that there is no tax you have to pay, and hence no need of an audit.
What does maintaining books mean? What does get your books audited by a CA mean?
It could be as simple as keeping an Excel sheet:
1. Accounting for all funds moving in and out (bank account statement as proof) of your trading account; call this as a "Bank Book".
2. Profit and Loss statement (P&L report from Zerodha will give you settlement turnover and profits/losses with contract notes as proof; you don't need to print the contract note)
3. DP statements as proof for any stock bought/sold or transferred from another account.
4. If you claim any expenditure like salary, rent, internet bill, conveyance, depreciation of computer or any other expense for your business of trading, keep copies of all such bills.
Books Audited by a CA:
Take all these details above and meet a CA, he will verify, sign it and apply your ITR4 online. Make sure you tell him to download the latest ITR4 forms from the income tax website as this could also be a reason for rejection.
Since the process is completely online now, the IT department I guess has been able to spot these deficiencies because of section 44AD in ITR4 and the notices have been auto-generated and sent out to those with a profit less than 8% of the turnover and whose books haven't been audited by a CA.
If you have received a notice, I'd suggest you to consult your CA and look at rectifying the defects mentioned in the notice within 15 days of receiving or ask for an extension of time to remove the defect(s) and file again. If you haven't and you are trading futures & options on stock/commodity/currency markets make sure to follow section 44AD in future and have your books audited by a CA irrespective of your turnover to avoid such notices.
Zerodha and TaxIQ have already sent a petition to the income tax department telling them about the inconvenience traders would face because of the amendment of this rule, hopefully good sense prevails.
Happy Trading,