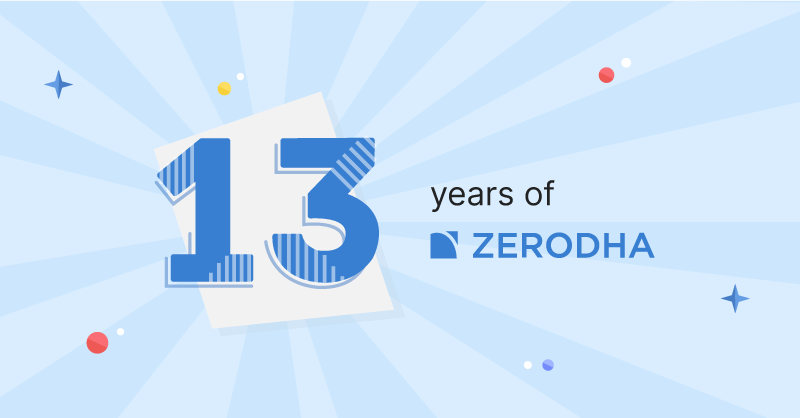 We turned 13 on August 15th, another year where my predictions were wrong. As someone once said, the good thing about being a pessimist is that you are either right or pleasantly surprised, and FY22/23 was the latter. There is maybe an investing lesson in this as well; markets are random, and even subject matter experts may be unable to predict market directions. 😀
One area we slacked off over the last few years was our video content, as we continued to focus on everything we shared in the text on Varsity, TradingQnA, and ZConnect. While we have already started with educational content on the Varsity YouTube channel, we are now focusing on discussing current affairs and relevant industry updates that can potentially affect traders and investors on the Zerodha YouTube channel. We are also about to launch a new YouTube channel called "Zing!" by Zerodha, with educational content that is a bit more informal and fun, aimed at helping those who trade and invest in the markets. 
In the same spirit, on our 13th anniversary, a few of us from the core team got together for this discussion, answering questions posted on social media. Here is the link to the video that might help you know some of the folks behind Zerodha better and how we think about the business. 
From left to right: Nithin, Karthik, Kailash, Venu, and Nikhil.
Business updates
New account openings had dropped off a cliff along with the market drop. They are now bouncing back again in sync with markets at all-time highs. 
Why not make account openings free to increase the user count? 
We continue to be the only broker in the country to charge an account opening fee (Rs 200). There are a few reasons behind our thinking. 
There is an actual cost (KYC, documentation, eSign, human verification, etc.) that is incurred while opening an account. If there was no account opening fee to recover the cost, the business could implicitly be pressured to get a customer to transact to recover that cost. This isn't good for the customer or the business in the long run if a customer transacts due to a push from the broker, which causes the customer to lose money. Any attempt to explicitly recover this cost could also mean compromising on the many core principles at Zerodha, like the no-spam policy, no revenue targets for the team, and more. This is also why we don't spend on advertising. 

Trading the markets is a serious business with serious risks involved. Collecting an account opening fee right at the start also, in a way, helps set this expectation with a potential customer, filtering out users who may not be serious about trading or investing with us.
NSE considers someone who has traded at least once in the last 12 months as active. 
Financials
There's still phenomenal interest in the markets, especially in futures and options. This has been the primary reason for the increase in revenue and profitability over the last three years. We continued to see phenomenal growth even in FY 22/23. That said, the business has plateaued in terms of revenue and profitability this financial year until now. As I mentioned in the last update, of our revenues, ~25% are pass-through exchange transaction charges, which we collect from customers and pass on to the exchanges. Technically, this isn't our revenue; if we excluded it, our margins (PBT/revenue) would be ~70%. 
While the trading activity in F&O has increased significantly, the total number of people trading F&O is still not that large. ~45 lakh Indians (unique) traded once a year last year in F&O. To set this in context, we have twelve crore demat accounts (non-unique) in India, and NSE active client data indicates ~3 crore Indians who traded once a year (unique) on the exchange. So approximately 3% of everyone with a Demat account and ~15% who traded the market traded in F&O last year. However, this subset of users would have contributed to the majority of revenues for all brokerage firms and even the exchanges. 
Our net worth (our own capital), which comes up to ~30% of customer funds, in addition to the zero debt that we have as a business, would make us one of the safest brokerage firms to deal with in India and maybe even globally. 
While F&O contributes to revenue, we are most proud of the customer trust we have built, which shows in the total assets that customers have entrusted us with, which stands at approximately Rs 3 lakh crores today. This should put us ahead of other retail-only brokers. We are also the largest brokerage in India by revenue and profitability numbers. 
Risks 
All the risks I shared in the previous update still apply. The biggest risk is that the concentration of revenue from F&O also means that any regulation or change in market conditions or newer competitors with better products can reduce retail trading activity in F&O at Zerodha and significantly impact the revenue. But given our net worth, frugal operations, customer trust, and agility as a business, we are well placed to pivot whenever required. 
There was one consultation paper and one regulatory guideline by SEBI until now in this calendar year that can also impact the business. 
An ASBA-like mechanism using UPI mandates for buying stocks will need to be provided to customers starting in January 2024. 
While this is an optional feature for customers who want to use UPI mandates to only buy stocks for delivery, this requires large technical changes in the order path. Any changes to the order path are extremely risky. There is also a business risk with a change in how we collect brokerage, DP charges, penalties, etc. If the funds aren't lying with the broker and the money moves directly from the customer's bank account to the clearing corporation, these charges will need to be collected from the clearing corporation (CC) or from the customer separately, which will not be easy.  
Consultation paper on restricting brokers from associating with Finfluencers acting like advisors or analysts. 
We think that if anyone acts like an advisor or analyst without a SEBI registration, they shouldn't be able to collect any fees directly from the customer or indirectly through brokerage sharing. So, we support the direction of the consultation paper. The risk is that any regulation around this could also result in us having to stop our referral program, which, along with our partner program, gives us ~10% of our new business. 
Customer ratings
We have seen a small dip in customer ratings since May 2023. This is due to accounts being deactivated by exchanges and depositories due to PAN not being mapped with Aadhaar. Additionally, the forced deactivation of accounts due to the new KRA policy around verifying mobile numbers and email addresses and updating income details for the trading account also contributed to many customer complaints and a dip in the rating. 
We haven't had any large issues that affected customers across the board. Here is the disclosure link for all our tech-related issues this year, which we filed with the exchanges as per regulations. 
Other updates
Why do we do what we do? 
This is from an internal note that I had shared with the team. 
While the reasons have evolved, this is what it is today after 13 years. 
Help Indians do better with money while saving, investing, or trading across financial products. 

Help India financialise meaningfully. Find ways to get Indians to allocate a higher percentage of personal wealth to entrepreneurs, first through stock exchanges in public companies, and eventually, hopefully, help create local pools of capital from accredited investors for Indian startups.

What we are doing as Rainmatter

can eventually help us transition into offering a platform for private investors. If India has to get rich inclusively, we will need local pools of capital supporting local entrepreneurs, with wealth creation also happening locally. This is also why we are maybe one of the only few brokerage firms to still not charge brokerage fees for equity investments, hoping to encourage more Indians to invest in the markets. 

The Zerodha story is unique, and we need to propagate the idea that businesses can be built in more than one way, in seemingly unconventional ways. It is possible to be a successful business while also having a customer-first approach, taking care of the team as a family, prioritizing long-term over short-term, resiliency over growth, being transparent about lessons and learnings, and more. 

Help enable other Indian entrepreneurs to build and sustain.  

Use our success for the benefit of society in whatever way possible. This is why we are doing everything we can through the

Rainmatter Foundation

. Zerodha can potentially have a larger role to play with the introduction of the Social Stock Exchange. Like how we can invest in companies on a stock exchange, we can soon invest/donate to projects in the social sector on the social stock exchange. The hope is that if social sector projects are listed on an exchange, the trust deficit that exists today while donating will probably be reduced, and there could be more mass participation. We recently published

this Q&A session on social stock exchange

. 
While many of the things I have said above might seem altruistic, they are also right for the business and for the customers. One of the biggest moats we have is the ability, based on our conviction, to say and to do things that are hard for others to do. As an organisation, we have realised that this is not just in business but even our personal and professional lives. Our combined organisational philosophy helps Zerodha stand out, which also reflects in our products and initiatives. If we can continue to follow our philosophies and stand out as a business, we can potentially continue to do well in the future as well.
Happy Trading,