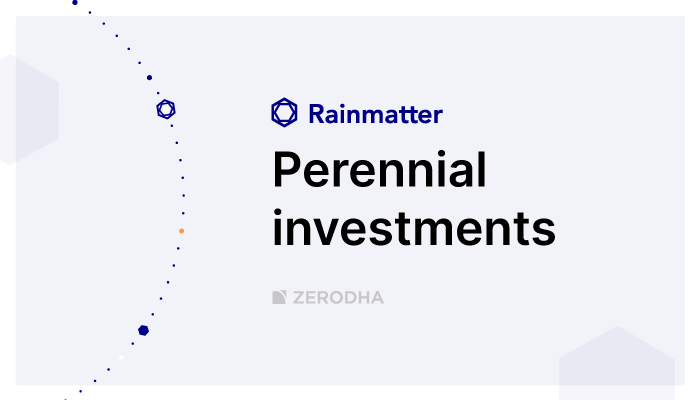 Around 2016 when Zerodha was slowly growing, we realised that a key problem to solve in the industry, which in turn had much wider impact, was to help expand capital markets at the same time as increasing access. We knew that this couldn't be done by us alone and that it was necessary to collaborate with many, that an entire ecosystem with similar goals had to exist. That is how Rainmatter Fintech was born, with the goal of supporting startups helping people do better when investing and trading the markets.
As Zerodha steadily grew profitable, so did our allocation to Rainmatter from it. We have now partnered with over 80 startups and have invested close to Rs 400 crores over the last 7 years. While we started out by backing tech entrepreneurs who were helping people do better with their money, it has now extended to those helping people make healthier choices, getting educated, and those who are working on the much harder problems of climate change and creating livelihoods.
We are now increasing our commitment by increasing the allocation by an additional Rs 1000 crores in a perennial structure or with the ability to stay invested forever. Patient capital with no exit mandates that founders can benefit from when building an enterprise, in India specifically, where unlike in developed countries, it can take much longer to become resilient and sustainable.
Why a perennial structure?
We believe that the most successful businesses were those lucky enough to be in the right place at the right time, with products and initiatives suited to the market demands of that era. For instance, while we as Zerodha get a lot of credit for having helped expand the markets in India, we were also very lucky to be in the right place at the right time, just as the underlying markets were expanding to maybe the greatest bull market of India of all times. From 2010, it took us almost 7 years to catch our first big break. 17 years if I were to count my 10 years of market experience before Zerodha, which was an essential precursor to the Zerodha journey. So, we believe that the longer a business can survive and grow slowly and steadily, the higher its chances of getting lucky. Of course, there are numerous other variables and this may not work in all contexts, especially in highly mature industries. 
Fundamentally, I believe Zerodha succeeded because we had the freedom to build what we thought was right, without pressure to grow quickly, especially at a time when the markets were growing slowly. This freedom also meant that we could constantly do what is right for the customer and what is right for the business in the long term. When the markets unexpectedly boomed, we were there, ready to get lucky.
We believe that founders can similarly benefit from investors who bring in long-term patient capital—investors who are willing to stick around and help in any way possible, where the goal is to build a good, sustainable, long-term business, and not just to generate rapid returns. We can remain invested forever, as the investments we make are from our own capital.
Most importantly, we see Rainmatter as our giving forward initiative. The goal of our investments is not just to generate financial returns for us, the profits from the investments go back to supporting more entrepreneurs and the Rainmatter foundation. The odds of a good enterprise succeeding go up significantly when sensible founders who are passionate about it hold the reins. We thus avoid taking board seats or being involved in the operations of businesses that we partner with, and instead, we help, mentor, and collaborate.
Investments
We support entrepreneurs who are working on things that we care most about and can help India grow. Here are some of our larger investments. 
Fintech – do better with money
Ditto, Digio, smallcase, Sensibull, Streak …
Health & wellness – make healthier choices
Devils Circuit, Ditch The Guilt, The Whole Truth, Peesafe …
Climate change, environment, livelihoods
Akshayakalpa, Solarsquare, Zerocircle, Ossus …
Storytelling and education: Inspire people to do better
Finshots, Learnapp, Signal, The Ken … 
See our full portfolio here.
If you are an entrepreneur working on any of the problems above and are looking out for a long term patient investor and collaborator, let us know what you are building on our forum or e-mail us.
Best,