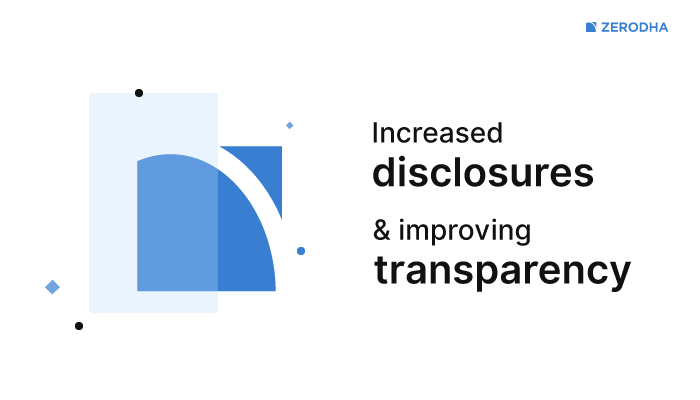 Hindi: इस पोस्ट को हिंदी में पढ़ने के लिए यहाँ क्लिक करें।
I have been reading and listening to quite a bit of Charlie Munger over the last few days. Every time I go down this rabbit hole, I tend to discover more about myself and what I think Zerodha should be. If I had to summarise, I could use some of his quotes from this extensive list.
One of the greatest ways to avoid trouble is to keep it simple… the system often goes out of control.
I would argue that passion is more important than brainpower.
Remember that reputation and integrity are your most valuable assets and can be lost in a heartbeat.
To get what you want, you have to deserve what you want. The world is not yet a crazy enough place to reward a whole bunch of undeserving people.
Is there such a thing as a cheerful pessimist? That's what I am.
The best thing a human can do is to help another human being know more.
Assume life will be really tough, and then ask if you can handle it. If the answer is yes, you've won.
Since we started, we have used every opportunity to bring transparency, disclose risks, and share knowledge that can be useful to Indian retail investors and traders. But given the success of our business thanks to customer trust, we believe that we have an obligation to do even more. For instance, we have made regulatory technical glitch reports public for better transparency. These reports are bound by strict regulations for documenting and reporting technical issues in a broker's systems and are meant to be shared by brokers with regulators internally whenever an issue happens. We have made this reporting publicly accessible.
Also, from now on, every six months, we will publish updates on our business performance and financials, the various risks that we face (and the broking industry in general), the overall customer performance when trading higher-risk products, any technical issue reports, our internal metrics on our customer support performance and quality, and more.
The business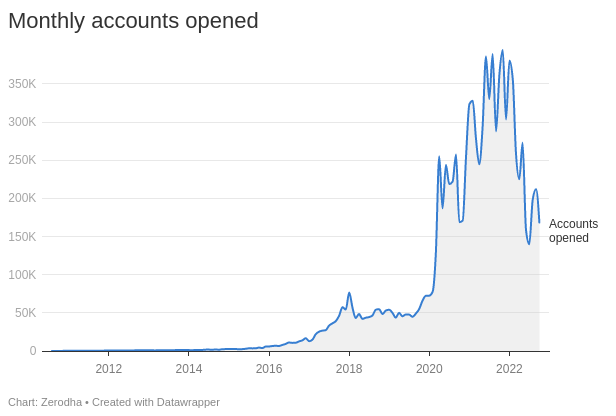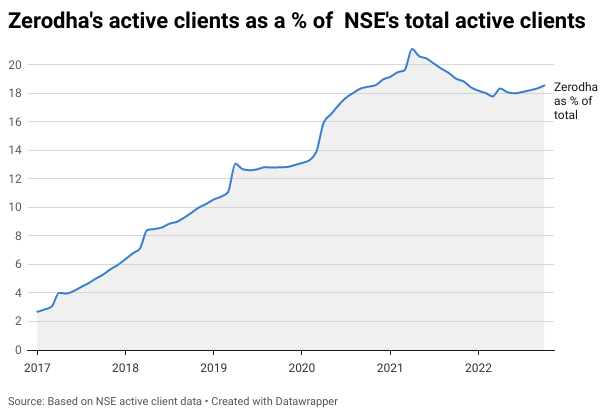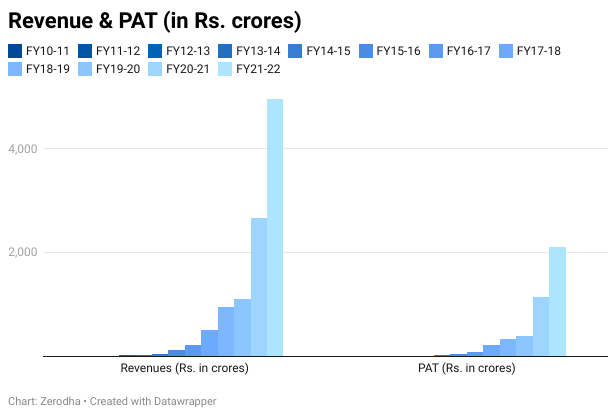 Back in March 2020, when COVID-19 hit, I sent an email to our team, telling them that we were getting into a period where the business would get tested and that it was time to get into monk mode. As shown in the graphs above, I couldn't have been more wrong in my prediction. Since then, we have grown 5X in customers, revenue, and profits.
In our revenues, ~25% are pass-through exchange transaction charges, which we collect from customers and pass on to the exchanges. Technically, this isn't our revenue; if we excluded it, our margins (PBT/Revenue) would be ~70%. The net worth of the business today is ~30% of all funds that clients park with us at any given time. At 30% of our own capital as a percentage of total client funds being handled, we are probably among the safest brokers around the world in terms of capitalisation. We have also been a zero-debt business from the very beginning. Like the many times in our journey when we were at the right place and right time, we were lucky to have had a phenomenal couple of years in terms of profits, helping us increase our net worth just in time when the new regulations require brokers to have much higher working capital requirements.
While our products and philosophies on how we run the business have been the key to our success, certain factors have helped our growth, and the industry in general, tremendously. One is obviously the phenomenal bull market in India. Developments such as eKYC, online digital signatures, and UPI turned the largely offline industry into a truly online, paper-less one, enabling mass participation. And for us specifically, adoption via word-of-mouth from our customers.
Our higher gross margins are a result of several conscious decisions and approaches.
We don't spend any money on marketing or advertising.
We have a lean tech infrastructure built on top of high quality Free and open source software (FOSS) that we adopt and maintain in-house.
We avoid external SaaS/vendor dependencies and lock-ins and self-host systems as much as possible.
We have grown our teams slowly and organically, regardless of industry trends.
We have been extremely conscious of avoiding the build up of bloat in the business in any form even when times are good, knowing full well that short term booms always end in mean reversions and corrections.
What are we doing with our success?
As a business, we have been lucky to enjoy steady growth over the last decade. From the early days, we have supported a wide range of social causes with the resources available to us. However, the last two years have brought us unprecedented financial success. Maybe with some irony, we are of the belief that extreme concentration of wealth is one of the biggest social issues today. Then there is climate change, the single biggest issue that looms over not just us, but all species on the planet.
In 2020, we set up the Rainmatter Foundation, a non-profit organisation to focus on exactly this, the single biggest threat that humanity faces. The foundation focuses on climate change, ecological restoration, and the one thing that is generally not talked about in the context of these problems—livelihoods. Of the ₹750 crores we originally pledged to the foundation to invest in these causes, about ₹300 crores have already been disbursed. Climate change is not a problem that one entity or any technology can ever solve, but it is our conviction that the resources we have been lucky to accumulate are best utilised when invested in the society in these areas. This is not only about our conscience but also common sense. There will be no business if there is no society! Here is a list of some of the organisations and causes the Rainmatter Foundation is helping.
Apart from supporting non-profit organisations and causes, we also support entrepreneurship in these areas. We have structured the for-profit investments in this space in such a way that any potential returns go back 100% to the foundation. In addition, we continue to allocate at least 15% of Zerodha's annual profits to the foundation.
The idea of investing with a thesis for a whole ecosystem started with Rainmatter Fintech in 2016, where we try to support startups that help grow the capital market ecosystem and help Indians do better with their money. Here is a list of all startups that the fintech fund has helped.
As a side note, our success in building a profitable business has also meant that we are also contributing to nation building through payment of income taxes. Since March 2019, we have paid corporate tax of over ₹1800 crores.

The risks
High beta business
At or near the top of every bull market, brokerage firms seem like businesses that can do well and generate cash forever. But this isn't true. Our business performance is highly correlated to the markets (high beta) and volatility. The financials turn around as soon as the bull market plateaus or markets trend down. Be it the early 2000s, the 2008 global financial crisis, or even now in the US (2022). The revenue of brokerage firms falls off the cliff as soon as the bull stops.
As you can see from the first graph, we have already seen an almost 50% fall in monthly new account openings from January this year, and this trend has been similar across the industry. While the account openings have dropped, the revenues across the industry still haven't. This is mainly because we are at all-time highs. If the underlying markets were not performing well, the revenues would have also dropped significantly. Also, a drop in new account openings leading to a revenue drop works with a lag.
While we are on track to do as much revenue and profits as last year, even this year, we think we will be unable to match the current revenues and profitability from the next financial year for a few more years. This is not just because we see a dip in new account openings and a drop in the bull market momentum, but also because we think we have temporarily hit a plateau in terms of the target market, customers who have sufficient savings to invest in the markets and an ability to generate revenue for the brokerage firm. The business will also most likely get impacted due to the changing regulatory landscape, where, among many things, the working capital requirements are going up quickly.
Dependency on day trading and F&O community for revenue
We continue to charge no brokerage fees from investors, which means that we depend on intraday equity and F&O traders for revenue. This comes with a few risks.
Powering leveraged trades as a broker comes with a risk; it is almost like running an insurance business. You charge a small fee and allow a customer to trade with leverage, but every once in a while, there will be a black swan event when a group of customers can lose more than their capital, which can become a liability if the customer doesn't bring in funds. For example, in April 2020, when crude oil prices settled at -$37, a negative value, which no risk management system worldwide had planned. We lost ~₹30 crores that day, and many international brokers lost tens of millions of dollars. Quite a bit of brokerage we had generated from Crude oil since the start of our business was lost that day. There have been many such events on individual scrips, the most recent being GBPINR moving ~4% in a day when margin requirement was ~2%. There is no way around this risk, and we could wake up any day with a large event that moves the entire market or individual scrips by more than 20% lower or higher, leading to liability on the broker if the client defaults. We have been allocating 10% of our profits to a war chest from the start of our business as a contingency to cover for whenever there is a black swan.
Any regulatory change, be it a product suitability framework for F&O trading, higher margins, an increase in STT, or even a drop in market volatility, can cause a significant dip in active trading volumes and our revenue. I keep telling our team that we are always just one circular away from a 30% dip in revenue. But thanks to our frugal operations and profitability from the start of our business, we have over 15 years of runway today. So even if we were forced to pivot our business model, we would have sufficient time to figure it out.
Associated risks
With our own funds, we invest in bank FDs, Government bonds, and have a long-term stock portfolio. We neither leverage (borrow to trade more) nor trade any leveraged products like F&O, which can lose more money than the capital at stake. This is to ensure there is no risk due to our treasury operations to the business. Our portfolio currently has exposure of 33 percent to bank FDs, 32% to stocks, 13% to Government Securities, 9% to tax-free bonds, and 13% to Gold bonds.
Through Zerodha Capital, our NBFC arm, we have started a Loan against securities (LAS) operation with a loan book of approximately ₹70 crores. The minimum haircut or maximum loan against any security is 50% per NBFC guidelines. We lend only against a curated list of stocks and mutual funds, and currently only amounts less than ₹50 lakhs. Hence, this is an extremely low-risk business. The idea for starting LAS was to help customers with stock holdings reduce their interest outgo on high-interest-rate loans. Since LAS is secured, we currently lend at 10.5%.
We haven't started margin funding on our platform since we believe it isn't the right product for retail customers. For a retail customer buying stocks thinking the price will go up, It is easy to get lured in by greed and take leverage by borrowing when investing, even if the idea wasn't to do the same. Leverage carries huge risks and should be avoided by most, especially retail investors. But given the competitive pressure, we will potentially have to launch MTF in the future. Even if we did, it would be a hidden feature (like LAS) that would not try to tempt people into borrowing when there is no need to.
The entire team at Zerodha holds a significant stake in the business through ESOPs. For most, this would be a significant portion of their individual net worth. This also means that everyone on the team has a vested interest in ensuring that the interests of the customers are never compromised on.
Disclosure – Technical issues
No tech platform can guarantee 100% up-time and 0% technical issues, even if they're the world's biggest tech companies. A stock brokerage in particular is an incredibly complex series of real-time systems that interact with each other, carrying immense risk. The tiniest problem can cascade and cause unexpected issues. We have, and continue to, invest huge amounts of effort into making our systems as resilient to technical issues as possible. The way we have architected our systems is that customer activity is distributed across completely independent "silos," so that problems do not cascade to the entire client base.
Whenever there is a technical issue (that affects trading for more than 15 mins), we are mandated to report it to the exchanges within 2 hours, followed by a preliminary report the next day and a root cause analysis within 21 working days. We have now started publishing these internal regulatory reports on our website as a part of our commitment to transparency. We will, through these disclosures, also share the approximate number of customers affected by any technical issues. These disclosures will help you better understand what goes behind the scenes at a brokerage firm and better anticipate technological risks associated with trading the markets.
Overall profitability of customers
Many customers decide to trade risky products with leverage with the wrong expectations that money can be earned easily and quickly. This problem has been accentuated by many claiming to generate large amounts of trading profits on social media. We have used every opportunity to create awareness that in the long run (3-year period), less than 1% of those who actively trade equity futures and options generate returns higher than bank fixed deposits or 7% annually. We will start sharing more granular information in the next few weeks. Generating profits from active trading is as hard as generating profits while running a business, if not harder, given that anyone can start trading and not everyone can start a business. The odds of succeeding when actively trading are very low, similar to any other walk of life, which requires skill, hard work, and some luck to succeed. From running a business to playing sports or music for a living.
Across our customers over the last many years, we have seen that higher the leverage the lower the chances of profitability. The profitability numbers are much lower in case of equity F&O as most trading happens in options, especially buying options which is the riskiest and the most leveraged product. We had shared this post last year on things to keep in mind while buying options.
While it might sound counterintuitive to hear this from the CEO of a brokerage firm which relies on active trading for revenue, I think a customer who remains active for many years by doing well in trading, even if not generating revenue in the short term, is a lot more valuable to a brokerage firm than customers who trade aggressively with wrong expectations and then become inactive. So when we look at our business, we think we should do whatever it takes to help the customer do well in the long run, even if it means a reduction in revenue in the shorter term. By helping set the expectation that stock markets aren't a place to make quick and easy money, we can help the customer be risk averse, leading to better decisions with money.
Disclosure – Customer ratings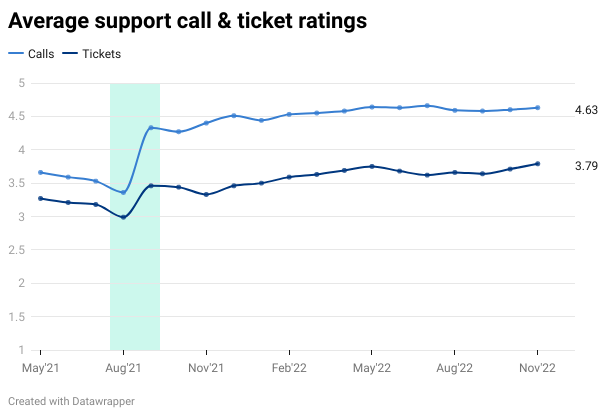 The dramatic improvement in ratings around Aug 2021 was when we transitioned our inbound sales team to support.
We take your ratings for both calls and tickets seriously and use them to help improve the overall quality of our interactions. We are continuously working to improve, and your ratings will help us significantly.
Thank you once again for your continued appreciation and support. If you have any queries, you can visit tradingqna.com where we answer queries ranging from everything at Zerodha to markets in general.
Best,