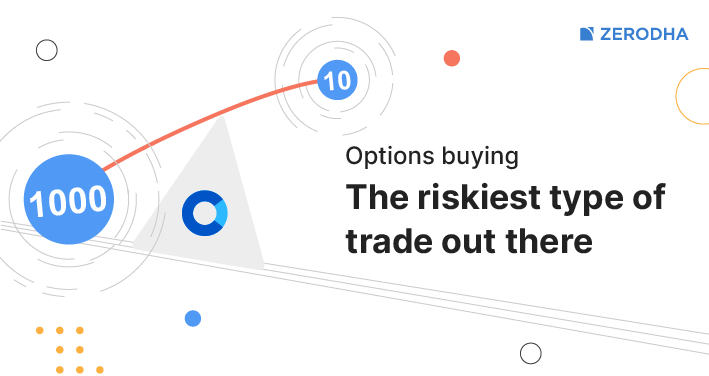 Over my past 20 years in the markets, I have interacted with many retail traders, in various capacities. And one thing I've seen that leads retail investors to consistently lose money is option buying. The main reason for this is traders usually transition from trading stocks or futures to trading options. And so, they end up trading options like the way they traded stocks. This is a sure-shot way to fail.
Over the last year, we have seen a trend of retail traders shifting from trading stocks and futures to buying options. This may be fuelled by the restrictions on intraday leverages on stocks and futures under the new peak margin rules. This trend is also strengthened by an influx of younger, more aggressive traders. This has been alarming for us as Zerodha.
We have constantly tried to educate customers on all aspects of options trading through Varsity. However, we need to do more. In this post, I will talk about why most option buyers lose money, the best practices to reduce risk and improve odds of profiting when buying options, and what we are doing to help you trade better.
Options, leverage, and risk management
What attracts people to options is leverage – the ability to get exposure to large trading positions with small amounts of money. This induces greed and the notion that you can make money quickly.
For example, assume Nifty the index is trading at 16000, and 16000 calls are at Rs 100 (lot size = 75). With Rs 7500 (75 x 100) of premium, you can get exposure to a contract that is valued at Rs 12L (16000 x 75) or leverage of 160 times. If you compare this with trading intraday stocks or futures which at best gives up to 8 times leverage (Nifty futures margin of around 12%), you'd understand the attraction towards option buying.
Leverage, as they say, is like a weapon of mass destruction unless used carefully. The most fundamental risk management rule when actively trading with leverage is to ensure you don't take a position so large that it can cause a loss of more than 5% of your trading capital. When buying options, the entire value of the option can go to zero quickly. This means you shouldn't be buying options for more than a small percentage (<5%) of your capital at any given time.
This rule gets broken often by amateur traders in an attempt to get rich quickly. This is tempting fate. If you somehow did get lucky by being aggressive with leverage, you are most likely to lose it in the long run if you follow the same strategy. Most traders don't change their trading habits after a large winning trade. Making money will only reinforce the idea that what you are doing is probably the right way to trade.
Let me recount an especially spectacular incident of up and down in quick time, of which there have been many.
Back in 2009 when I was a sub-broker with Reliance Money, one of our customers went all in before the Indian general election results in May 2009 by buying deep out of the money call options with all the money he had. He got super lucky as Nifty went up over 40% in 2 days and this Rs 2L turned into more than Rs 2 crores. But the story didn't end there, he continued trading super aggressively, and ended up losing not just the entire 2 crores but more than his initial capital over the next 6 months.
To be cognizant of the risk, an important part of the checklist for anyone buying options should be to look at the exposure in terms of contract value and not the premium. So, if you had Rs 1L in your trading account and say you bought 4 lots of the Nifty 16000 calls at Rs 100, don't think of it as a Rs 30,000 premium, but an exposure of Rs 48 lakhs (the total contract value = Rs 12lks x 4). Do check out this module on Varsity which talks about position sizing.
Option premium loses money with time
The most common way in which traders lose money is by buying Calls when they think the market is bullish and buying Puts when they think the market is bearish. More often than not, they buy OTM Options. Here is the problem with that:
Suppose NIFTY is at 15800, and you buy Nifty Weekly Call option of Strike 16000, the option will have a premium of around 100 Rs. This means that your option starts making money at 16000. But you start breaking even (if you intend to hold till expiry) only at 16000 + 100 = 16100, as you have to recover the 100 Rs premium you paid for the option. That means your breakeven is 300 points away
This means that:
You have to be right on direction
You have to be right in a big way – 300 points just to breakeven
You have to be right within a short period
All these 3 put together are difficult to happen. Even if the market doesn't move against you and stays flat, as the contract approaches expiry, the premium drops along with the time value. Option premium = Intrinsic value + time value. The one certain thing is the constantly reducing time value. This is the main reason why option buyers lose money – they are constantly fighting time.
This is unlike trading stocks or futures, where you can potentially hold the stock forever or continue rolling the futures contracts, albeit at a small rollover cost. The above effect of time value gets exaggerated because most actively traded options contracts are ATM (At The Money) or OTM (Out of The Money) which have no intrinsic value. So if Nifty is at 16000, 16000 Calls will likely be the most actively traded contract. But this contract has just time value and no intrinsic value, and hence, a high probability of losing money, even without the underlying Nifty index moving against the trade.
Also remember that if you buy weekly expiries as compared to monthly expiries, time value reduces much faster. If you are taking a directional view buying options, always trade monthly expiry, you will have much more time value and hence higher odds of profiting as compared to trading weekly.
Averaging down buy option positions is a bad idea
I had shared this sometime back on social media, that averaging down or buying more of a stock if the price goes against you is probably the biggest destroyer of investor wealth. While averaging down might work sometimes, disaster may just be one stock away. For example, in the case of Yes Bank, as the stock kept dropping from Rs 400 to Rs 10 a couple of years back, many retail investors who had bought Yes Bank at higher prices kept buying more trying to average down, even selling other stocks to buy more of Yes Bank. The wealth destruction was immense.
But averaging down can work sometimes when you buy stocks and the markets are in a long-term bull market because you have time in your favour or the ability to hold on to the position forever. It is ludicrous to think of doing the same with long/buy options when time is constantly ticking against you.
The right way to trade the markets is to never get overexposed to any trade that can cause more than 5% of your trading capital. If your potential losses are limited, the chances of you acting rationally when a trade goes against you is much higher. Averaging down positions is done by traders who don't want to accept their losses, and this most likely happens when the losses are too large to accept.
Stop your losses fast
Like I just mentioned, losses are easiest to accept when they are small. As they get bigger, it only gets tougher to exit. If trading options with larger than say even 1% of your capital, having a stop loss in place is important. Many retail traders get stuck in this vicious cycle of hope when there is a loss that is too big to accept. Short term or intraday trades turn into long term positions just because of the loss. When you buy options, this decision to hold losing intraday positions overnight only exaggerates the loss. Like I explained before, when you buy options, there is a constant depreciation of time value, and along with it, the premium. Every extra day and weekend that you hold buy option positions significantly erodes the premium.
Impact cost of trading options
Impact cost is the money you lose when trading due to the bid-ask spread. If Nifty 16000 Calls is at Rs 100 Bid and Rs 100.5 Ask, this Rs 0.5 is the impact cost you would pay in the act of buying and selling this contract. While you can place limit orders to enter options to avoid this impact cost, limit orders don't guarantee execution, especially when trading options premiums which are exponentially more volatile as compared to underlying stocks or futures. An option contract trading at Rs 100 can go to Rs 200 or Rs 0 and on the same day.
Impact cost is an invisible cost that eats into a trader's performance over time. Say you were trading 1 lot of Nifty futures by putting up a margin of 1.5L and say the impact cost or bid-ask spread was Rs 0.5, that would mean 75 (Nifty lot size) x 0.5 = ~Rs 40. Rs 40 on a margin of Rs 1.5 lakhs is an insignificant 0.02% of the capital on the trade. Now assume another trader has Rs 7500 in the account and uses it to buy 1 lot Nifty calls at Rs 100 by paying Rs 7500. The impact cost on this trade will now be 0.5 points of Nifty calls or the same Rs 40. But this Rs 40 on the trading capital of Rs 7500 is a whopping 0.5%.
What this means is that if you are using your entire trading capital to buy options, and say you are trading just once a day, you could potentially lose 10% (0.5% x 20) or more of your trading capital just in impact cost every month. Let that sink in, 10% every month just in impact cost over 20 trades to remain profitable. Of course, you can have a few good months where you can earn more than 10%, but in the long run, the odds of coming on top with such a high impact cost reduces significantly.
The only way to reduce this impact cost on your account performance is again by not using your entire trading capital on every trade when buying options. Otherwise, impact costs can stack up very fast against you. So, other than risk management when trading with high leverage, the effect of impact cost on your account also is the reason why you shouldn't buy options for more than 5% of your trading capital at any given time.
Option writing or futures aren't safe either
By the way, I am not implying that you should write options or trade futures. All leveraged products carry a high risk. But since the inherent leverage is lesser when trading futures or writing options and also because you are not having to constantly fight time value, the risk is lesser. Lesser the risk, the higher the odds of generating profits.
At Zerodha, normally on the end of day positions,
~80% of all open buy option positions are in a loss.
~25% of all open short option positions are in a loss.
Highlighting how significantly more losses are incurred by option buyers as compared to those writing options due to higher leverage or risk. The reason for this is also because most people shorting options, either naked or part of a strategy, typically normally think of it as a longer-term trade. In contrast, most people who end up holding buy option positions are typically those who entered the trade for intraday but decided to keep it overnight to avoid booking a loss.
What is Zerodha doing about this?
While we will continue to focus on educating traders through Varsity, we believe that we can do more as a broker with our tools like Nudge. We are attempting to see if we can meaningfully alert traders to be more cautious when buying options. Here is a list of things we are doing:
Nudge to place a Stoploss (SL) when buying options
We have now started nudging users to place a GTT (Good Till Triggered) stoploss right when buying options (Index options to start with). If you are buying Nifty calls at Rs 100, the order window will prompt you to enter the GTT SL price while placing the order.
Of course, you can choose to uncheck the GTT SL option to proceed to buy options without an SL order, but I hope most users will enter an SL price. If you aren't sure about how much Stoploss % to keep, a good number is between 5 to 10%. If you can get out of a position before the loss gets too big to accept, you can avoid the temptation of averaging down, which is a sure-shot route to capital destruction as I had explained earlier.
This SL is longstanding and is valid until cancelled. We have started this on Kite web and will be available on Kite mobile soon. Read this to learn more about placing stoploss using GTT. The one thing you need to make sure of with GTT is to cancel any open SL or Exit GTT orders when you exit your positions directly to avoid extra positions in your account.
Restrictions on buying out of the money (OTM) options
Buying OTM options with only time value as I explained earlier carries huge amounts of risk. We have placed restrictions on the buying of OTM options. We typically allow buying index options which are OTM by more than 1% only if it is being used to hedge or as part of an option strategy that carries a much lower risk, otherwise, we don't allow buying naked OTM options.
This was not intentional, to begin with. We were forced to restrict buying OTM index options since we as a brokerage firm were hitting the regulatory limit of 15% open interest (OI) of total marketwide OI in any F&O contract.
While this has led to angst amongst certain groups of traders and revenue loss for us as a business, we know that it has helped our customers overall significantly with the restriction on buying OTM options.
Restricting MIS (intraday) to NRML position conversion
Like I mentioned earlier, there are many times intraday trades are held overnight if the trade goes bad, and this makes it only worse, especially with long (buy) options positions. We have now restricted position conversion from MIS (intraday) to NRML (overnight) if you had bought options using product type MIS with the idea of it being an intraday trade. We have started this with index options and plan to soon extend to stock options as well. We are hoping that this will act like an integrated risk management strategy built into the trading platform. With this in place, we now allow buying a wider range of option strikes in Index options using the MIS product type. If you are taking an option trade for intraday, make sure to use MIS product type for this forced risk management to kick in.
Showing exposure in terms of the contract value
Currently, all trading platforms typically show the margins available in the trading account and margins used, but not the overall exposure. For example, if you buy 1 lot of Nifty futures using Rs 1.5L, the exposure is Rs 12L while your margin is Rs 1.5L. Similarly, if you buy 1 lot of Nifty calls with Rs 7500 as premium, the exposure to Nifty is Rs 12L and not just Rs 7500.
We will start showing you the overall exposure value on the positions page on both Kite and Console to give you a better sense of the Risk that you are potentially taking with your account.
Option strategies vs buying naked options
Trading options strategies (combination of calls and puts, buying and shorting) as compared to just buying naked calls or puts can significantly lower the risk and hence increase the odds of winning. Our partnership with Sensibull was to figure ways in which we could nudge customers from buying naked options to trading low-risk option strategies. We have introduced the analyse options risk button on the Kite positions page. We will soon launch option strategy suggestions through Kite baskets, both powered by Sensibull.
_____________________________
That was a long post. If you can think of anything apart from what is mentioned above to help you do better when trading options, do let us know. Of course apart from asking us to give sure-shot winning trade ideas, which is impossible. 🙂