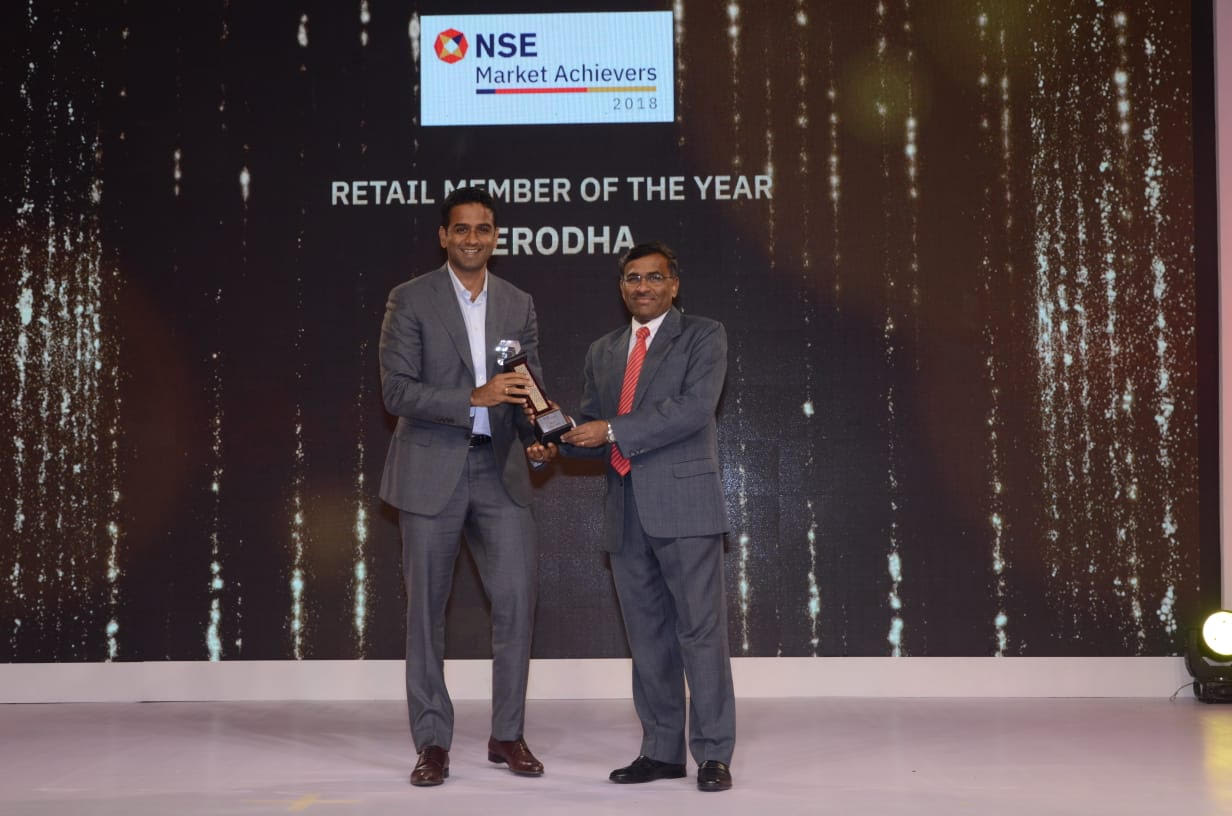 Traders,
I am super thrilled to let you know that we have been awarded the "Best retail brokerage firm in India for 2018" by the National Stock Exchange (NSE). This wouldn't have been possible without your support. Thank you.
I end up being the face for the business as always, but all of this is possible thanks to our team of 1100+ members and our partners and business associates. Congrats Guys/Girls 🙂
I would also like to use this opportunity to address another issue that we face constantly. From our very first day, there have been naysayers who've said that the business model of Zerodha wouldn't work because we charge so little. Despite 2018 being our eighth, and our most successful year, we still see baseless rumors and misinformation about us being circulated on WhatsApp and social media inciting people to not trade with us. I would like to share some facts that I hope you'll keep in mind when you come across such smear campaigns. It may come across as bragging, but this really is the only way for me to let you know that we have never been better.
Awards and Recognition
NSE themselves have just christened us the "best retail brokerage firm" in India. We get audited almost every 6 months by various exchanges, depositories, and SEBI. If there is anything wrong that we're doing, we obviously wouldn't have won this award just yesterday. In the last two years, we've won similar awards from E&Y and Economic Times (ET), some of which involved complete financial audits.
Financials
We are amongst the most well capitalized pure retail brokerage firms in India. We have over Rs 400 crores of promoter capital deployed in the business and we have zero debt. If there was to be any kind of volatility in the markets, like in 2008 where many brokers went bust, you as our client are best placed to come out unscathed, thanks to the strength of our financials.
Talking about capital, we have stayed away from raising any external equity or venture capital where almost every VC and PE whom we have met have wanted to invest in us. We have stayed away to continue holding the independence of building products for the love of it more than monetary goals. I don't know if there are many companies out there that can claim this 🙂
Our products
We take extreme pride in all our products and everything you can do with them. They are all today the largest and most popular in their respective spaces. Do check them out if you haven't already.
The Team
At over 2 million trades a day, we are probably the largest retail brokerage firm in the world, not just India. The technology effort involved in supporting all of this is huge. Apart from all our cool products, the only reason we are able to run this business at such low brokerage costs is because of our tech team, the best in the industry. Yes, we have had technical issues, but the majority of those have been due to the limitations in the underlying infra in India and our difficulties in getting our third party dependencies to scale at our pace.
We have our operations team of over 1000 who slog it out every day supporting over 1 million clients, and onboard over 50k new clients every month. Our team has a united vision and thanks to that, we enjoy the lowest attrition rate in our industry.
The way we operate
Unlike other brokerage firms, our employees do not have revenue targets, ensuring nothing gets mis-sold.
We don't differentiate clients based on their networth.
We are extremely conservative when it comes to risk management (RMS). If we had an option, we would reduce leverage offered to as little as possible. There is enough data to prove that lower the leverage, the higher the probability of winning. Also, the fewer leveraged risks we take as a broker, the safer it is for you as a client.
Growing the ecosystem
Our educational initiatives, Varsity, Zconnect, and Tradingqna are one of its kind run by any brokerage firm in the world. They have helped us get into the top 15 Investing related websites in the world. We have spent tens of thousands of hours sharing knowledge for almost a decade with no expectations of returns. We don't advertise, we don't force collection of leads from these portals, and neither do we have excessive branding. We do this with the goal of growing the Indian capital market ecosystem.
Through Rainmatter, startups are now able to leverage everything we have built and quickly introduce niche platforms that India would otherwise may have never seen. Smallcase, Streak, and Sensibull are great examples.
I can keep on going, but I'll stop here. The constant rumors and lies being spread about us on social media has prompted me to write this very personal letter.
Thank you again for all your love and support.
Happy Trading