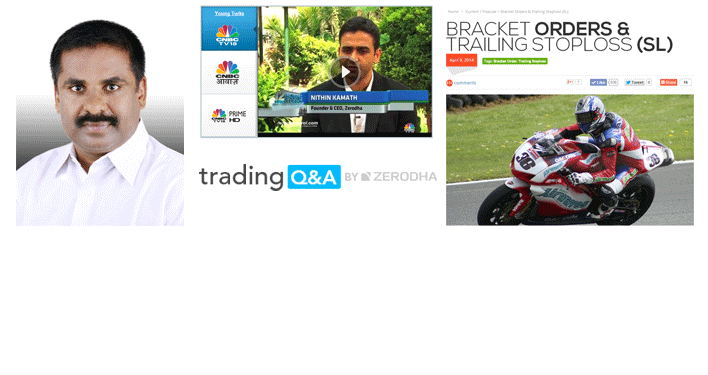 Traders,
Here are some of the latest updates at Zerodha…
1. Bracket orders and Trailing Stoploss
Bracket orders and Trailing SL are completely functional for intraday trading on Equity, Currency and F&O. When we launched this in April 2014, we were also the first brokerage in India to do so for Currency and F&O. If you aren't already enabled, do check the post on how to get started and use the flexibility that Bracket & Trailing SL offers in terms of leverage, protection and increasing profitability.
2. Instant SMS for trades executed on Zerodha Dealer terminals
You will now get an instant SMS for all trades executed through our Call & Trade numbers free of cost.
3. Joby, Market Wizard from Thrissur featured on Z-Connect
Joby, one of the most consistent winners of the Zerodha 60-Day Challenge talks on strategies he follows while trading the markets and the key to his success with no educational background or access to any online tools.
If you haven't yet taken the challenge, get started now.
4. Nithin, our CEO featured on CNBC Young Turks
Nithin was featured last weekend on CNBC Young Turks and the repeat telecast would be this Wednesday, June 11, at 7:30 PM.  If you are not able to catch him on TV, click here to see the video on Moneycontrol.
5. Trading Q&A
We have over 600 questions answered on markets, if you have any query don't forget to post it on
We look forward to your feedback and suggestions on [email protected].
Happy Trading,
Team Zerodha