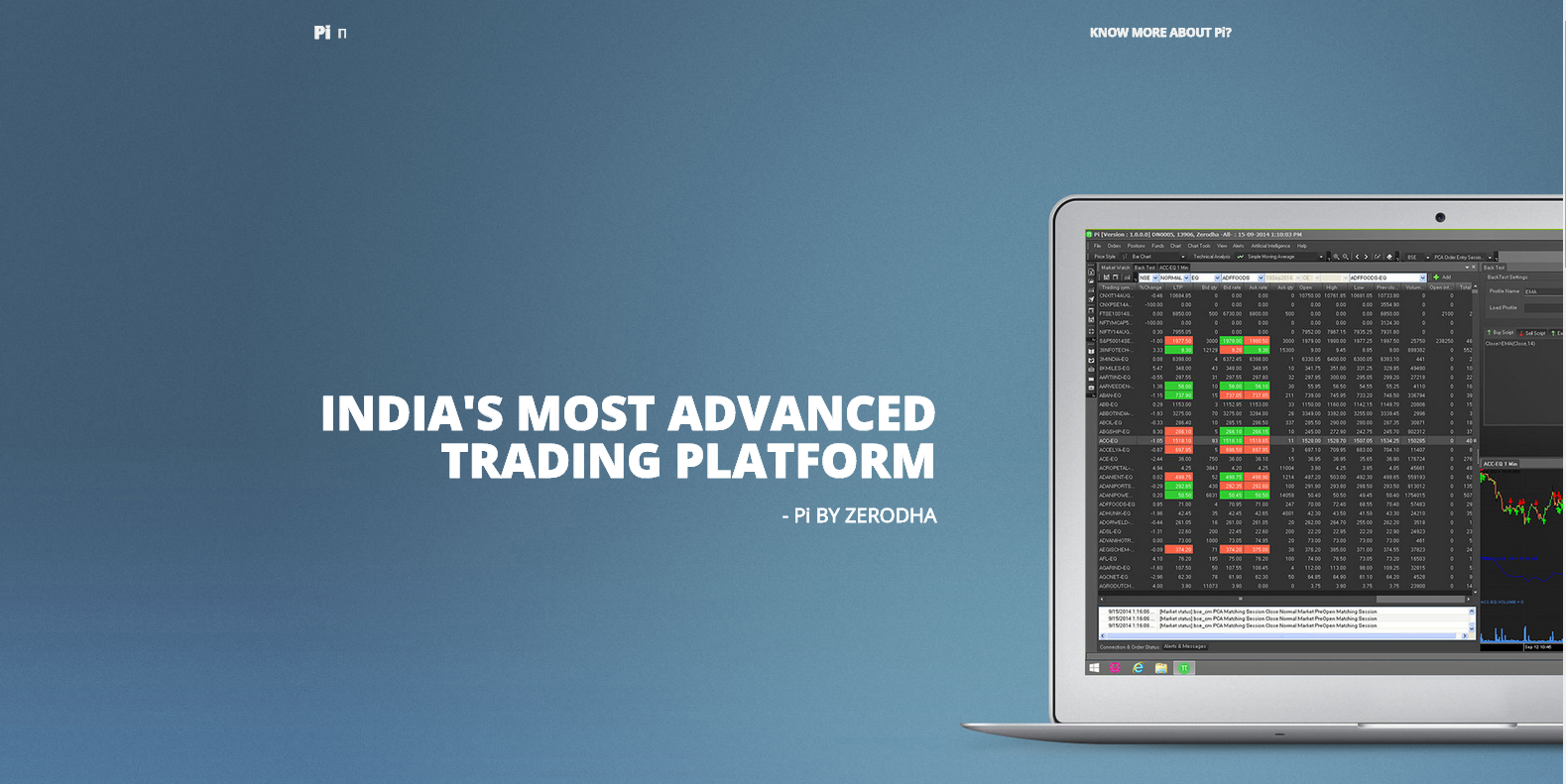 Traders,
Continued from PI – Overview and Feedback. 
Click here to watch the video on youtube. We will soon have a dedicated section on Z-Connect for Pi to help you understand all features and functionality.
We are probably 3 to 4 weeks away from the final release of Pi, and thanks to all of you who are helping us test this out. 1300 suggestions/comments and all your emails, is an incredible response, Thanks a ton!
Wanted to let you all know things which we intend to be ready with before our final release. A lot of what you all have requested for are features, our initial goal is to make sure everything that is available till now works well especially trading related, and we will keep adding all your requests in due course of time.
Pi is a trading platform that also has advanced charting, backtesting, and many other functions. It has to constantly communicate with exchanges both to send and receive data. I don't think it will be fair to compare this with any standalone charting software available in the market like AmiBroker, MetaStock, and others, in terms of features, data usage, or nimbleness.
We have done a fair bit of fixes in the last couple of months, and delayed on the final release because of roadblocks that we hadn't expected earlier. All the feature requests in terms of new indicators, more drawing tools, pivots, crosshairs, adding option calculators, and many others are all noted down. Few of these like not being able to change color for all the three lines on Bollinger bands or not being able to remove the volume section on a chart, etc., are I guess things that you expect by default, but we had to prioritize and we have decided to first work on things that are most important for trading.
For the final release, here are the things pending:
We are waiting for our data server to go live, so that we could give you historical charts with no missing data. We are also planning an advanced data streaming solution within a month from when Pi is released which should also make it the fastest platform in terms of speed of update of quotes. Once done, the bandwidth utilization also would reduce significantly.
The above will also allow you to see daily charts, which is presently missing.
Trading on all exchanges have been enabled now, MCX trading will be available on Pi from next week.
Taking Bracket orders live.
Getting the Pi bridge live for AmiBroker and Metatrader for semi-automated trading. You can have strategies run on Ami/Meta, which can generate buy/sell orders on Pi.
Presently, you can see the actual average buying/selling price for both open positions and holdings. A few bugs still exist on this, we will have those fixed soon.
Certain actions like double clicking on snap quote are causing Pi to slow down, these issues will be fixed.
Saving and loading work spaces.
Putting up a help video and Z-Connect blog posts on all aspects of trading using Pi.
Getting all your TradeScript coding related queries answered on TradingQ&A.
If quick login is not enabled, it takes some time to login. Having this issue fixed.
Fixing tiny trading related issues that are still prevalent.
Small little fixes that are still pending in the UI.
Taking your feedback on trading related issues/improvements and having them fixed.
After the final release, we will start working on all the feature requests that we have received until now. Do continue posting suggestions and requests if not posted already here.
Happy Trading,