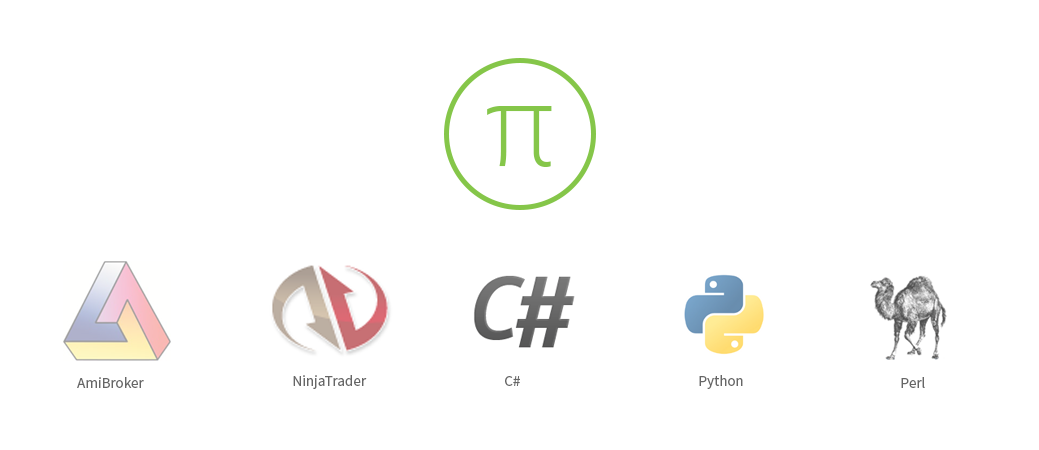 Traders,
I have some great news for all you programmers out there who trade the markets. Pi bridge, which earlier had capability of only accepting orders via AmiBroker is now enabled for two-way communication (firing orders, and getting response in terms of order updates, positions, holdings, and more) not just for AmiBroker but from any programming languages such as C#, PERL, Python and more. The updated Pi bridge is now available for download on Q.
I suggest you to first go through this post that has details of the earlier release of Pi bridge (just for AmiBroker). The good news doesn't end here, we have also partnered with  CDP India and TrueData (authorized data vendors – NSE, BSE) to provide you market data on to any platform (or programming language) of your choice – again for the first time in India. So you can get live market data not only on Amibroker, Ninjatrader , Metastock, but also on Python, C#, PERL, and more.
As an introductory offer, Zerodha clients get data at a discounted rate from CDP India and TrueData. Active Zerodha clients will be given preference over inactive ones. This is potentially upto Rs 9000 worth of live data that will be given no questions asked.
Here is the gist:
Pi Bridge
Login to the Pi section on Q, and request access for Pi bridge.
Once you get access, you can download the A) AmiBroker specific Pi Bridge and documentation or B) The generic version which can be used with any programming language using socket programming (including sample Python code and documentation).
Pi bridge is built by our technology partners for Pi – Tradelab. Any programming queries on the above can be asked on this blogpost on their website.
Below are few images that will help you setting up the bridge for Amibroker
Data feed
If you have decided to use Amibroker, Ninja, Python or any other programming language to analyze and fire/manage your orders, you will need live market data to power it. As a brokerage we are allowed to give data only on our trading platform. If you already have access to market data, you will be able to access it on any programming language of your choice (until now data vendors used to provide only on Amibroker, Metastock etc).
For Amibroker, along with giving access to market data, Neotrade has also built a dashboard to manage all orders fired, track cash and positions. This will make life quite easy for all those who want to use AFL to semi-automate your trades  through the bridge of their own to connect Ami to pi bridge along with a dashboard.
All AFL queries can be asked on Tradingqna.
With the new Pi Bridge, you can now start using all those powerful money management AFL's available like Scalein, Scaleout among others on Amibroker.
Disclaimer
Pi bridge will be useful only to those who understand programming. We will be able to support only those who have this background. Any queries regarding the bridge should be asked to Tradelab, and setting up data feed on Neotrade using the links provided above.
Everything explained above is semi-automated, that means there will need to be a human intervention to place an order.
Pi bridge will be free for the first one week, after which you will be charged Rs. 500 + taxes per month directly from the trader ledger on a pro-basis first week of every month. If you wish to unsubscribe, you can disable access from Q itself, as manual requests will not be entertained.
Preference for the free trial of data feed from Neotrade will be given to our active clients. By active meaning any client who has been executing a few trades every quarter atleast.
Login to Q and start using the bridge now.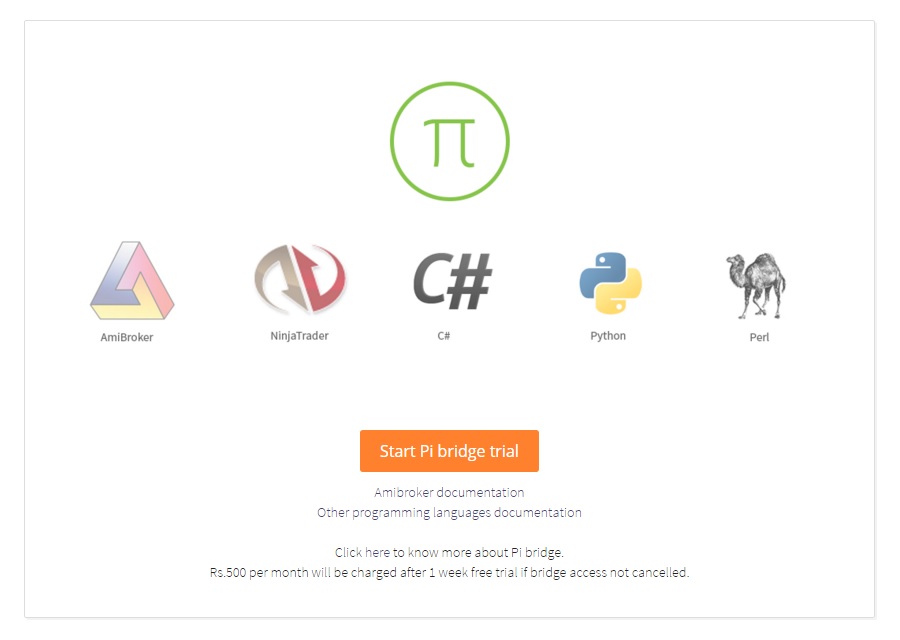 Happy Trading,