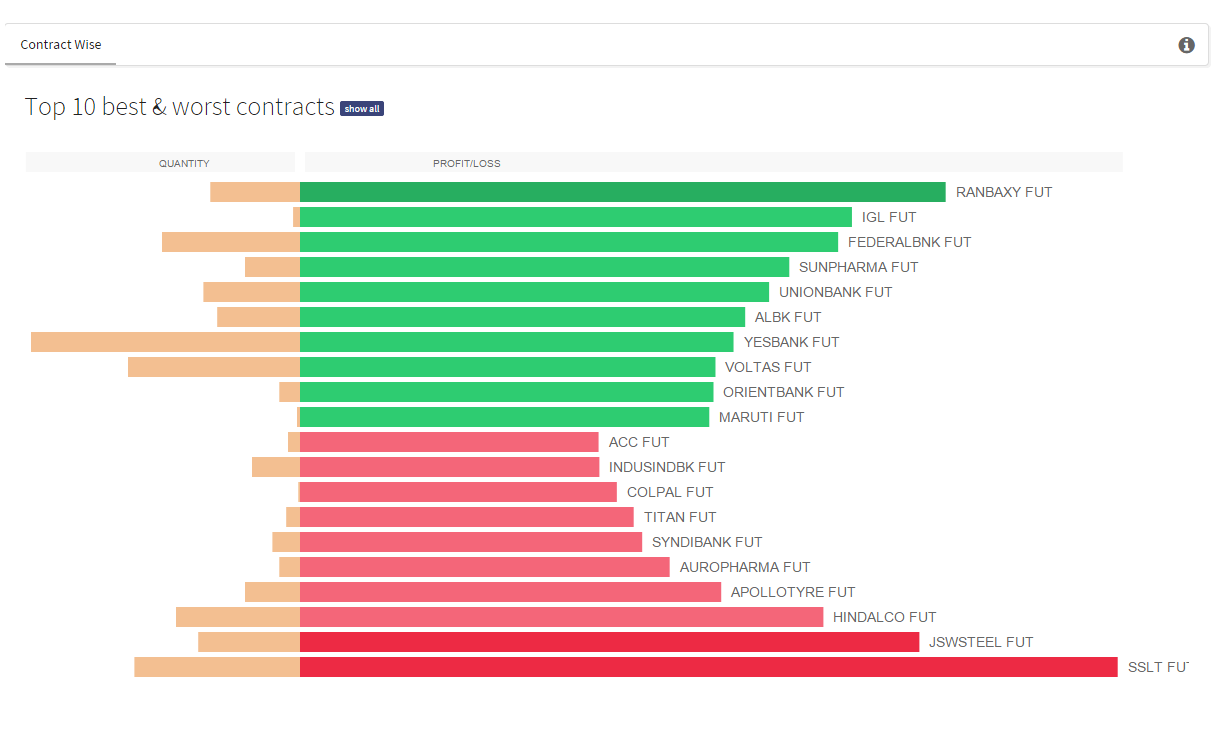 Traders,
If you are looking at Quant for the first time, I'd suggest you to start with
Every trader has his or her favorite contract/stock, but have you ever wondered if that is actually your most profitable one?
Quant – Contract wise will help you figure out your best and worst contracts based on your own trading history. So you can now see how you have performed on say all the Nifty future contracts vs Bank nifty future contracts vs everything else. You can compare your best and worst contracts across Equity, F&O, Currency, and Commodities.
By default you will be shown your top 10 best and worst contracts, and by clicking on the show all button a comparison will open up displaying all the contracts that you have traded till date.
The brown bar on the left  indicates the contract wise volume of  the trades. This should also help you figure out your performance based on the trading volume.
Hovering your cursor over the bars will let you know the Profit/Loss and the volume. You can use the filter box to narrow your quant to a particular segment or group of contracts.
By popular demand, we have decided to include approximate trading costs before displaying the quant. Computing exact costs is not available right now, but we have planned for it in the near future. Also, since all quants are meant to show you your stock's relative performance, we believe that it is reasonable enough to help you make decisions based on approximate trading costs. If you want to see your normal P&L statements with the exact costs, it is available in the report section under Q.
Approximate Trading Costs assumed (including Brokerage, STT/CTT, Transaction charges, Service tax, and Stamp duty) :
1. Equity : 0.02% of turnover
2. Equity Futures: 0.0125% of turnover
3. Equity Options: 0.08% of premium turnover
4. Currency Futures: 0.0075% of turnover
5. Currency Options: 0.06% of premium turnover
6. Commodity Futures: 0.0125% of turnover
You can also see all your quants without trading costs, Click on N to not consider trading costs.

Hopefully all the quants are helping you make informed trading decisions! Do let us know if there is anything particular that you would like to see in future.
Get started on http://quant.zerodha.com/ and if you haven't yet started trading with us, click on "
take a tour
" to see a demo account.
Happy Trading,