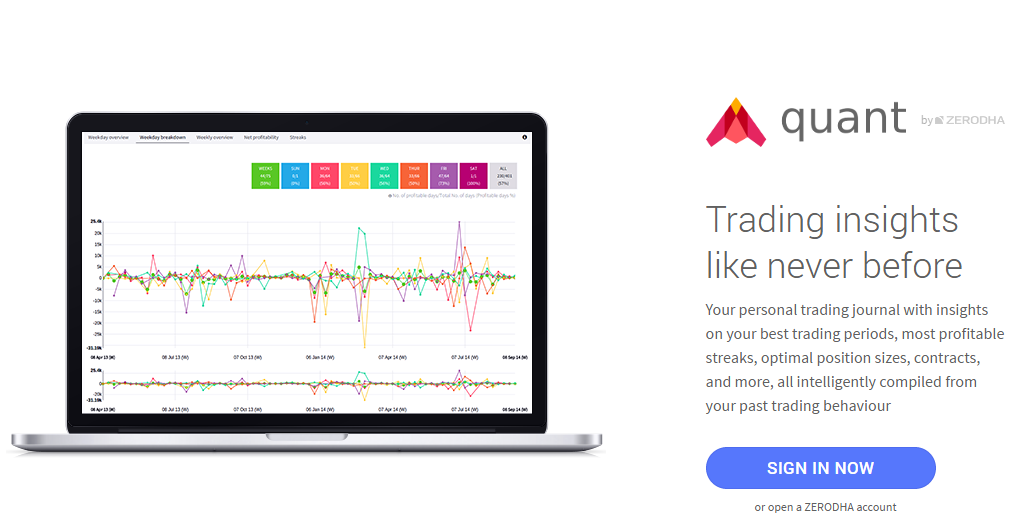 Traders,
One of the best ways to improve your probability of winning while trading is by learning from your own trading history. Like they say, "those who forget the history, are most likely going to repeat it", a mistake often committed by traders. This could be either because of no access to tools/technology or not knowing the importance of learning from your past. We at Zerodha understand this, and that's why we're launching Quant, a financial behavioural analysis and visualisation tool. Q, our new backoffice, is a very intuitive reporting tool, but it's mostly for contract notes, P&L statements, Trade/Order Books. Quant ups the ante and crunches your trading history and extracts useful insights for you to learn.
Quant, as the name suggests, will help you perform quantitative analysis of your trading past and also introduce you to a sabermetric approach to trading. Quant algos will go back in your trading history and intuitively depict things like, what was your trading size at which you made most profits, any pattern with time in terms of your profitability, did you make profit by trading with the trend or against, your most profitable scrips, and a lot more.
The first release of Quant will comprise of "Time based analytics" to help spot any trends in terms of your profitability based on when you trade, and "Portfolio Equity Curve" to help measure your stock holding performance against the benchmark (Nifty). Do note that all the figures are on gross basis (excluding brokerage and other costs).
You can start off either visiting http://quant.zerodha.com/ or by clicking on Quant when logged into Q.
Time based analytics
Weekday overview
Tells you the best weekday for you in terms of gross profits made. You can either use the periods available already or mention a custom date range. For instance, you can see that this particular account has taken the biggest hit on a Tuesday.
The segment and symbol box will help you further refine to view the same analytics for a particular segment or symbol that you have traded.
Weekday breakdown
Shows your best weekday in terms of gross profitable weekdays to total number of weekdays traded. This will also help you figure out your chances of winning on expiry days while trading Equity derivatives and Currency.
The green line indicates the week whereas the rest are days. Clicking on each of the days will add on to the scatter plot to help you better visualize the number of times you have traded on a particular weekday and how many of those have been winners. As you can see above that this client has been most profitable on Expiry days and Fridays, with an almost 75% probability of winning. You can use the smaller graph below to zoom in or out of a particular time period.
Weekly overview
Similar to weekday overview, this will help you figure out which part of the month you are most profitable, 4th and 5th week being the last weeks of the month. This particular client has been most profitable during the 3rd and 4th weeks of the month while the second week being the worst.
Profitability
Visualize your gross profit and loss either daily, weekly, monthly or yearly
Streaks
Shows you what has been your maximum consecutive profit or loss making days. You will be also able to see your current and average winning/losing streaks.
Important to know
The above reports may not match to your normal P&L because the profitability is calculated per day and not for a time period in your normal P&L statements.
All the reports above are on a gross basis, it doesn't consider charges and taxes.***
***Update – 3rd Nov 2014. By popular demand, we have decided to include approximate trading costs before displaying the quant. Computing exact costs is not available right now, but is planned for the future. Also, since all quants are meant to show you relative performance, we believe that it is reasonable enough to help you make decisions based on approximate trading costs. If you want to see your normal P&L statements with exact costs, it is available in the report section under Q.
Approximate Trading Costs assumed (including Brokerage, STT/CTT, Transaction charges, Service tax, Stamp duty), :
1. Equity : 0.02% or Rs 2000/crore of turnover
2. Equity Futures: 0.0125% or Rs 1500/crore of turnover
3. Equity Options: 0.08% or Rs 8000/crore of premium turnover
4. Currency Futures: 0.0075% or Rs 750/crore of turnover
5. Currency Options: 0.06% or Rs 6000/crore of premium turnover
6. Commodity Futures: 0.0125% or Rs 1250/crore of turnover
You can also see all your quants without trading costs, Click on N to not consider trading costs.

Equity Curve
The equity curve helps you measure the performance of your stock portfolio versus the benchmark (Nifty Index). You will be able to plot how Rs 100 invested in your portfolio would have performed as compared to Nifty. See the below equity curve for one of our clients and how he has outperformed the Nifty.
Time based analytics should help you better manage positions, reduce your trading size on time periods where you have historically not performed well and increase when you have.
Equity Curve will help you measure the true performance of your holdings. Yes 30% in a year is good, but not if the benchmark was up 60%.
The quest from when we started Zerodha has been to give our traders an edge over others while trading the markets. Be it lower costs, a good trading platform (Pi), reporting (Q), trading tools, initiatives like 60 day challenge or now Quant. Quant is the first of its kind tool offered to retail trading community, not just in India but across the world. This is just a start, and we will add a lot more in the next few releases for you to be able to figure out where exactly you can improve to help increase your odds of winning while trading. And of course, needless to say, Quant is absolutely FREE to all Zerodha clients.
Do help spread the goodness. If you're a client, you can use the associate program.
Happy Trading,