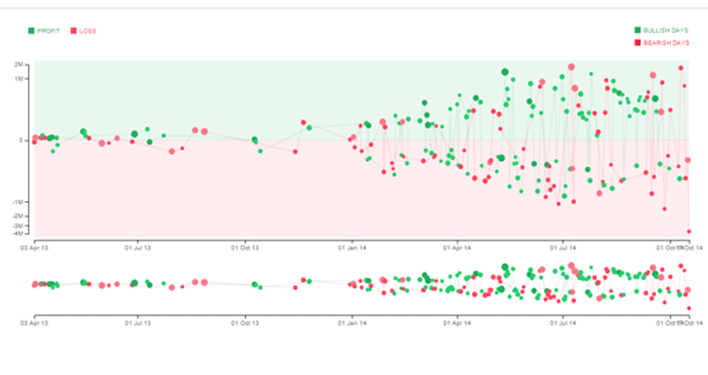 Traders,
If you are looking at Quant for the first time, I'd suggest you to start with our introduction on Quant – Time Based Analytics and Equity Curve. 
There are traders who perform better in bullish markets compared to bearish, and vice-versa. Do you know which category you fall in?
The new Quant – Market Trends will help you figure this out based on your trading history. It will not only tell you the number of times you have been profitable in bullish/bearish markets, but also the quantum of profits/losses made. This should give you that edge as a trader to know what conditions to avoid and when to be aggressive.
Determining Bullishness/Bearishness
Bullishness/bearishness is a relative term, and hence we have given each one of you an option to tailor the conditions to your definition. Since this analytic is based on the market trend, we will be using Nifty Index to help determine if a day is bullish or bearish.
SMA: Choose a time period for simple moving average (SMA) of the Nifty. Higher the trading day's Nifty closing price above this SMA higher the bullishness and vice versa. By default you will see a 35% weightage for this SMA metric to calculate if a day is bullish/bearish. If you want to give more importance to this, you can increase the %.
Open-Close: Day is Bullish if Closing price > Open price and Bearish if Close < Open of Nifty. Higher the range ( Open – Close) , more the bullishness/bearishness. By default this factor contributes 40%.
High-Low: Bullish if High of Nifty is near the closing price of Nifty for the day, and Bearish if Low of Nifty is near the closing price of Nifty for the day. Closer the High/Low to the closing price of Nifty, higher the bullishness/bearishness respectively. This by default contributes 25%.
Based on the SMA period and the weightage for each of the three options that you choose, we will determine if a day is bullish or bearish. You can see in the picture of the scatter plot below that the size of each point on the plot will depend on how bullish/bearish that day was for the market (Nifty). Big green dots represent very bullish days, and big red dots represent very bearish days.
Your Historical Trading Performance
Once we have determined bullishness/bearishness, your trading performance on each of these days are plotted against them. All points above the 0 (x-axis) coloured in green are the days you were profitable and the ones below the x-axis in red are loss making days.
The following inferences can be made looking at the above plot and data shared:
The client is profitable on 60% of the days when market is bullish, compared to only 44% when market is bearish.
In terms of Rs profits made, 30% more profitable trading bullish days as compared to bearish days.
In terms of Rs losses made, a 200% increase in loss trading bearish days as compared to trading bullish days.
Clearly, the odds of this client winning are much more trading when market is bullish compared to when markets are bearish. So, it might be a good idea to reduce trading size when market is bearish and increase when markets are bullish.
Note: Check this post to know the difference between Type – T and D, while generating Quant. All these reports are on a gross basis only (excluding brokerage, taxes, and all other charges). Use higher Simple moving average day interval, and give a higher % weightage for SMA to determine your profitability during longer bullish/bearish market trends.
***Update – 3rd Nov 2014. By popular demand, we have decided to include approximate trading costs before displaying the quant. Computing exact costs is not available right now, but is planned for the future. Also, since all quants are meant to show you relative performance, we believe that it is reasonable enough to help you make decisions based on approximate trading costs. If you want to see your normal P&L statements with exact costs, it is available in the report section under Q.
Approximate Trading Costs assumed (including Brokerage, STT/CTT, Transaction charges, Service tax, Stamp duty), :
1. Equity : 0.02% or Rs 2000/crore of turnover
2. Equity Futures: 0.0125% or Rs 1500/crore of turnover
3. Equity Options: 0.08% or Rs 8000/crore of premium turnover
4. Currency Futures: 0.0075% or Rs 750/crore of turnover
5. Currency Options: 0.06% or Rs 6000/crore of premium turnover
6. Commodity Futures: 0.0125% or Rs 1250/crore of turnover
You can also see all your quants without trading costs, Click on N to not consider trading costs.

Hopefully these insights will help improve your trading performance. We will have many more of such interesting analytics released in the next few months on Quant to help you learn & improve as you trade, do let us know if there is anything in particular you would like to see.
Happy Trading,