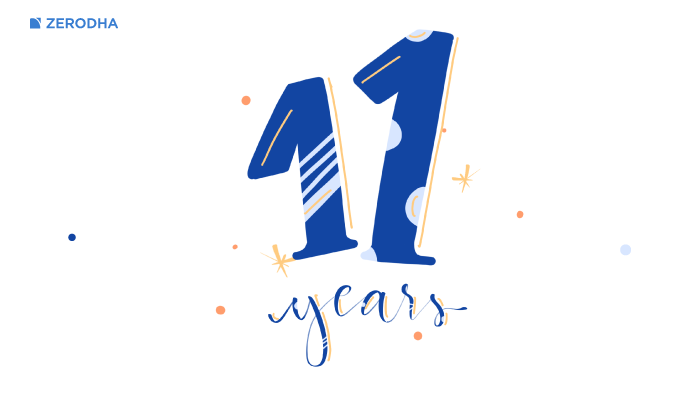 Happy Independence Day!
Aug 15th, 2010 happens to be the day we started Zerodha, which means we turn 11 today 🙂 The past year, 2020-2021, has been highly eventful, to say the least. Society changed in unexpected ways, as did the industry, bringing a large influx of new traders and investors. To adapt to the rapid growth and changes, we have had to make numerous changes internally to our processes, products, and even how we operate as a business by going fully remote. At the same time, we continued to launch new products and features while constantly improving our services.
If you were to ask me about our journey, I'd say we are most proud of building a large and resilient business that has zero debt, is profitable, and continues to innovate and prioritise customer interest over business growth constantly—a business that can ask itself "growth at what cost?", helps grow the ecosystem it is in (Rainmatter Fintech) and gives back to society (Rainmatter Foundation).
All of this wouldn't have been possible without your love and support. We can run our business this way primarily because we were fortunate enough not to have to raise external capital from VCs, PEs, or an IPO, all of which come with the pressure to grow fast at any cost. And this has been possible because we could grow our business to over 6.5 million customers without having to spend any money on marketing and advertising, relying solely on the word-of-mouth referrals of happy customers. The fact that we are now cited as an example of how one can build a large business while being rooted in first principles is heartening and humbling.
While discount pricing is how we started, everything from the ease of onboarding to the seamless trading and investing experience of Kite and Coin to the comprehensive reporting on Console and our educational initiatives is why customers choose Zerodha. I thought I'd use this opportunity to quickly recap some of the offerings we introduced across these products over the last year. But before that, I want to address the one big sore point—our customer support.
Improving customer support
The one aspect of the business we aren't proud of is how our customer support has evolved. We have struggled to scale the quality of support to be at par with the quality of our products. I could blame COVID, the sudden rush in new accounts, or the work from home situation, but that would be ignoring the structural issues that we have now started fixing.
Over the last couple of months, we have been making drastic changes internally that have led to a considerable improvement in the quality of customer support. The average ticket response time is now less than 6 hours (less than 1 hour during working hours), and the average wait time of a phone call is now less than 1 minute. It is extremely tough to scale 1:1 phone support in a low cost, high volume business model. We understand that time is the essence, so I request you to create tickets through our Support Portal by selecting appropriate topics, which will help us handle your queries better and respond to you faster. We are working towards bringing down ticket response times to minutes, 24×7.
While the response times improve, we need your help to ensure that the response's quality also improves proportionately. Today, after a ticket or call interaction, we send you an email to rate the interaction. We take these ratings seriously, and they help us track where improvements are required. However, only around 10% of the support interactions get rated. We hope to take this to at least 50%. We will start sending the feedback request to Kite through a push notification instead of an email to make it easier for you to give feedback. A few seconds you spare in letting us know if you are satisfied with the support interaction with us or not, it will go a long way in helping us support you better. The only target we now have across all our teams is to ensure that every customer response can have as high a rating from you as possible through quality interactions. In addition, we are also making changes to how calls and tickets are prioritised, where active customers will be pushed ahead in the queue over dormant customers.

Recap
Coming back to products and offerings, over the past year, there have been many updates on Kite, Coin and Console, amongst others. Here is a recap of some of the significant updates from 2020-2021:
The Rainmatter ecosystem
A recap of some of major updates in 2020-2021 from the Rainmatter ecosystem startup products and platforms:
Finally, on our 11th anniversary, as a small token of gratitude to our first 100,000 customers who joined us in the first 5 years of our business, who trusted us when we still didn't have the products or brand credibility, we are adding 3000 reward points to their accounts. You can use these points to pay for AMC charges or premium partner products.
Thanks again for all the love and support,
Nithin & Team Zerodha