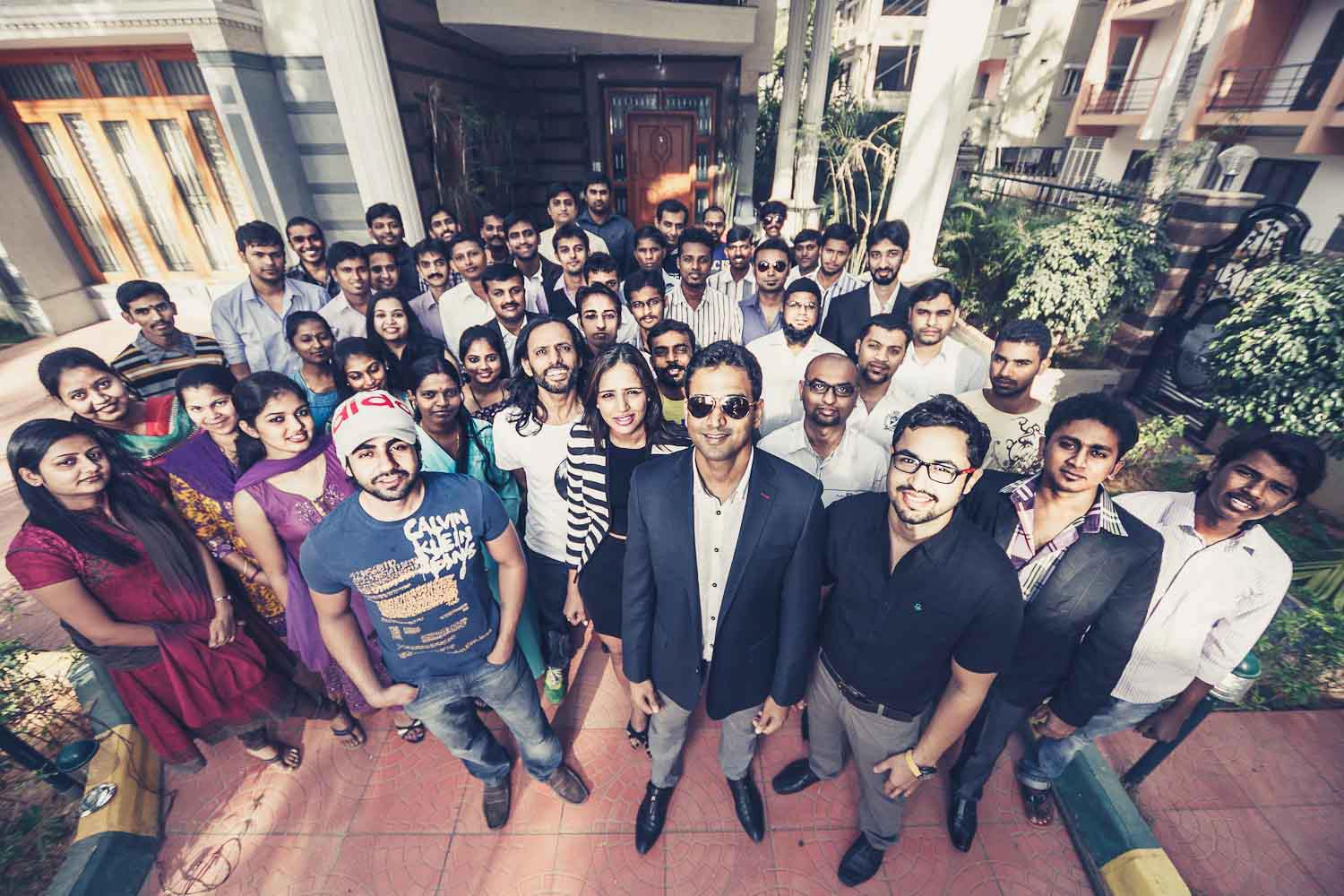 Dear Fellow Traders,
Z-Connect is an endeavor from our side to keep you connected with everything new at Zerodha and help you understand the various tools/utilities available. We would also be covering various other topics ranging from taxation to coding strategies to help you become a better trader. The content on Z-Connect will be in a blog-like format where we will have Q&A at the end of each post.
Trading is a war where you are at a battle everyday. Just think of this scenario where we have 2 boxers in a ring – similar built, size and skills. If you let them fight who do you think would win? They will probably injure each other but no one person will be able to win the fight, the only people who benefit are probably the hospital where the 2 boxers get admitted or the organizers of the fight. For either one to win they need to have an edge over the other – a little quicker, bigger or more skillful, some kind of an edge.
Similarly when trading the market without an edge it is usually the Brokers (brokerage), Exchanges and the Government (STT, Stamp Duty and others) who benefit.
I have been trading from when I was really young and have traded almost anything that moved for almost 15 years. The journey had been volatile with ups and downs, it was a lot of downs before I realized that without an edge it would not be possible to be up on the game, Edge in terms of strategy, trading costs, information or technology.
Active day trading takes a huge toll on your personal life and it is important to plan your career. After 15 years of trading and a brilliant year in 2008 (was short for most of 2008), started feeling the fatigue for the first time in 2009. "Anyone can make money, but taking money home!!! Hmmm… Not many can do it." – an old market quote, this is when I decided to stop trading and focus on another business as the only way to profit from trading is if you are giving 110% effort on every trade. Over the 15 years in the capital markets, had met heads of various broking firms and felt the disconnect between what they offered and what traders wanted. The opportunity was/is that though brokerages in India are all offering online platforms they are relying on an offline method to run it, hundreds of branches, sub-brokers, relationship managers, regional heads, zonal heads and many more to serve clients who were all going online. The increased cost of running this offline business is passed onto the trader who is mainly online and bridging this disconnect paved way to starting Zerodha in Aug 2010. The idea was simple; stay completely online, provide  excellent support, offer a fast & reliable trading platform and pass back the benefit of reduced costs to the client.
I am often asked what is the logic behind charging  per executed order fees?
In today's market scenario with advancement in technology the cost of executing a trade for a brokerage firm doesn't go up with the size of the trade. What this means is that if Ram bought 1 lot of options and Sham bought 10 lots both in 1 order, Zerodha as a brokerage firm doesn't incur extra costs for Sham over Ram. The logic was that if the costs doesn't go up with the size of the order, then why should brokerage?  Hence we decided on a fixed fee of Rs 20 per executed order irrespective of size or contract. To help smaller volume equity traders we  decided to offer either 0.01% or Rs 20 whichever is Lower. 
This is called Discount Broking, originated in US and how most of the developed markets trade today. Etrade, Ameritrade, Zecco etc. are the pioneers and discount brokerages contribute to over 80% of the market turnover in the US. The bet behind starting Zerodha was that with the entire online revolution of FB, online shopping portals etc. it was about time India had its own true discount broking firm. A brokerage firm which is online, offering a fast, reliable and advanced trading platform, excellent support and at the lowest costs because of the reduced overheads.
Why the name Zerodha?
We wanted our name to suggest our objective rather than make a claim that we will make money or wealth. Our name is created by the fusion of the English word "Zero" and the Sanskrit word "Rodha" meaning barrier. Together " Zero Barriers" suggesting our objective on which the business was started.
People?
What makes or breaks a business is the people working. We are an 85 member team today working on the sole objective of making Zerodha the best place in India to trade. When it all started off, we were a team of 7, Nikhil (my younger brother and a brilliant trader) to take care of Trading and Risk-management, Venu -the hardest working human being I know for Compliance & Operations, Hanan -the most sociable among us for Customer Support, Sameer for Dealing, Parwez for Sales, Sundar for Office Administration and I (Nithin).
None of us came from a business background and Zerodha is more like a big joint family today. The focus has never been money, the idea has always been to keep clients happy knowing that if done well money would always follow. Over the last 3+ years, our team has grown to almost 85 and is still growing. Our focus while hiring is to analyze the candidate's integrity, work attitude and ability to learn fast rather than experience in the capital markets. Today, less than 10% of our team has worked for brokers before and this ensures that the business is not run like a traditional brokerage firm. Today we are lucky to have a team of some brilliant young men & women, working very hard and partying harder. Very similar to how it was back in college, we call ourselves as  "Zites".
Platform History
As a low cost broking business, it was imperative that we kept our operational costs low and technology is the biggest cost in today's scenario. Back in early 2010, we decided to start by becoming members only on the National Stock Exchange and what helped us get started was the fact that NSE helped in technology by providing the NOW (Neat on Web) trading platform. With "NOW" all our technology headache was taken over by NSE and it worked brilliantly as we focussed only on the operational side of the business rather than the technology.
There are certain restrictions on NOW like it can't be customized and can be used only for trading on the NSE and not all exchanges. Nikhil and I, with our trading background wanted a lot more on the trading platform than what was available. Also, with BSE launching F&O, Commodity trading getting popular, it became imperative that we had to be able to offer multiple exchanges on one platform without increasing the trading cost to our client. Around December 2011 is when we decided that the time was ripe to have our own trading platform, what gave us the confidence to spend on technology was also the fact that within 15 months from when we started our business we had almost 7000 clients and we were doing a turnover of Rs. 1000 to 1500 crores per day putting us in the league of the top 10 brokers in South India, brokers who had been doing business for over 15 years.
The important decision now was on how to put up a platform that matched the best platforms in India in terms of speed, reliability and user interface. The choice boiled down to Omnesys Technologies (the same company which developed NOW), a team of hardworking, earnest and innovative people headed by the very modest Shrikant Pandit. NEST (developed by Omnesys) is a well-established trading platform and the preferred choice of some of the most popular broking firms in the country. We ensured that the best technology team in the country was maintaining  our trading platform & servers and co-located our servers close to the exchanges for reliability and performance.
We call our downloadable trading platform Zerodha Trader (ZT), the web HTML5 platform (Z5) and the mobile platform Zerodha Mobile (ZM). You will be able to see blogs on how to use each of these platforms on Z-Connect.
ZT: Fastest way to trade the markets, a downloadable software version with an amazing bunch of tools.
Z5: If the internet speeds are slow,have to work behind firewalls or are not allowed to download software on your computer, Z5 is the preferred choice. A HTML5 platform that adapts based on your browser, mobile or tablets and can stream data behind any firewalls. We also have have a Java based web application called trade express.
ZM: To trade on the go, Zerodha Mobile presently works on Android and Blackberry.
Plan: As I am editing this blog on Nov 2013, we are working  on a new trading platform, tools and website, which should help us match up to the international brokerages.
Business History
August 15, 2010 was when Zerodha went live for retail trading. In just over 3 years, without spending even 1 Rupee on advertisements, newspaper inserts, Google Ads, etc. Today we have over 30000 clients contributing volumes of Rs 4000-5000 crores on various exchanges daily. This in terms of turnover would put us among the top 15 retail brokers nationally.
Our business has grown thanks to word-of-mouth advertising by our clients. We have over 4000 clients who refer new clients as part of the Zerodha Associate Program.
The key ingredient for this growth has just not been pricing but the fact that we have never compromised on quality of service. An essential reason for this is because every client of ours gets the same deal and this increases the efficiency in terms of sales and support. The rules remain the same be it a client with Rs 1000 or 1 crore in the trading account, had recently received an email saying that Zerodha is like a Robinhood for the trading community. We started by being a member on NSE but today are live on BSE, MCX-SX and MCX.
Future Plans
The plan is by April 2015 be the best brokerage in terms of website, trading platform, backoffice, support and tools in India, a technology edge to all our clients.
"The world is changing very fast. Big will not beat small anymore. It will be the fast beating the slow."
I am a very firm believer in the Rupert Murdoch quote above. The target given to everyone at Zerodha is to be the best brokerage in India (turnover, support and technology) and we have to do it by being online, fast and quick to adapt.
All those reading who are our clients, thanks a lot for your support and for those who are not, looking forward to having you on board soon.
Do email your feedback on how we can improve to [email protected]
Happy Trading,