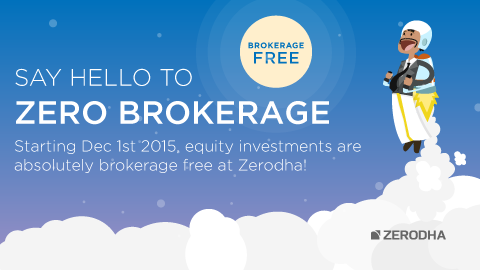 Traders & Investors,
Yes, you read it right! All investments at Zerodha will now be absolutely brokerage free starting 1st Dec 2015. No upfront fees, no minimum volume, no special terms and conditions, no clauses, no strings attached.
Right from the conception of our name, the plan was to get here, it has taken us over 5+ years. This wasn't done on the back of any VC/PE fund raise nor do we have any such plans for the near future. Now my guess is that you all will have a couple of questions:
Why?
As a business we have hit a point of realization of how shallow the stock market participation is in India, probably not more than a million active investors (<0.1% population). Not just for brokerage businesses like us, but economic growth in a modern economy hinges on vibrant capital markets. 65% of Indian population is below the age of 35, and something has to be done to attract them to start investing in the markets. For this to happen, I think we need to bring in coolness into the brokerage business.
With Kite, our new web/mobile app(android launching shortly), the focus has been to make the user interface clutter free and as less intimidating as possible for a new investor, while still being able to give all the power in terms of speed, charting, and functionality an active trader needs. To make life a lot more easier for an investor, we will soon launch valid till cancel orders, and SIP on equity. Our mutual fund platform is in beta testing. Kite is already available in Kannada and Malayalam, and will very soon be available in 8 other languages. We believe that localization of the platform will help grow the markets, especially in tier 2 and tier 3 cities. To complement the above, Varsity our education initiative has also become extremely popular, attracting many new investors to learn about the markets.
In essence, investment culture has to be nurtured, and we intend to do this not just by offering a zero brokerage investing platform, but also an extremely easy user experience. The plan is to on board the next 1 million participants who are currently not investing, show them how stock market can create wealth if invested for long term, help grow the capital markets in India, and also hope that a few of them will turn traders and add revenue to our business. The zero brokerage offer on equity delivery trades is applicable only to retail, individual investors. Corporates, Partnerships, HUFs and other institutions have to continue to pay 0.1% or Rs. 20 per executed order, whichever is lower.
How?
Though this decision might sound random, but we have been planning on this for a while.
We have just launched Kite trade restful API's for institutions. These API's can be used by prop desks for trading, or by technology firms who want to disrupt the brokerage business by building unique trading front end and let us, Zerodha, take care of all the operations (Brokerage as a service model). These API's will come at a fee, so this would mean institutions trading with us will help subsidize the retail investors.
We are soon starting margin lending for a fee for equity delivery trades. By margin lending, I mean clients who want to buy stocks worth more than the money they have in their trading accounts for delivery.
All F&O and equity intraday trades would continue to be charged at Rs 20 or 0.01% whichever is lower per executed order. Equity investment would mean any stock that you buy and hold to the next day.
We are hoping that in the process of adding investors, we will also be able to add to our active F&O trading client base.
For our plan to be a success, we will need your continued support. Do help spread the word.
Happy Investing,