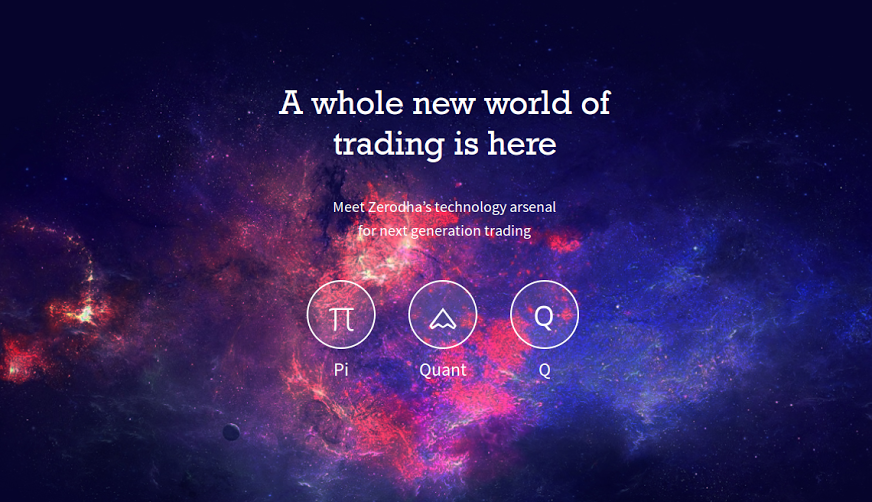 Traders,
We had over 1000 people test Pi over two months in October/November. We took suggestions and feedback and today launched the final "beta" release of Pi. This was released to around 100 of our clients today, and over this week will be released to over 5000 of our clients who have requested for the same.
If you login to Q, you will be able to see a menu called Pi where you can put in your request to test the beta. A lot of new infrastructure has been added which has upped our running cost for Pi and hence we are giving access to only our active clients. An active client for us is anyone who has at least Rs 10,000 (including cash + option premium + margin blocked) in either the equity or commodity account with us.
Pi is enabled for all the three exchanges now – NSE, BSE, and MCX.
Following is an overview to get you started on Pi. I also suggest you to go through these two blog posts and videos Pi-1 and Pi-2.
1. To get access:
Login to Q and place a request. We will increase the speed at which we are giving out licenses from January 14 (two days from the launch). We are trying to scale up slowly to avoid any unforeseen issues.
Make sure to uninstall all the previous versions of Pi, and install the latest one (Version 1.0.0.5 and above). Here is how you check, In the help menu, click on About Pi. The Version number shows up there: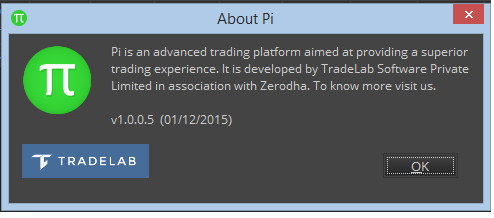 Quick login helps to login faster by not having to download scrips everytime. But when new contracts are added (including stock splits), make sure to untick on quick login once. This will ensure the latest scrips are updated on your Pi.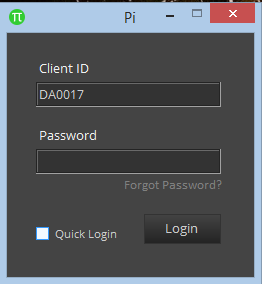 2. Marketwatch
Very similar to a standard marketwatch on ZT/NEST, a few things that are new:
Quick snapshot chart for each scrip on the marketwatch, to help you spot intraday trends.
You can add indices on the marketwatch and also view their charts. To add an index, click on the dropdown which says EQ, and choose indices instead.
A column called Predictive Closing, which will in case you trade futures and options, help predict the weighted average price of the last 30 minutes of trading. This is especially more important on expiry days.
If you want to add a gap/space between two rows on the marketwatch, click on the row and  click on the space bar on the keyboard.
You can't have multiple marektwatches like in ZT.
You can use the User Settings option to enable/disable market indices on the top right, and to change few other settings.
3. Multiple Application styles
Application style can be selected under "View" on the main toolbar.
4. Admin Positions
One of the drawbacks of NEST was that your overnight positions would show the average price as previous closing price. This required you to either login to Q or keep a tab on the actual Buy/Sell price.
On Pi, the Buy/Sell average price will show you the actual entry price. Also, the Total P&L column will show your actual P&L, whereas MTM will show the marked to market profit based on the previous closing price. The same applies to the Demat Holdings menu as well.
Also unlike NEST, the admin positions window is auto updated, you don't have to click on get positions to see your latest positions.
5. Charts
We have intraday data from June 2014 onwards for the top 200 NSE stocks.  You will be able to see intraday data for the remaining stocks, futures, and Indices from January 6th, 2015 onwards. We will add end of day charts for the last ten years soon. Do keep these things in mind:
Up, and down keys to Zoom in and Zoom out. Right click on the chart, and click on complete Zoom out, to see the entire chart. Right click and choose Zoom selected area if you wish to Zoom into a specific area on the chart.
Left and right keys to move left and right on the chart.
To delete an indicator, left click on it, and hit delete.
To move your horizontal and vertical trend lines and other drawing tools, left click and drag.
Drawing tools and all indicators will be active only when you open a chart.
You can presently open minute and hourly charts. Daily charts will be available soon.
Left click and hover over the candle to see the OHLC
You can open multiple charts, and can pop out any window (including charts) by clicking on "popout active window" under the view menu. This will be particularly useful in a multi screen setup.
To arrange your screen with multiple charts/marketwatch/positions, you have to left click, drag and drop the window. You can also look at this video (time: 6:40 onwards)
To trade from the chart, right click at the price point where you want to place your buy/sell orders. Pending orders show an arrow, executed orders don't. To cancel/modify orders placed on the chart, use the order book. Right click on the chart and clear orders will cancel all the pending orders placed from the chart.
For optimum performance don't open more than 20,000 candles at one time on a chart.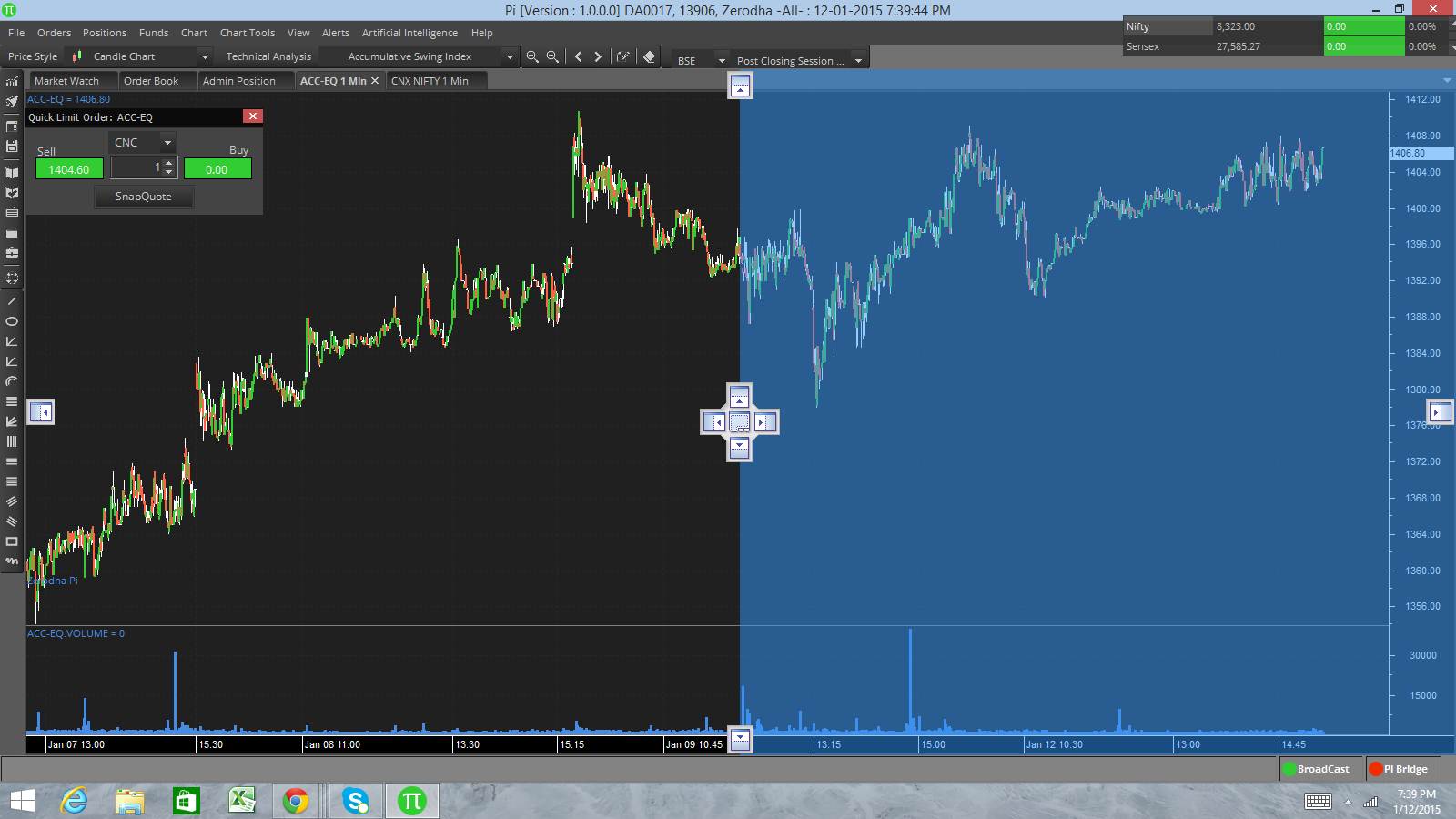 6. Backtest, Scripted alerts, Expert advisors, Pi Bridge, Scanners, and Pattern recognition
We will run a detailed section on each one of the above. For those who want to give it a shot:
The programming language used on Pi is called TradeScript, and this post has around 300+ queries answered and the manual should help you get started.
Backtest: You can code your strategy in tradescript, and backtest using this menu. Note: Backtesting uses your system resources, make sure that you have a powerful computer especially if backtesting on large amounts of data. Also try to ensure that your strategy doesn't have code that can go into loop and cause infinite number of buy/sell, this can also crash the program.
Scripted alerts: You can go live on your backtested strategies using scripted alerts.
Expert Advisor (EA): Very similar to scripted alerts, but it is easier to run multiple EA's and sharing with others. We have shared 14 public EA's with you to help get started.
Pi bridge for AmiBroker: Those who are used to AFL (AmiBroker Formula Language) can fire orders directly from AmiBroker into Pi.
Generated alerts: Scripted alerts, EA's, and  Pi bridge for AmiBroker; all buy/sell signals get logged in the generated alerts window. One click from here to buy/sell.
Consensus report: You can see what is the consensus of multiple EA's, how bullish or bearish.
Scanners: You can use TradeScript to scan on a big group of scrips for trading opportunities.
Pattern recognition: Open a chart and run this tool to find the patterns that you are looking for. For example, head and shoulders, double tops/bottoms, or create your own pattern and scan the chart for it.
Here are some screenshots for those who want to get started right away:
Cover Orders are available and Bracket Orders will be made available soon.
As I said already, we have over 5000 requests for the beta of Pi, and we are releasing new licenses slowly. So it might take a few days before all of you get your hands on it. We want to be sure that everything goes right when the load increases. Sorry for keeping you all waiting, having Pi out soon is very important for us as a business too.
This is still a beta release, so if you spot any issues do let us know either on this blog post or by sending an email to [email protected] and [email protected].
** 3rd Feb 2015**
We have an updated release available for Pi. You can either uninstall and install the latest release of PI, or else update by downloading and running the latest patch available on Q. Once updated, the About Pi link should show the date as 01/30/2015.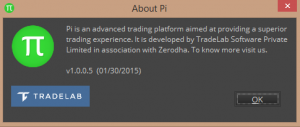 Happy Trading,