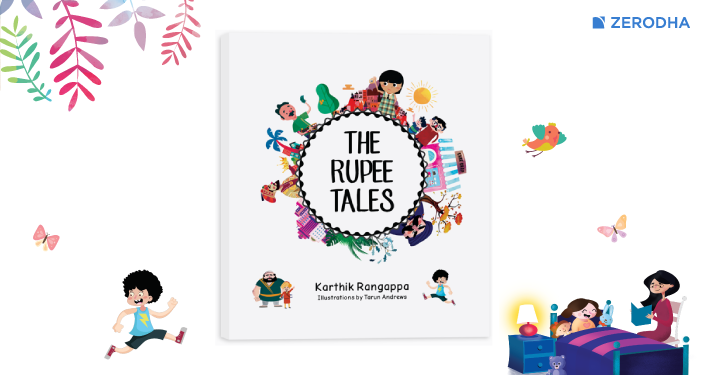 Traders/Investors,
I know with whatever little experience that two things govern success in the capital markets – being well informed about the industry and having the ability to make decisions without letting emotions get the better of you. We have – through Varsity, Trading Q&A, and other initiatives – tried to provide quality financial education to everyone looking for it.
I've always wondered; what if we could reverse time and start when we were younger – much younger? If only we had the right initiation into the world of finance at an early age, it could probably have added so much to our abilities today. With this in mind, we looked for books and material that introduced basic finance to young minds, but found none, to our dismay. This is what led us to creating Rupee Tales – a set of five books that introduce the basics of finance to kids through simple stories they can relate to. The idea originated when Karthik's (also the mind behind Varsity) daughter Meera kept questioning him about his job.
Each book deals with a specific theme that is presented with an engaging story line, peppered with lively characters and vibrant illustrations that captivate the young minds. The topics discussed in the five books are :-
Savings – Anu Learns to Save – This simple story explains the importance of saving money regularly, from a very early age in life.
Banking & Inflation – Mani's Money – This story explains the concept of inflation, banking, and the need to deposit money in a savings account. The understanding of these concepts could lay a foundation to the idea of saving money in a financial instrument.
Taxation – Vishrambu's bus journey – A responsible citizen pays his share of taxes to the government. Taxes are an important part of our financial lives. In line with this, the story explains the concept of tax, and why one needs to pay them.
Insurance – One and a Half stories – This story introduces the concept of insurance, and explains why it makes sense to get one.
Stock Market – The Cake Shop – This story is about the stock market. It explains how a company can raise money from the stock market to expand its business. The story also explains how an investor can benefit by investing his money in a business via the stock market
This is not an attempt to teach kids to trade 🙂 but rather familiarize them to topics that are related to 'Financial Inclusion', which is pivotal to the cashless and paperless economy India is yearning for.  A large part of the dream of financial inclusion for all is dependent on how the younger generation adopts it.
All stories have been written by Karthik and I hope that you and your family enjoy reading them, as much as we enjoyed creating them for you.
Since there is a cost to print and courier, we have priced the set of 5 books for Rs 470. You can order them from www.rupeetales.com. They'd be a great gifting choice this holiday season if you have kids around you.
Happy reading,