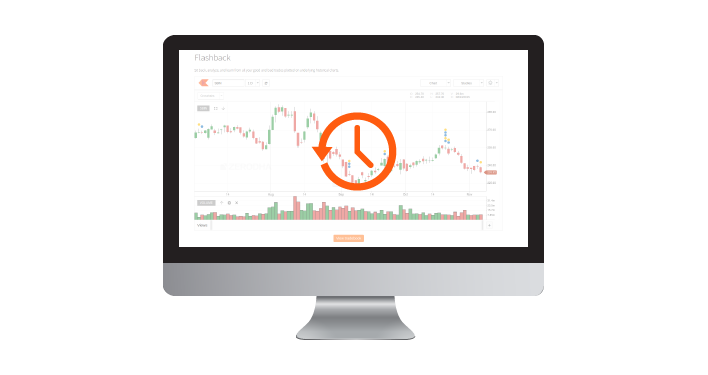 Traders,
I guess we all have read about how Sachin Tendulkar used to watch and study video cassettes for hours of every single innings of his to help become a better batsman. The question is, how many of us traders do this? Do we ever look back and see how we performed, what helped and what hurt? And even if we did, can P&L or tradebook, capture the underlying activity in the market and how we reacted to it?
Introducing "Flashback", among the many firsts – a Quant analytic that will plot all your trades on historical charts of the underlying stock or F&O. You can now sit back, analyze, and learn from all your good and bad trades.
To access flashback
Either visit the Quant menu on Q, or http://quant.zerodha.com/.
Introduction
Flashback by default opens a historical daily chart of the last scrip traded in your account. To change the scrip start typing in the search box and select. You can also visit the tradebook link, and copy paste the scrip name in this box if you don't remember.
In the example below, you can see the blue dots indicating where Infy stock was bought and yellow where it was sold. Hovering on the dot will also tell you the quantity and the price.
These charts are powered by Kite, hence if you follow technical analysis you can also apply the over 100+ indicators and see if you adhered to all the TA rules. Check this post on how to use Kite charts.
The chart below shows intraday trades on 1 minute chart of Nifty15OctFut beautifully executed. Shorting at gap down opening when support was broken, and sticking through the trade until the next day. You may note that there are many more blue (buy) dots compared to yellow (sell); this indicates more number of trades executed at that point and not necessarily more quantity. So if a buy of 300 nifty fut was executed in 4 trades, you will see 4 dots and if executed in 1 trade you will see only one.
The minute chart of the underlying is plotted until the day the scrip was last traded in the account, whereas the daily charts are updated everyday. Also for all F&O contracts, chart data is available only for contracts from October 2015.
The objective of "Quant" has been to give insights from your own trading behavior to help improve profitability. Suggest you to look at this section to understand various other Quant analytics.
Like someone wise has said, "only by facing your demons can you stop them from having power over you." In trading it is even more important to spot and fix mistakes (demons) before they become a habit. Hopefully "Quant-Flashback" will aid you in this pursuit.
Happy Trading,