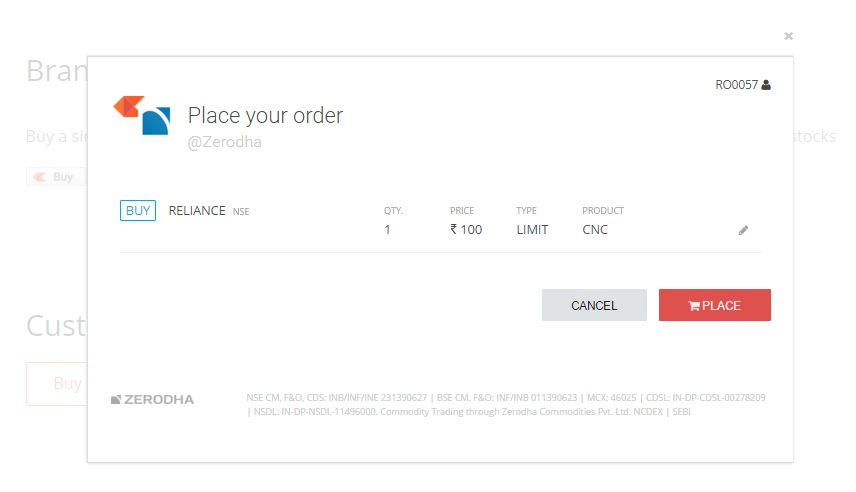 Traders,
Many of you probably write stock market related blog posts or manage websites or mobile apps providing fundamental info, analysis, option strategies, advisory, etc. Until now, even though the decision making was happening on your interface, the actual placing of a trade would have been outside it. This meant lesser client traction on your site and loss of potential brokerage revenue share. Kite Publisher can now help you let your users execute orders via Zerodha with a few lines of HTML/Javascript code that you can copy paste.
How does it work?
We have added sample buy, sell, and trade demo buttons on the Kite publisher webpage to give you an indication on how it works. These buttons can be integrated to your blog, website, or mobile app to give a seamless trading experience.
Let me explain with an example. Assume I have this business that gives fundamental research and niche portfolio tracking on a website. These are decision making tools that might get a user to buy or sell, which is currently not possible within my website. The website also relies on a client manually updating his trade details for portfolio tracking to be in sync.
Using Kite publisher I can integrate buy and sell buttons as shown below.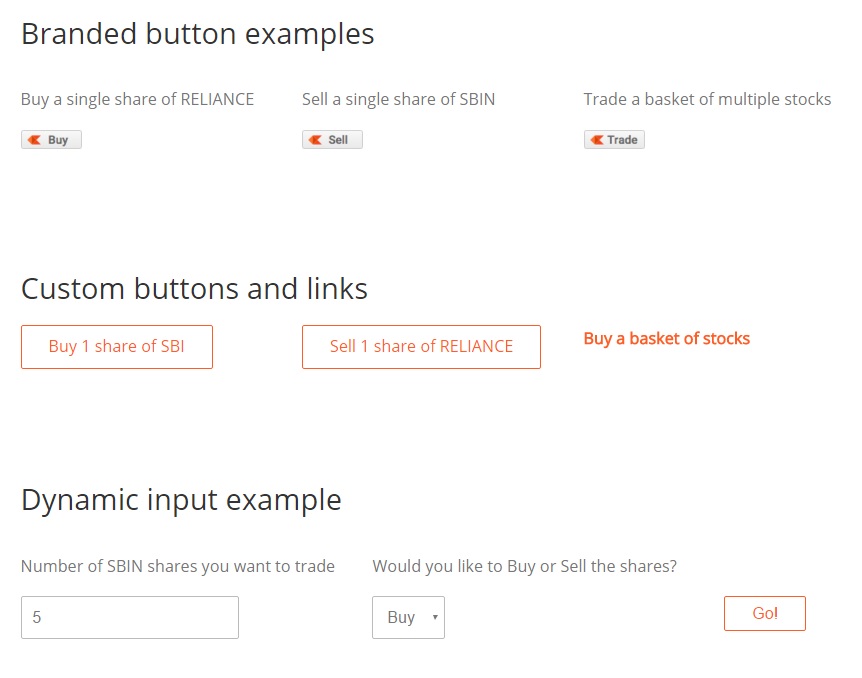 Clicking on buy, sell will open a Kite overlay popup which can be integrated within the mobile app where any Zerodha client can login instantly. This means that you will be able to allow all the 1+ lakh clients of Zerodha to be able to place orders through your website. If the user is not an already existing client, we will capture the lead and our sales team will help open the account. All such leads generated will be mapped to you as part of our partner (authorized person) program.
Once logged in, an order placing window with stocks you coded into the buy/sell buttons will show up as seen in the pic below. Both the login and order placement in the popup are a part of our exchange approved Kite trading platform. This ensures regulatory compliance. The type of order, quantity, scrip can be determined by your website itself. The client will get an option to edit this order before placing.
Also, while logging in if a client authorizes, your website will be able to pull all portfolio details of his account (this is a part of the advanced Kite Connect APIs). So now, your website can import data and build a very cool portfolio tracking report with just a single click. You can also initiate basket orders using Kite Publisher. All the documentation required for this integration is really simple and available here.
If you are looking at live market data feed to power your blog, website, mobile app, or any charting and programming platform, do connect with http://www.globaldatafeeds.in/. Let them know that you are a Zerodha client to get a special discounted offer.
Revenue
Any new leads generated through your interface will be submitted on our sales CRM, which our sales team will coordinate, help open an account, and get the client mapped to you. Clients mapped to you would earn you a share of brokerage revenue generated irrespective of if the client trades on your interface or with us directly.
Getting Started
Check out the Kite Publisher demo
Signup for a developer account and generate an API key
Read the documentation to integrate Publisher with a few line of HTML + Javascript.
Please note that all integration details are in the documentation. If you have any questions, post on the developer forum. We will not be able to provide any additional technical help.
Costs
Kite publisher is absolutely free of cost. Like I had said in an earlier post, it is not revenue but financial inclusion and helping grow the very shallow investor base in India that we are focusing on as Zerodha.
Happy Trading,