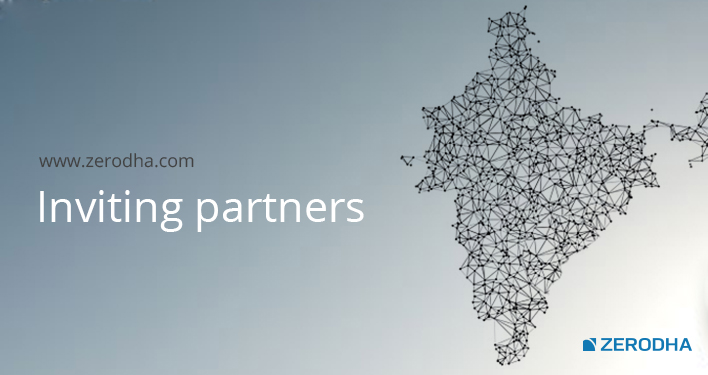 Traders and Investors,
As a business, we have set a target of reaching 1 million clients over the next 3 years, and we are looking for partners to get there. We thought the best people to partner would be our clients like you, who have used our platform and services.
Why partner with Zerodha?
Less than 0.1% (<1 million) of India actively invest on the stock exchanges. With the government focusing on greater financial inclusion, this % can increase significantly over the next few years. We will be in the forefront of the Indian retail brokerage business to capture most of it.
Technology first brokerage firm. India's best trading technology – Kite, Pi, Q, and Quant.
Lowest brokerage costs. Completely transparent with no hidden charges or conditions.
Credibility of having run the business successfully over the last 8 years with almost 8 lakh clients.
Business of scale. Even though the yield per customer acquired is less, it is easy to scale greatly. Higher yielding products like Mutual funds (starting Feb 2016), and Insurance products (starting by Aug 2016) should add significantly to partner revenue.
Niche platforms using Kite connect. One of our endeavours is to grow the shallow retail participation on the Indian capital markets. We believe that just great charting and trading tools, or zero brokerage won't be enough. Using Kite Connect, we are providing an easily accessible gateway to new-age fintech firms to build their platforms using Zerodha infrastructure. This can attract huge number of internet enabled millenials in India to the stock market.
One deal. Every client at Zerodha gets the same offering in terms of pricing, risk, and anything else. This makes it a very easy product to offer support for.
Tier 1 & 2 cities. Majority of our business is currently from metros like Bangalore, Hyderabad, Chennai, and Mumbai, among others. We see a huge opportunity in growing our business in smaller cities, especially more with the exponential rise in Internet penetration because of popular platforms like FB, Whatsapp, etc.
Do help spread the word,
Happy Trading,