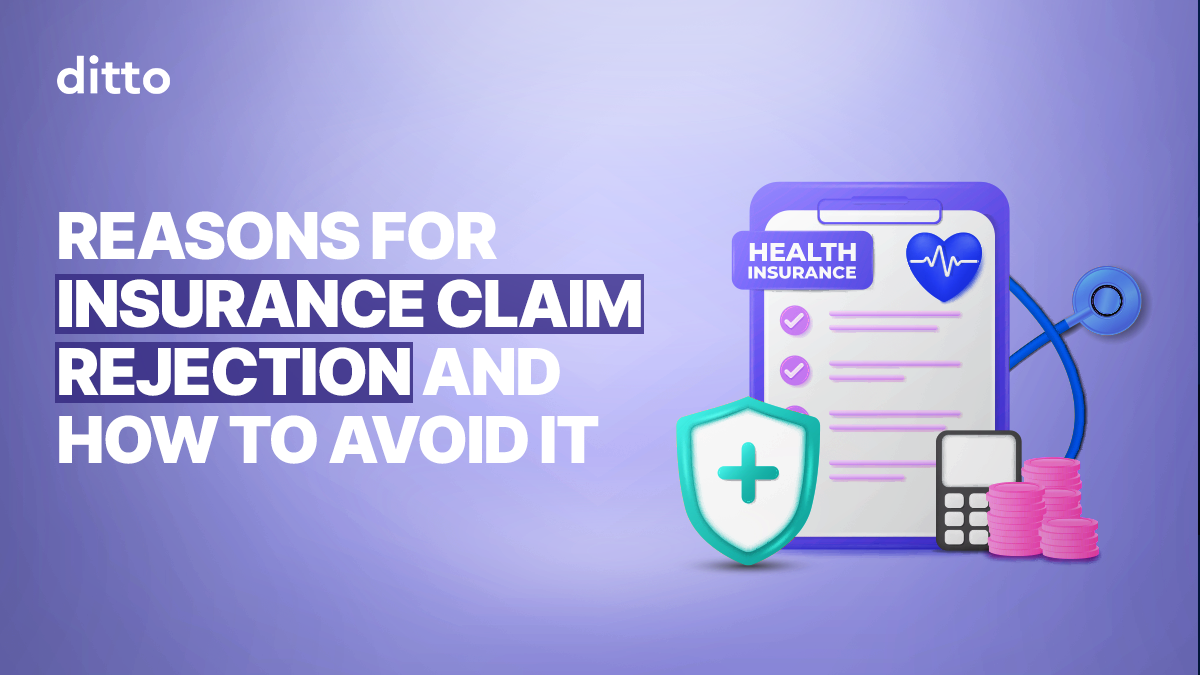 Most people don't understand health insurance. Even those who do, may not fully understand how to navigate the claims experience. While insurance companies have a whole host of reasons to deny your claim, it doesn't always mean you're out of options. At Ditto Insurance we've been dealing with health and term insurance policies since 2020. We've advised over 300,000 customers, sold tens of thousands of policies and we handle about 5-6 claims each day. We have seen how insurance companies routinely shortchange customers and we have also seen how customers can protect their interests when dealing with insurance companies.
So in this article, we explore common reasons for claim rejections and provide actionable tips to avoid them. Using real-life examples, we'll show how we've helped our customers navigate hurdles and get their claims approved. Hopefully, this will help anyone anxious about dealing with an insurance company during the claims process.
"We are settling the claim, just not the full amount"
This is perhaps the most common response customers receive when they have their claim approved. The insurance company will settle the claim but will make large deductions under several headers. Now some of these deductions make sense. For instance, your insurance policy may not cover consumables like bandages, syringes etc. In which case, you may have to pay these costs yourself. But oftentimes the major deductions happen when insurers point to the "customary and reasonable" clause and pay only a fraction of the costs associated with your bill.
In simple words, they're saying. Your hospital is overcharging you. This is not reasonable. And we won't pay a single penny beyond what we think is reasonable. 
Now technically insurance companies can do this. But the regulator has made it very clear. When insurers make deductions under the "reasonable and customary" clause, they have to prove that the hospital overcharged by deviating from the "standard rate card". They also have to show that the charges are substantially higher than the prevailing charges in the geographical considering the nature of the illness and injury. 
If they can't prove this, then they can't make deductions. However, most customers feel like "something is better than nothing" and let it go. You don't have to let it go. You can fight. 
Example: A few months ago at Ditto Insurance, we had a customer make a claim for a cataract procedure. The total claim added up to 90,000 rupees. The insurer only settled 60,000 rupees citing that the procedure should have cost only this much. However, the doctors conducted a slightly complicated procedure on the patient because of the patient's medical history. It was deemed necessary. So we got a letter from the treating doctor stating this much and got the insurance company to disburse the full 90,000.

If they hadn't approved the claim we would have escalated the case to the Ombudsman. And here, the insurance company would have been forced to prove that the charges were excessive which both of us knew they couldn't. So yeah, you should definitely keep this in mind.
"We are denying this claim due to non-disclosure of a pre-existing medical condition"
It is generally a good idea for customers to be completely transparent about any past medical condition. This is one of the biggest reasons why insurance companies deny a claim. They will argue that you had the medical condition even before you bought the policy and you did not disclose this detail. But what if you didn't have a pre-existing condition and the insurance company still denied the claim? Well to counter this, secure a first diagnosis report from your treating physician. This document confirms your condition was diagnosed after purchasing the policy. Though many insurers request this, proactively providing it can prevent claim denial.
"We are not covering this because this treatment is excluded for 2 years"
Insurers usually impose waiting periods on some illnesses. They call these specific illnesses. And they impose this waiting period because they argue that some people try and game the system by not disclosing pre-existing conditions and making a claim soon after buying a policy. Say you don't have a health insurance policy and you found out that you have kidney stones. Your doctor recommends surgery. But you are not in a lot of pain and you don't see the need to do it right away. So you think you can defer it by a few days. During this time, you go buy a policy, you don't make a mention about the stones and you wait a month and then make an insurance claim to have the stones removed. You've managed to cheat the insurance company and they have few ways to actually catch this sort of stuff. So to prevent this from happening routinely, they list out a few illnesses and they say they are going to exclude it for at least 2 years since the date of policy inception. 
However, sometimes, you may still have a chance to get a claim approved. 
Example: One of our customers had an ACL injury because he fell from the stairs. The insurance company denied the claim arguing that ACL surgeries are excluded for 2 years since the date of policy inception. This is true. However, insurance companies usually also have another clause stating that they will cover accidents from day 1. So our position was simple — this was an accident. And we wrote to the insurance company arguing this fact. Eventually, the insurance company conceded and settled the claim.
So always remember insurance companies have little breathing room when it comes to accidents. More often than not, they have to settle the claim. 
"We are not approving this claim since the treatment was availed in a blacklisted hospital"
Insurance companies have a "blacklist" for hospitals. Usually, these are hospitals that have tried to deceive the insurance company in the past. And one thing that customers routinely forget is that insurers constantly keep updating the list. There's also the fact that different insurance companies have different lists. So if you are ever going to be hospitalized, you have to make sure that you are not admitted to a hospital that is already blacklisted by top insurers. 
Example: One of our customers had initiated a planned hip replacement surgery. A few days before being admitted to the hospital he shot out an email to our advisors outlining the fact that he wanted to get the procedure done on a cashless basis. While assisting the gentleman, the advisor recognised that the hospital was blacklisted and suggested the customer to change their service provider. The customer promptly decided to follow our advice and booked surgery elsewhere. The claim was settled soon after.
So in conclusion, here's a summary of things you need to remember when you make a claim

1) Make sure you disclose everything during the medical examination. Every small detail. This drastically reduced the chance of denial when you make a claim

2) Secure a first diagnosis report and submit it to the insurer to prove that your condition is not a pre-existing condition
3) Before availing treatments, check with your advisor to make sure that the hospital isn't blacklisted

4) If your claim is denied speak to your advisor or any other professional to see if you can escalate the matter to the grievance committee and the Ombudsman
5) Remember to have an advisor walk you through some of the key exclusions even before you buy a policy so that you're not caught off guard when eventually making a claim.

Also, if you generally want to avoid the many pitfalls that come with picking insurance and making a claim you can always book a call with our advisors at Ditto Insurance. We will help you every step of the way – right from the application to the claims.