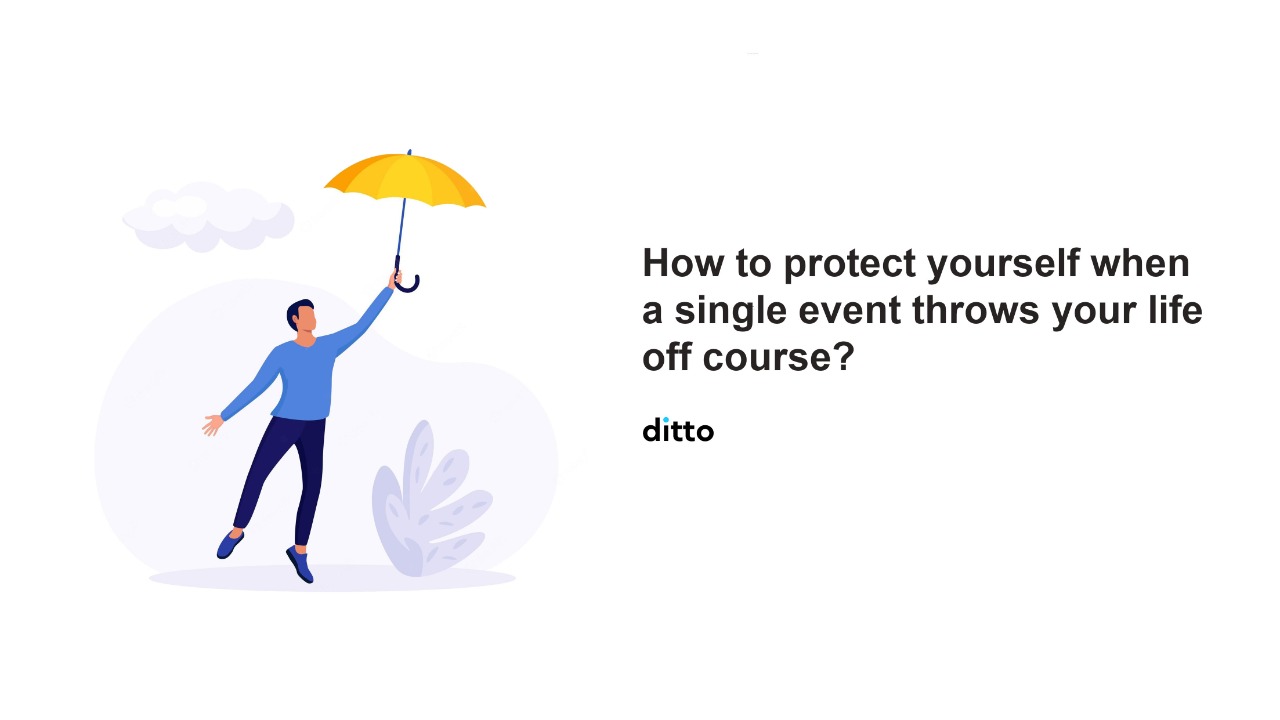 Consider for instance a trip to the hospital. It can drain you physically. It can drain you mentally. And it can drain you financially. The prospect of healing from physical and mental trauma is already daunting as is. But to deal with a massive financial burden as you're recovering from a debilitating illness can be crippling. Some would argue that this is an isolated experience. That the government aids individuals who truly need the money. However, reality tells a very different story. Two-thirds of all medical costs are borne by individuals in their personal capacity. In some areas, it can be as high as 90%. You don't get a lot of help from outside and even when you do, you have to work really hard for it.
An alternative here is to simply buy a health insurance policy so that you don't have to deal with the financial burden. However, people consistently screw up while going about making this purchase. 
For instance, when we ask people to pick a cover while buying a health insurance policy, most people choose a sum no greater than ₹2–3 lakhs. Ask them to justify this response, and they'll often fall back on their lived experience. Hospitalizations are rare. And when they do happen, it's the usual suspects doing the damage — Malaria, a broken bone, or a bad case of appendicitis. Medical expenses seldom exceed the ₹2–3 lakh mark, and a cover in excess of this sum seems needless.
But this isn't a good way to think about health insurance. Sure, ₹2–3 lakhs isn't a modest sum by any account. But it isn't a life-changing sum either. If you're ever hospitalized for an ailment, you will likely be able to put together this kind of money without an insurer. It won't be pleasant, and it most certainly won't be easy. But it's something that you can hope to cobble together if you really need the cash.
What will cripple you however is the bone marrow transplant that costs ₹25 lakhs. Or the recurring cancer treatment that can push you to the brink of financial ruin. Your only option then is to binge on debt or crowdfund your treatment — Seek help from friends and family. If that doesn't do, you'll have to settle for the public healthcare system and see what they can do for you.
This sequence of events can fundamentally alter the course of your life, and it can leave you battered and bruised. So the first thing you do is this — 
1. Choosing the right cover amount: Now most people will tell you that there is no such thing as an optimal cover amount since there are so many variables at play — Where are you being treated? What's the cost of living in your area? What kind of premiums are you willing to pay each year? How can anyone suggest a cover amount without taking these variables into account? Well, you can't. But if there was a rule of thumb, we'd start with 10 lakhs. This figure offers considerable protection in the here and now and can also extend reasonable protection in the future.
What do we mean by that?
Well, medical inflation is at 7% right now. So in a few years, the ₹10 lakhs won't be worth all that much. On the flip side, if you start with a lower sum, say ₹5 Lakhs, then you'll be left with paltry cover. It won't protect you fully from the life-changing events that we discussed earlier. So starting at ₹10 lakhs makes some sense, however, if you can't pay the premiums consistently, maybe ₹5 lakhs will do just fine. 
The moment we bring this up, most people want to go higher —₹ 20 lakhs, ₹50 lakhs or even a crore. However, we wouldn't suggest going down this route since there are other more affordable ways to add protection.
Think Super Tops: These products offer you considerable protection, up to a crore, at a more affordable price. How do they do it? Well, for starters, most super top-up products only pay for costs incurred beyond the deductible. So if you have a super top-up policy with a cover of ₹1 crore and a deductible set at ₹10 lakhs, then you're expected to pay the first ₹10 lakhs before the super top-up can kick in and pay the rest. However, if you already have a base plan, then you use it to pay for all expenses up to ₹10 lakhs and then use the super top for what's left. 
Bottom line: The best approach is to consider a base policy of ₹10–₹20 lakhs and then add a super top-up (up to a crore) for those extra rare cases.
2. Buying a comprehensive product: A comprehensive policy doesn't have to include all the bells and whistles (think Dental cover, international treatments, and OPD costs). It has to do the basics well without imposing mindless restrictions. For instance, you don't want your policy imposing restrictions on room rent — where you're asked to cough up extra money each time you rent a room beyond the prescribed limit. Or disease-wise sub-limits — When a policy offers you a large cover but then tells you, you can only claim a fraction of the total cover for a list of diseases including cataracts and cancers. 
Finally, you want to take a look at the specific illness list. Now, this list isn't talked about often. But every insurance company will throw in a waiting period of 2 years for a list of illnesses (where they believe customers have an opportunity to delay treatment). You can understand the logic behind the move. The last thing that the insurance company would want is for a customer to figure out he/she has a cataract problem and then buy a policy soon after to get the insurance company to pay for the procedure. However, sometimes insurance companies take this mandate too far by including every serious disease they can think of — including cancer. This may not be ideal, and you may want to look at other alternatives. 
Also, a comprehensive policy almost always throws in free health checkups every year to give you that extra bit of protection. Some companies will have tied up with diagnostic partners to offer you a whole host of health tests (within a prescribed limit of course). Even others will have a designated section describing all the diagnostic procedures they will pay for as part of the "free health checkup" program. In fact, if you already have a health insurance policy, just glance through it to see if your company throws in this benefit too. You may be in for a surprise.

Finally, you want to work with an insurance company that's diligent while paying out claims. Now, bear in mind, no insurance company is perfect in this department. However, you can optimize for your outcomes, by parsing through a company's track record. Does the company in question consistently boast a high claim settlement ratio (neat 90%) over the past few years? If the answer is yes, maybe it's a good option. 
3. Buying young and being honest: Most people don't want to buy a health insurance policy when they're young. They think they're indestructible, and they believe they could postpone this purchase until the first symptoms start showing. However, this kind of thinking is riddled with flaws. For instance, if you want the best rate on the market, then you have to prove to the insurer that you're healthy. If you have pre-existing conditions or other strange symptoms, then your premiums go up. Way up and sometimes companies may not even cover you depending on the severity of your condition. It may come as a massive blow. So it's always prudent to buy a health insurance plan when you're young and healthy. 
Second, if you're thinking of getting yourself a health insurance plan by not divulging sensitive details about your existing condition, let us assure you that it's not even worth trying. Insurance companies will eventually find out that you've been dishonest during the medical assessment. They've been in the business for far too long, and they have dedicated teams to weed out frivolous claims. The only thing you'll be doing here is paying those premiums diligently with the naive hope that your non-disclosure won't affect your outcomes when you eventually try and claim protection. 
However, insurance companies can simply repudiate your request the moment they find the slightest discrepancy. On the flip side, if you've held a policy for a few years and you've been honest throughout, then insurance companies are likely to be sympathetic to your cause even when paying out the big money claims. They'll have more faith in your request and the likelihood of them coming through, increases rather disproportionately. So it always makes sense to buy a health insurance plan when you're young and healthy.