8.1 – Understanding the gimmicks of Insurance
This chapter is authored by Shrehith from Ditto.
Insurance is a cutthroat enterprise. Everybody is trying to outcompete each other. It's all-out warfare.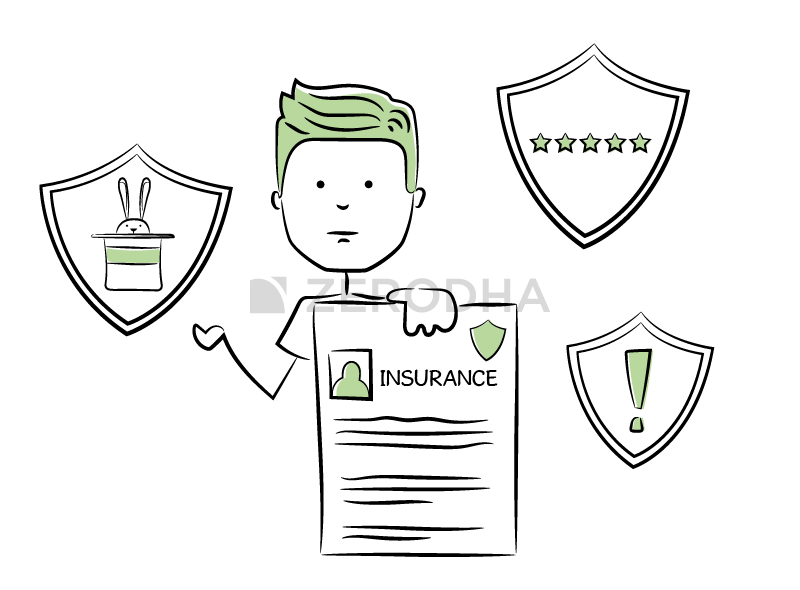 In this domain, companies have to be creative. They have to have an edge. They must convince customers that their products are best suited for the masses. And to entice these people, they'll whip up creations with cows, bells and whistles. On paper, they'll seem like an absolute bargain. And the sales folk will convince you as much. But under the hood, these product features may not mean much. If anything, they may be detrimental to your cause. 
So how do you separate the wheat from the chaff? How do you know if the insurance company is trying to shortchange you?
Over the following two chapters, we will draw up a list of product features and see if they pass the scrutiny test. We will even offer a relatively concise verdict at the end, characterized by two words — "Gimmick or not."
8.2 – Network Hospitals
You've probably seen it already — Insurance companies boldly proclaiming the thousands of network hospitals they've partnered with. 
One company's website reads — 5000 network hospitals and counting. 
Another one reads — 9000+ hospitals at your disposal
And you'll see this pattern repeat across websites. Network hospitals, network hospitals, network hospitals. 
But if you're hearing this thing for the first time, you'd be thinking: What on earth does a network hospital even mean? And why are insurers stuck up on this little detail?
Well, here's the thing. Despite the "over-the-top" advertising, network hospitals are a big deal. They can quite literally be a lifesaver. For instance, suppose you've had a minor accident, and you're taken to a hospital just 2 miles off the block. 
If your insurer has already partnered with the hospital, here's how things may pan out. The hospital will ask you for your health card and note the policy number. They may also seek to verify your identity to make sure it's you. Once they're through, the hospital personnel will inform the insurer that you're admitted to their facility. They'll furnish details about the hospitalization, costs, and other procedural matters. And then they'll wait. 
If they don't get a reply immediately, the hospital may ask you to put up an extra ₹10,000 — Rs. ₹20000 just in case the insurer doesn't come through. After all, the last thing they want is to find out that the insurer has refused to pay the claim and that you can't pay the bills on your own. They don't want to be taking that kind of gamble. So it's a safety deposit they'll immediately reimburse once the insurer gives the go-ahead.
Meanwhile, the insurance company will establish the claim's veracity for an hour or two. They'll want to make sure that you're not currently in a hospital being treated for something they don't cover. And if everything checks out, the insurer will pre-authorize a sum. Say ₹ two lakhs. That's them telling the hospital they will pay up to ₹ two lakhs once you're discharged. 
And that's the crux of this story — If you're in a network hospital, the insurer may settle the bills without you putting up a single penny. It's called a cashless claim, a godsend for people strapped for "cash."
On the flip side, if you're not in a network hospital, you'll have to pay the bills and prepare for a rather arduous journey. You'll have to collate all the medical records, fill out the claim form, and get the hospital to sign it. Put all the documents in order. Please send them over to the insurer and wait for them to evaluate everything. Answer any additional queries they may have. Furnish other records that they may seek. Wait some more. And finally, after all this time, maybe the insurer will reimburse your bills. 
This can be torturous, especially if you have a hefty bill. This explains why customers and insurers put network hospitals at the front and centre of every "insurance-related" discussion.
However, there is something you should know. Insurers aren't obligated to settle claims cashlessly just because you're at a network hospital. They always have recourse. For instance, if they suspect you're hospitalized for a rather complicated matter that could cost a ton of money, they'll be highly reluctant to pay anything upfront.
So, many insurers simply decline to process the claim by stating on record that they don't have all the information they need just yet. They'll tell you they want to run a more thorough investigation after accessing your medical records. And will consider your application once you're discharged, but on a reimbursement basis. 
On other occasions, their pre-authorize can only be described as "modest at best" One customer we've dealt with had a bill totalling ₹ two lakhs with the insurer only pre-authorizing ₹50,000 at first. He did eventually manage to get the remaining ₹1.5 lakh reimbursed. But it was particularly disheartening at the moment, knowing they wouldn't pre-authorize the whole thing.
So what do you do in such a case? How do you assert your rights? You need to get hold of your insurer and press them for specifics. Let them tell you in no uncertain terms why they're refusing to settle the claim on a cashless basis. If they're only pre-authorizing a tiny sum, then seek out their rationale. If it seems dubious, you can continuously loop in the Ombudsman. This may get them to recon
an extensive rider. And most importantly, remember that a vast network doesn't continually optimize. You're optimizing for all outcomes. Your insurer could have 10,000 across India, but only if but only have ten hospitals in your city. So make sure you get a list of all the hospitals in and around your area before jumping in and making a purchase. 
Verdict: Not a Gimmick 
8.3 – Alternative Medicine or Ayush Treatments
Medical doctors don't usually like the moniker of alternative treatments. They'll tell you that there are only two kinds of medicine—medicines that work and medicines that don't. However, insurance companies don't quite agree with this assessment.
They make provisions for allopathic treatments and other alternatives that don't qualify as such. Think — Ayurveda, Homeopathy, Unani and Siddha. And while several insurance companies cover these treatments now, you should know a few things about this seeming benefit.
For starters, you'll only be able to claim if you're hospitalized in a government-certified Ayush facility. That means a specialist has to diagnose your condition, recommend hospitalization, and treat it as any other doctor would. And in our experience, insurance companies routinely dismiss these claims because they don't meet the burden of proof.
Often people conflate wellness therapies with legitimate treatments since the line is so blurry in this domain. A few facilities aren't equipped to deal with hospitalizations, and insurance companies rarely pay these claims. So while the feature may not be a gimmick per se, you'd have a tough job convincing insurance companies to pay for these treatments anyhow.
Verdict: Slightly Gimmicky
8.4 – Restoration Benefit
The original use case for the restoration benefit was honestly stellar. People who bought a family floater plan often moaned about the lack of protection they received whilst subscribing to such policies. And you could see why they had a grouse. When you're a family of 4 living together in the same household, the risks are often correlated. If covid affects an individual in the family, it might affect everyone involved. If you're involved in an accident, it's likely to have your family and kids alongside you. When tragic events transpire, you may have to witness multiple hospitalizations simultaneously, and a single cover may not cut it. 
So insurance companies extended a restoration benefit, promising to restore the Cover in total if you ever had to make a claim. So if you were working with a sum insured of ₹10 lakh and spent  five5 lakhs tending to your child, the insurance company offering an extent of ₹ ten lakhs on top is a bonus. You could use this additional protection if somebody else in the family were hospitalized again. And since the feature had such a great pull, companies across the board began marketing the restoration benefit. It soon caught on like wildfire, and a few insurers began modifying the use to make it even more compelling.
Suppose you were inflicted with cancer and needed surgery. There's no doubt that this is going to be an expensive affair. But the costs pile up as you go through the chemotherapy sessions. This can be particularly taxing on your financials — the same way it's taxing your body. So insurers drew up the restoration benefit to make it more comprehensive. They extended the advantage to individual policyholders to offer a little bit of extra protection. 
But at some point, insurers began recognizing the added costs associated with these acts of benevolence. Sure, they still needed to market the feature to compete in a cutthroat industry, but they also needed to mitigate some risks. And that's when they dabbled with wordplay once again. The idea was to market the restoration benefit across all channels and make it harder for people to stake claim to this benefit by adding a few additional conditions.
For instance, some insurers will tell you that they'll restore the Cover so long as you're making claims for two separate illnesses. In the example we quoted earlier, the insurer would restore the body after your surgery but then refuse to let you use the extra ten lakhs if you had to undergo chemotherapy. Their rationale for doing so? You're using the benefit to treat the same illness. And according to the policy document, that's a no-go.
This effectively means the restoration benefit is practically useless for individual policyholders. 
Even other insurers deploy a more sinister ploy. They'll tell you that they'll restore your Cover. But only after you've fully exhausted the protection you're accorded at first. For instance, if you claim ₹ eight lakhs after holding a policy with a cover totalling ₹ ten lakhs, the insurer will settle the ₹ eight lakhs and do nothing afterwards. They won't give you the extent of ₹ ten lakhs as promised. And if you were hospitalized once again, god forbid, with a bill totalling ₹ six lakhs, you'll have to pay ₹ four lakhs out of pocket. The restore benefit won't kick in. 
However, now that you've exhausted the Cover, the insurer will give you an extra ₹ ten lakhs if you're hospitalized again. But since the likelihood of that happening is relatively remote, you can see how the restoration benefit is extremely limited in scope this time. 
This is why it's imperative to read the fine print. 
What is the insurance company promising you?
Are they telling you they'll restore the Cover with no caveats, or are they trying to pull a fast one over you? You have to read the fine print.
Verdict: Not a gimmick, but "buyer beware."
8.5 – Pre and Post-Hospitalization Expenses
You seldom visit the hospital out of the blue. Often, there's a sequence of events that precede this eventuality. Doctors will commission various diagnostic tests to see what's wrong. Sometimes it'll be a relatively simple affair. A blood test and a routine checkup will do. In other cases, you may need MRI, heart scans and ultrasounds before they can genuinely hone in on the issue.
Once you're through hospitalization, you may have to contend with similar outlays again. Medication costs can be prohibitively expensive, and you may need follow-up consultations before you're truly out of the woods. And if you're not careful, these costs can add up very quickly. They can run into the thousands and put a massive dent in your financials. Thankfully, however, insurance companies cover these costs, and while they will market this as a niche offering available only on select products, that is not entirely true. 
Almost every policy we've reviewed covers pre- and post-hospitalization expenses. The only thing setting them apart is the quantum of protection. Some policies will cover all costs incurred during the 15 days that precede hospitalization and 30 days afterwards. Other more robust policies will pay off all expenses over more extended periods—for instance, all costs incurred during the two months that precede hospitalization and six months post-hospitalization. 
That's the only difference. 
So yeah, while it's most certainly an indispensable product feature, it's not exactly unique to your insurer, either.
Verdict: Not a gimmick, but nothing extraordinary either.
8.6 – Day Care Treatments
Here's a case study that we put together a year ago. A young man is out playing a game of cards with his friends. Suddenly he feels a sharp cramp in his abdomen. It's odd, but these things always keep happening to him. So he doesn't pay a lot of attention at first. A few moments pass, and the twitch is suddenly there again. This time it doesn't go away. Instead, within a moment, the pain intensifies. Soon, it becomes unbearable. His friends take him to the hospital. And after a quick inspection, the doctor breaks the news. It's appendicitis, and they have to operate on him immediately.
But it's not that big of a deal. The doctor assures him that he'll be discharged the same day. And although he requires some treatment, he walks out of the hospital within 24 hours. It's a success. But then comes the bombshell. It was a brief stay but an expensive procedure. The bill adds up to ₹80,000, and he's gobsmacked. He calls his insurer, hoping they will cover these costs in full. But then they break the news. They won't cover it. They tell him they'll pay nothing since their carefully worded policy document states that they don't cover treatments when you're hospitalized for less than 24 hours. Think — Chemotherapy, Dialysis or, in this case, appendicitis.
And yeah, that's it. The moral of the story here is relatively simple — Ensure the insurer covers daycare treatments. It's okay if they don't have an extensive list of 500 procedures. But make sure they cover the obvious use cases, at least.
Verdict: Not a gimmick
8.7 – No Claim Bonus
Remember how we told you insurers have an added incentive to keep you healthy? Sometimes, they throw in incentives that may not seem obvious initially. For instance, this little feature — No claim bonus. The idea here is simple — If you don't make a claim any given year, then the insurer will tell you that they'll increase your Cover by a certain margin depending on the conditions they lay out in the policy brochure. 
Suppose you buy a policy with a sum insured of ₹ ten lakhs and a no-claim bonus of 50%. And you go an entire year without making a claim. At this point, the insurer will increase your Cover by 50%, and you could end up boasting a cover of ₹15 lakhs the following year if you choose to renew the policy. If you go another year without making a claim, your sum insured will jump up by an extra 50% (over the base figure of ₹ ten lakhs), and you'd have total protection worth ₹20 lakhs. 
This is, in all honestly, an excellent feature. 
However, there are a few things you should be privy to. For starters, the cover expansion won't go on forever. Insurers will cap it at a certain level. We've seen insurers go up to 200%. And we've also seen insurers go up to a measly 50%. It depends on the plan you pick. There's also the fact that some companies claw back your bonus if you do claim in any given year. So if you were to accumulate all that bonus and end up with a cover totalling ₹20 lakhs, as we noted earlier, you'd be back up to ₹15 lakhs the following year if you do go on to make a claim. And if you were hard-pressed to make a claim the subsequent year again, you'll be down to ₹ ten lakhs. That's the cap. They can't go down any lower. 
So, a no-claim bonus is a good thing, so long as the premium is substantial and the clawback doesn't eat away your gains. 
Verdict: Not a Gimmick
8.8 – Domiciliary Cover
Imagine a deadly pandemic starts wreaking havoc. But your job forces you to step out every day. And then suddenly, one morning, you wake up with a bad cold. You are coughing incessantly. You hope it'll go away on its own. But then you have trouble breathing. Your condition deteriorates, and you are forced to call emergency services. Only for them to tell you that they can't find a bed right now. Your only choice is to pucker at home and see if somebody will set up a mobile medical facility for you at your domicile, i.e. your home. 
And if you're lucky enough to find a service provider, you'll have to worry about the cost. These things can cost a pretty penny and leave you in a deep financial hole unless your insurer extends Cover for domiciliary hospitalizations and pays out the bills on your behalf. People routinely ask us if they can get protection if they are ever hospitalized at home, and while we answer in the affirmative, we also tell them that caveats are involved. 
For instance, domiciliary hospitalizations are only covered if the following criteria are met.
You must have a condition that prevents you from moving into an actual medical facility, or you could prove that you can't find a hospital bed in town.

A medical practitioner must confirm that hospitalization is necessary, with you having been hospitalized for at least 72 hours.

All costs must be deemed just and reasonable. Sure, this condition holds for every claim you make. But it's especially pertinent here, considering the service provider can often supplement your care with needless provisions. So you've got to be careful here.
And while there are policies that do cover such treatments without imposing as many restrictions, we always see that insurers aren't particularly proactive when dealing with such claims. They often pull up flimsy excuses and don't always come through. So if you're betting on this feature being prominent, maybe it's time to reconsider. 
Verdict: Slightly Gimmicky