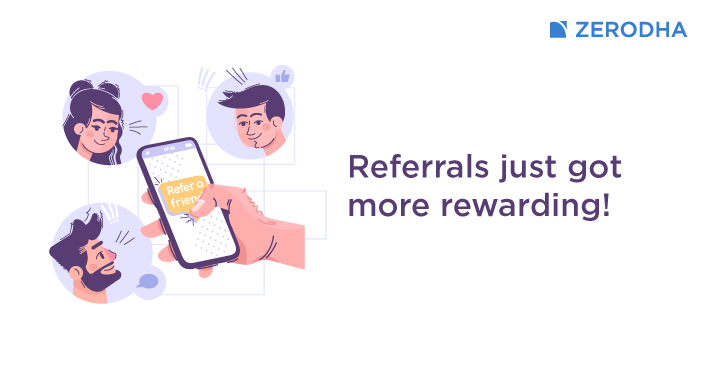 When you refer a client to Zerodha, we credit you with 300 reward points for each referral. These reward points can be used to subscribe to our premium products and partner services (more here). We've also been following up with the exchanges to allow a percentage sharing of brokerage like we offered for referring until April 2018, which we had to stop since there was no regulation that explicitly allowed sharing of brokerage revenue with clients. The exchange recently published this circular that allows brokers to now offer such incentives. So, along with the current rewards programme, you will now earn 10% of the brokerage paid by anyone you referred from Jan 1st, 2020.
Refer now
How does it work?
Refer your friends on Console, or share a referral link from our website, and earn 10% of the brokerage they pay if they open an account using your referral link. That's it! It's that simple!
Note: The minimum payout under this programme has to be Rs.1000, and you should have at least 5 referrals, for you to be able to withdraw your referral earnings. We will start processing withdrawal requests for this referral bonus from April 1, 2020. Here are the terms & conditions to participate in the referral programme.
We have always taken the approach of building the best products for you and let word-of-mouth marketing work for us. 🙂 Do spread the word!
Best,