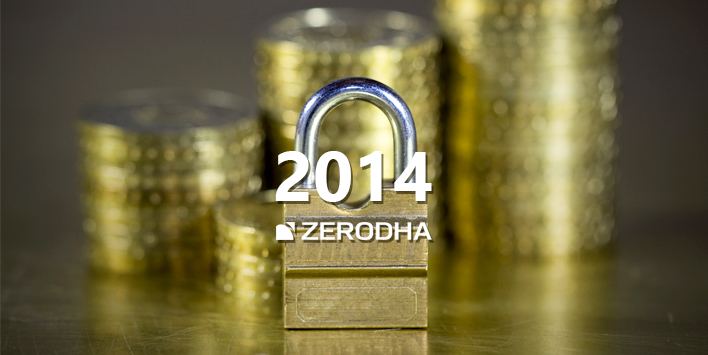 Traders,
Firstly, here's wishing you a lot of health, wealth, and happiness for the new financial year – FY 14/15. It is our constant endeavor to create an intellectual and profitable trading community at Zerodha. Over the last 6 months, we have put in a lot of effort to innovate in terms of technology, which will start bearing fruit over the next few months.
I am sharing our Plan of Action for FY- 14/15, so that we are pushed as a team to achieve it on time.
The immediate good news is that the clearing member charges which form a part of total turnover charges will drop by upto 70% bringing it to among the lowest in the industry. This has been possible because of all your continued support and our increased turnover on the exchanges and hence the total turnover charge at Zerodha for Futures would now be 0.0025% (Industry average: 0.003%) of contract turnover and for options 0.059% (Industry average: 0.07%) on the premium turnover. Check out the charge sheet for all the new rates. This will be effective from April 3, 2014 and would increase your cost savings at Zerodha.
Our new Backoffice is a work- in-progress. The basic reports are ready to be used, but we hope to make it the most user friendly trading journal and statistical analysis tool that can actually help improve your odds of winning in the next couple of months. The image below shows, how on login, you can visualise the value of your entire account, and easily access all menus and generate reports. We also have an alert menu for any correspondence like intimation of short delivery and others.  We will soon have an Android app and a tax ready P&L report to help you file IT returns for FY 13/14. To access the new BO visit: https://bo2.zerodha.com/.
We have gotten approvals from the exchange for Bracket and Trailing SL orders, and this should be available on ZT in the next couple of weeks for NSE – Equity and F&O. We will be the first brokerage to offer this on both the exchange segments. This will be free for now for all our clients.
Work on our new trading platform has slowed down a bit because of the regulatory process, but we should have some good news on this in the next couple of months.
 We have extended the Zerodha 60-Day challenge in its current form until December 31st, 2015 by popular demand. The challenge is helping traders by giving them that extra motivation to stay disciplined, the overall profitability of all our clients 

gone up from when we started the challenge. Check out some of our 

latest winners

.

We have just started Trading Q&A, a crowd-sourced, community curated Q&A system to help you get the most up-to-date, insightful, and valid answers to all questions on trading and markets. We look forward to your active participation there.
These are just some of the few things I've mentioned, but this is the year by end of which we want to be your best brokerage firm not just in terms of cost and support, but with better tools, technology, new initiatives, and more, which can help you profit trading/investing in the markets.
I am always available on [email protected] for feedback and suggestions, and don't forget to refer your friends by visiting here.
Happy Trading,