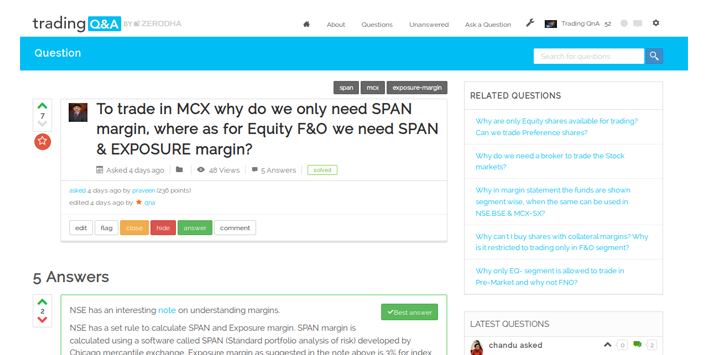 Traders,
Today, we announce the launch of Trading Q&A — tradingqna.com, a new initiative in our quest to empower retail traders & investors with knowledge.
In 2012, we started Z-Connect as a way to converse and connect with you and to provide you with up-to-date information on all aspects of trading with us. Soon, Z-Connect grew into something bigger, a very active educational portal covering a wide variety of topics on trading and markets. We were immensely happy that the trading community, you, embraced Z-Connect and sparked countless insightful discussions. However, we also realised that it is not an easy endeavour to produce, classify, and disseminate quality information, and definitely not by one or two people in the form of a blog. We realised that it was the need of the hour to have a better platform, much better than anything that is currently available to the Indian trading and investment community, given the pitiful state of the popular trading forums out there that severely lack quality, spread misinformation, and are painful to use.
Enter Trading Q&A—a community maintained, self-curated, question and answer site for all things related to trading and stock markets. It is absolutely free to use, open, and community powered. Unlike a forum, where discussions often turn long winded and useful information gets lost in the countless pages spawned by threads, Trading Q&A enables you to ask a question and get direct, to the point answers from the community. Members of the community vote up or down questions and answers posted based on the quality and merit of the content, and as a result, good questions and good answers naturally rise to the top. An open and democratic way of learning and sharing knowledge.
How does it work?
Ask a question pertaining to trading and markets
Wait for the community to answer
(Remember, you are the community, so when someone asks a question that you are knowledgeable about, it's your turn to answer)
Look out for answers that have been upvoted the most, and select the best answer based on merit
To get a gist of how it works, see this example question: To trade in MCX why do we only need SPAN margin, where as for Equity F&O we need SPAN & EXPOSURE margin?
Points
Beside quality content, the best part about Trading Q&A is the points system. When you post a good question or a good answer, the community will show their appreciation by up-voting your submissions. Each up-vote earns you points. These points depict your "reputation" in the community. The higher the number of points you have, the better your contribution to the community. The points can also earn you privileges in the community, such as gaining content moderation abilities, or becoming an "Expert". You can read more about points here.
Zerodha's role
As administrators of the platform, we consider it our responsibility is to keep it entirely neutral, clean, and free of spam. We will strive to make the platform a high quality repository of curated knowledge that is up-to-date, relevant, and continually growing, backed by a strong and dedicated community. One of the things we've done to ensure openness and to really give ownership to the community, is to license all user generated content in the public domain (cc by-sa 3.0 with attribution required), similar to what Wikipedia does.
In addition, though the community will be self curated, we as Zerodha will keep finding market experts to join and participate, and moderators to keep everything neat and tidy.
Stock tips – a big No
As you already know, we've never promoted, nor will we give stock tips and recommendations. Trading Q&A follows the same principle. The community will neither encourage, nor tolerate solicitation and publishing of stock tips and recommendations. For it to grow as quality repository of information, it is important to keep the questions and answers generated by the community as objective as possible.
Finally
We are very excited to see how the Trading Q&A community grows.  Together, we can make it the best community and the highest quality store of trading and market knowledge in India.
As always, looking for your continued support.
Team Zerodha