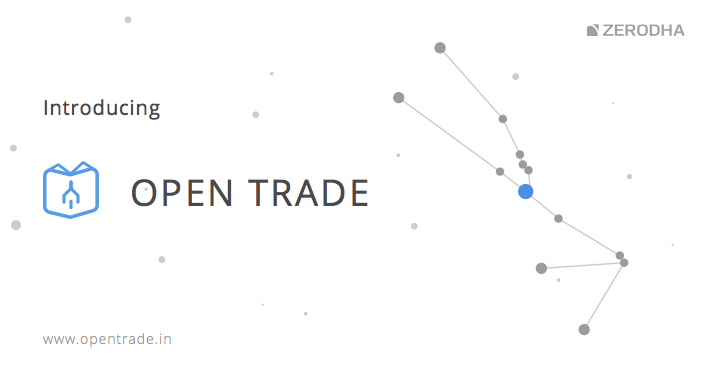 We have stopped accepting fresh subscriptions to Open Trade w.e.f. 25th April, 2018. This platform will be shut-down soon. If you have an active subscription, please create a ticket here for a refund. We apologize for the inconvenience.
Traders,
Over the last 5+ years, we have stayed away from providing any kind of advisory. One of the biggest reasons for us not giving tips is , as a brokerage there is a vested interest in making clients trade, which creates a conflict of interest. We, unlike most brokerages out there, did not want to give tips/advise just to generate revenue rather than for the value of it. Instead, we tried to educate and share knowledge as much as possible using Varsity, Zconnect, and Tradingqna. We introduced backtesting, expert advisors, and advanced charting through our trading platforms Kite and Pi. We built Quant to help analyze personal trading behavior, and more.
We also started the 60 day challenge to give an additional incentive to traders to stay profitable and not just to trade for the heck of it. It got us the desired results, but interacting with our 1 lakh clients, we knew there could be more that can be done to build a community of winning traders.
We observed that:
Most people don't have the bandwidth or the background to spend hours trying to master trading the markets. What makes it even more difficult in India is that there is no practical introduction to trading and investing in schools or colleges making it tougher for people to comprehend the concepts.
People end up following tipsters paying thousands of rupees a month. Such tipsters come with no credibility, and there is no real data to prove whether their tips actually make money or not, and more importantly the nature of tips (buy above this, sell below this, etc) don't teach you anything about how to invest or trade the markets.
That said, we also realized there is this small community of traders who are extremely talented and passionate. But, the biggest problem they face are:
Not enough trading capital. A client with Rs 1lk returns 10% in a month which is brilliant, but that is just Rs 10,000, which in today's world, is  not enough to survive trading full time (more than 90% of our traders have less than Rs 1lk in their account). To earn more, he starts over trading taking bigger risks, and eventually ends up making a loss. Most of the times before blossoming into a great trader, the career ends.
Introducing opentrade.in, our answer that will hopefully be the solution to the above pain points. Here is how it works:
Clients of Zerodha who have a positive track record on their accounts (stars) with us may opt to register on Opentrade. We will select the best traders after careful scrutiny. Their identities will be kept anonymous, and they will all be called by unique star names – Sirius, Canopus, etc.
The stars will be tagged based on the nature of their trades – investor, arbitrageur, swing trader, etc.
The Quant reports of their trading activities at Zerodha will be made public on the platform.
All clients of Zerodha will now have an option to analyze these reports, and follow their favorite stars for a subscription fee that will be shared with the stars.
From the time you start following a star, you will get his/her realtime trade updates via Email and on the platform. You will also be able to track all open positions and holdings of the stars.
To ensure privacy, quantities on positions and trade updates will be normalized. Also, trade updates will be limited to only highly liquid contracts – top 500 stocks, and F&O on equity, currency and commodity.
You will be able to follow one or multiple stars of your choosing.
By putting up these talented stars on a pedestal, we give them an opportunity to earn an additional stream of revenue and stay focused and profitable in their trading activities. The more profitable this star stays, more number of paying followers he will add, ensuring that the star focuses on using his talent to carefully pick trading and investing opportunities.
As a subscriber, learning from and tracking star traders live should give you the leverage needed to push yourself to be a part of the winning community.
We are going live by end of Jan 2016, if you wish to get on the invite list visit opentrade.in
If you are a profitable trader with a good track record and like to be featured as a star, you can raise a query here
Please note: Support for Opentrade will be online-only and the Zerodha support team won't be able to answer any queries on the phone.
Happy Trading,