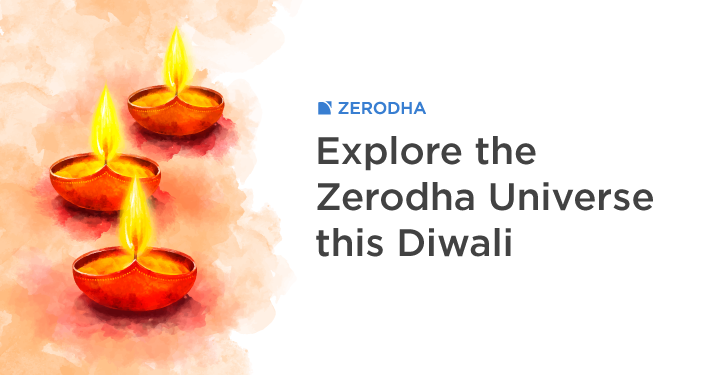 Wishing you all a Happy and prosperous Diwali from all of us here at team Zerodha! As has been our tradition, there won't be any brokerages for trades executed in the Muhurat trading session.
We also have some exciting offers and discounts on all our partner products this Diwali. Along with these offers, we've also made referring your friends more rewarding. We know you'd have referred people anyways but you'll now earn 2X reward points (600 points) when you refer your friends and family to start investing until November 14, 2021. In addition to the reward points, you will also keep earning 10% of the brokerage your referrals generate.
You can redeem these points on Console to subscribe to any of the paid partner products. These are some really cool tools that can help you trade and invest better.
Here is a list of all the products that you can avail offers for this Diwali:
smallcase
smallcase is a thematic investment platform where you can invest in a diversified basket of stocks and ETFs that reflect ideas and themes. This Diwali, invest in any smallcase for no charge. If you're buying an equity smallcase, the one-time Rs.100+GST smallcase fee will be waived off.
What can you do with smallcases?
With a smallcase, you can invest in an idea that resonates with you. For example, if you want low-risk but steady and stable returns, you can invest in the All-Weather Investing smallcase. This smallcase combines equity, gold, and fixed income (bonds) to give you a steady ride regardless of the market conditions. Similarly, there are various smallcases; you can explore them here.
Tickertape
Tickertape is a comprehensive research platform that helps you analyse and screen stocks based on 100s of fundamental and technical data points to build the right portfolio for you. This Diwali, Tickertape is offering their pro subscription worth Rs 118 for free until November 30, 2021. Simply log in or sign up to claim the offer.
Sensibull
Sensibull is an options trading platform that lets you build and trade options strategies. Subscribe to any paid plan on Sensibull until November 14th for free.
What can you do with Sensibull?
Virtual trade: If you do not want to trade real money, learn and practice without real money
EasyOptions: Trade simple Options trades with limited risks by just guessing if the market will go up or down
Strategy Builder and Analyser: Analyse your trades and know your P&L under various market conditions
Strategy Wizard: Find the most optimised and highest ROI options trades by just giving a target
Understand the market direction: Option Chain, Open Interest Analysis, FII DII Data, Multistrike OI, Technical Signals, and more
WhatsApp Alerts: Set price and P&L alerts
Pro Tools: Option Greeks, Payoff diagrams, IV Charts, Screeners, Social trading, and more!
LearnApp
LearnApp is a video education platform that has 100s of courses on trading and investing taught by industry veterans and subject matter experts. Subscribe to the LearnApp annual plan and get six months extra until November 30th. Use this link to avail the offer.
Streak
Streak lets you create, backtest, and deploy trading and strategies live in the market without coding. You can also use Streak Scanner to scan all stocks based on technical parameters like Supertrend, RSI, candle patterns, etc.
Streak is offering a special Free Plan to all Zerodha clients from November 1 to November 30, 2021. The plan allows users to 50 backtests, 50 Scanners and five live deployments anytime between November 1 and 30.
Streak is also offering a 30% discount and an additional free validity of 4 months on subscribing to the annual Ultimate plan until November 30, 2021.
Happy Diwali!