This post is out dated. Please refer to our Brokerage Calculator.
Dear Fellow Traders,
Brokerage is what your pay your broker for letting you access and trade through his platform on the various stocks/commodities exchanges. At Zerodha you can trade on NSE, BSE, MCX as well as MCX-SX.
When trading  there are things under your control and things which are not. What is in control is your strategy, discipline, the platform you use, the costs you incur etc. What is not under your control is the outcome. We at Zerodha constantly strive on optimizing on trading costs(brokerage), platform, tools and the way we support to improve your odds of wining in the markets.
We take pride in the way we support and various other initiatives like the 60 day challenge, Varsity, our tools and many others which are in works. What made us popular as a brokerage is the way we charge; in the business of trading, brokerage, taxes and other charges are your biggest overheads. Keeping this low increases the odds of winning significantly, our primary objective behind starting Zerodha.
While trading, there are many entities who earn every time you trade:
Brokerage: Charged by the broker who offers you a platform to trade on.
STT (Security Transaction Tax): Charged by the central government.
Turnover Charges: Charged by the exchanges and which also includes clearing member charges.
SEBI/FMC charges: Charged by the regulators
ST (Service Tax): Charged by the central government.
Stamp Duty: Charged by the respective state governments.
The other charges which includes the government, exchange and regulator, doesn't change whichever broker you trade with, what does is the brokerage.
Visit this Link to check out the brokerage and all the regulatory charges.
Brokerage at Zerodha
Starting 1st December 2015, all investments at Zerodha will be absolutely free. No upfront fees, no minimum volume, no special terms and conditions, no clauses, no strings attached.
At Zerodha the brokerage charges are as follows :-
Equity Delivery trades – Zero brokerage
Equity Intraday trades – 0.01% or Rs. 20/Trade whichever is lower
Equity Futures – 0.01% or Rs. 20/Trade whichever is lower
Equity Options – 0.01% or Rs. 20/Trade whichever is lower
Currency Futures – 0.01% or Rs. 20/Trade whichever is lower
Currency Options – 0.01% or Rs. 20/Trade whichever is lower
Commodity – 0.01% or Rs. 20/Trade whichever is lower
Applicability – These charges are applicable to our online customers, call and trade customers and walk in clients.
This way of charging a fixed fee per trade is called discount brokerage and is very popular in the developed markets. The basis behind this is the fact that in today's online scenario the cost of executing a trade for a brokerage doesn't go up with the size of the trade, if the cost doesn't go up why the clients should be charged more?  More than 85% of turnover in the US stock markets is contributed by discount brokerages like E-Trade, Ameritrade, Zecco, and more.
An executed order means that whenever you place an order on the exchange, irrespective of how many trades take place to execute this 1 order, you pay a maximum of only Rs 20. So for example, if you place an order to buy 500 shares of Reliance and if these 500 shares were bought in 10 different trades of 50 shares each, you still pay only Rs 20. You are charged only for executed orders and not for placing/cancelling/modifying an order.
Take the following case where I am showing a portion of the contract note where a client had placed an order to buy 600 quantity of Nifty 5300 put options at 61.10. As you will see, the order number is just one, but this order is executed in 9 different trades (different trade numbers) and because your order number is just one you will pay only Rs 20 for buying all the 12 lots. So irrespective of whether it is 1 lot or 300 lots you will pay a maximum brokerage of only Rs 20(10000/200 lots, maximum number of Nifty that can be traded in one order as per NSE regulations, ensure you never place an order on Nifty for more than 10000 to avoid your order being frozen by the exchange, once frozen the exchange might take as many as 5 hours to unfreeze the order until which your margins get blocked).
Rs 20 or 0.01%/0.1% whichever is lower
To help our lower volume traders we also give benefit of 0.01% (intraday equity/futures) & Zero brokerage for Equity delivery trades . So what it means is that if you buy Rs 1000 worth of stocks for delivery, your brokerage would be zero or for example, if you buy 1 lot of sliver micro (1kg of silver valuing the contract at around Rs 65000), you pay only Rs 6.5 as brokerage (0.01% of 65000) and not Rs 20. The brokerage charges are the same if you trade equities (intraday), F&O, commodities or currencies, which is a maximum of Rs 20 per executed order (0.01%/0.1% or Rs 20 whichever is lower). Please note, Zerodha does not charge any brokerage fees from December 1st 2015 for equity delivery trades.
No Conditions Apply
No upfront fees or turnover commitment
No Software charges
No minimum contract charges
No special brokerage for penny stocks
Same deal for every client.
Brokerage calculator
Among the many initiatives started first at Zerodha, "Brokerage Calculator"  keeps the entire process transparent letting a prospective client know the exact charges for taking a trade that would appear on the contract note even before opening an account with us. Existing clients use the brokerage calculator to figure out the break-even points, movement that is required in the product you are trading to recover your brokerage and statutory costs.
Click here to try our Brokerage calculator.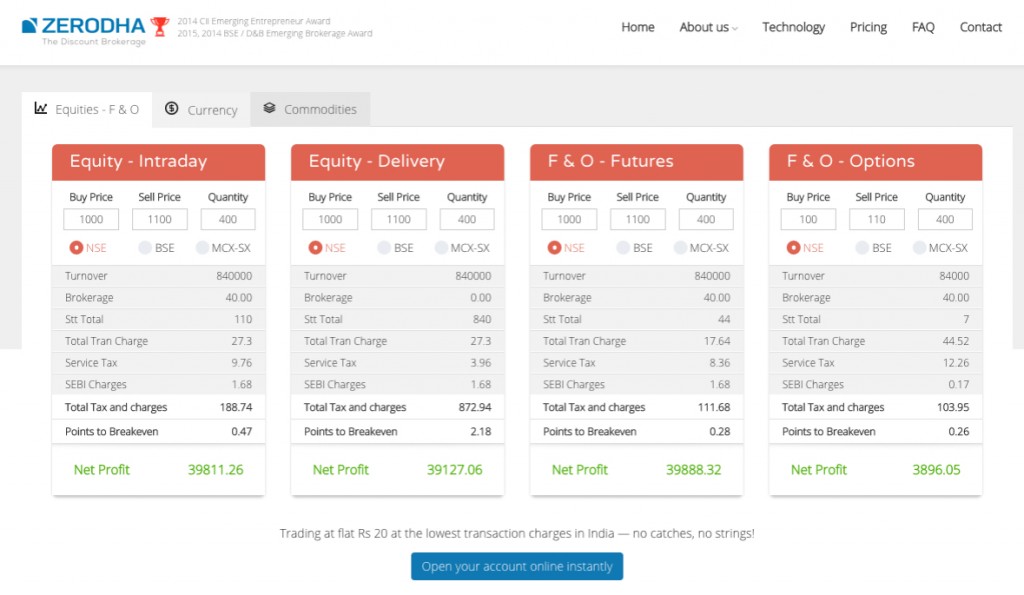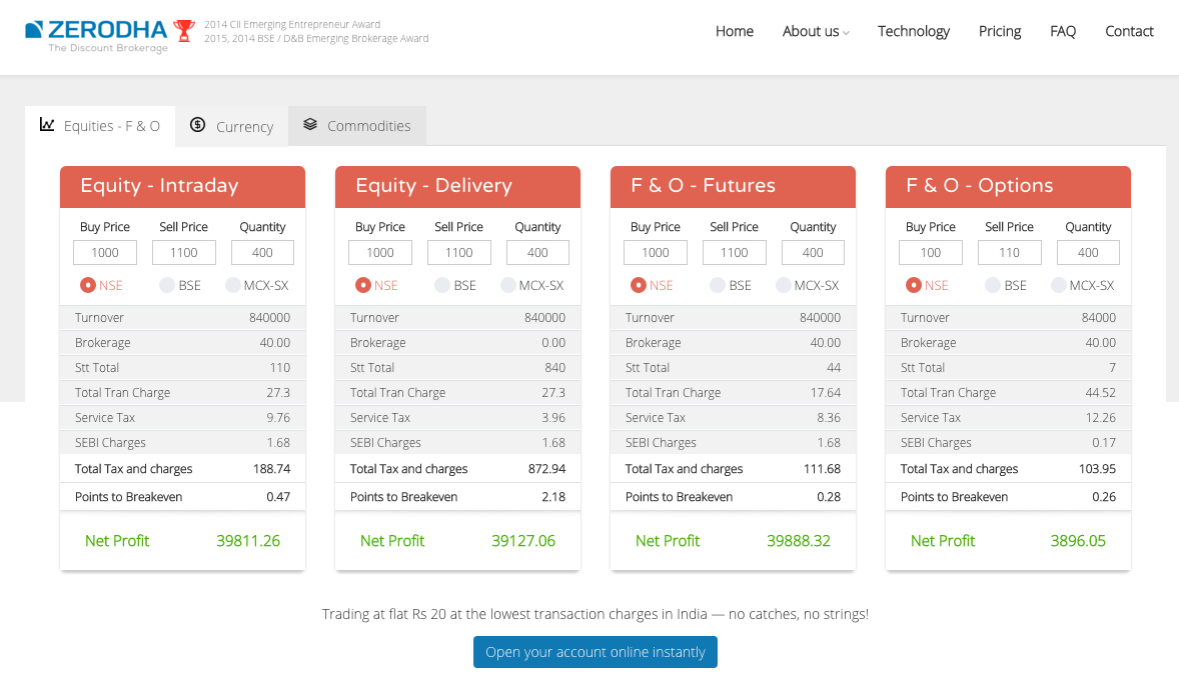 Brokerage edge @ Zerodha
Brokerage industry today charges between:
For intraday equity between 0.01% to o.1%
For delivery equity between 0.1% to 0.5%
For Futures between 0.01% to 0.07%
For Options between Rs 20/lot to Rs 100/lot
Yes the rates could be near the lower end of this range but this would be only if you either commit turnover or pay brokerage upfront.
It is important while trading to have as many odds as in your favor; by committing to turnover or paying brokerage even before taking a trade can be detrimental because this could get you to overtrade, one of the main reasons for traders losing in the markets. Some of the ways in which brokerage can affect you are:
Paying a high brokerage can affect your judgement on entering or exiting trades, especially since the cost of doing so would be high.
Committing to a turnover would mean having to forcefully trade.
Paying an upfront brokerage would mean that you would be starting off being down on your trading account, which could psychologically affect you.
Winning while trading has a lot to do with probability and on how many odds are in your favor and how many not. Keeping the trading costs low can significantly enhance your probability of winning especially if you are an active trader, the brokerage edge you get when trading at Zerodha.
How is this an edge?
Assume an average trader who trades once a day on Nifty Futures (4 lots or 200 Nifty), paying a brokerage of 0.03%  with a trading capital of Rs 2 lakhs in the account. Every time he buys and sells he would pay Rs 600 as brokerage and in 1 year (250 trading days) he would have paid Rs 1.5 lakhs as brokerage itself. Added to this he would have also paid 12% of Rs 1.5 lakhs as Service Tax (Rs 18000), making the total brokerage cost Rs 1.78lks which is 85% of the trading capital of Rs 2lks.
For this trader to be net profitable at the end of the year, he has to minimum make 85% and only over that will take home any money. How many people reading this can do so? Typically most of us are shortsighted – shortsighted because we are just thinking of today and not focusing on the longer term odds. Like AB says in Sarkar, "Najdiki fayda dekhne se pehle door ka nuksan sochna chahiye."
Imagine the same scenario at Zerodha, 1 buy and 1 sell a day would mean Rs 40 per day and Rs 10000 (250 days) for the year. Including Service Tax this would be around Rs 11200. What this means is that the total cost for the whole year at Zerodha for the same trades would be lesser than the service tax he is paying at the other brokerage firm.
This is the edge we give to all our clients trading at Zerodha, to be able to trade at lowest costs without compromising on platform or service. We are among the only few brokers in India to have a 100% disaster management setup for our trading servers, provide advanced trading tools and more. Click here to read 20 reasons other than low costs to trade with us.
Click here to read what our over 30,000 clients are saying about us.
Trading the markets is similar to a fight and in a fight it is important that you have an edge over your competitor, we at Zerodha look forward to be your " Brokerage Edge".
Happy Trading,