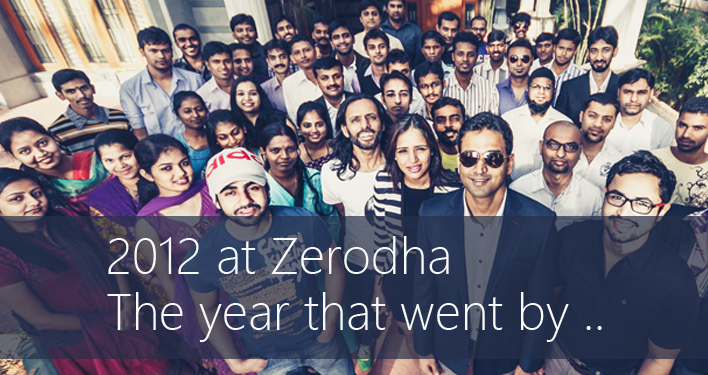 Dear Fellow Traders,
Firstly, a very Happy New Year and wishing that this year brings in a lot more of good health, wealth and happiness.
Over the last year we have introduced products/services to help you in trading and better the customer support experience. Some of the significant developments during the year were:
1. Launch of Zerodha Trader (ZT), Zerodha Web and Zerodha Mobile – the software, web-based and mobile trading platforms to trade on NSE, BSE and MCX. The trading servers are co-located to increase the speed, reliability and performance of the trading platform.
2. Launch of trading on BSE (Bombay Stock Exchange) and MCX (Multi Commodity Exchange) on our trading platforms.
3. Trading tools introduced on ZT such as:
SPAN Calculator: A tool which lets you simulate a trading position and allows you to calculate the exact margin requirement even before taking the trade. Using the SPAN calculator lets you know the margin benefit for a hedged position, margins required to write options or other similar strategies. All this with a few clicks using this tool.
Cover Orders: For all our clients asking for higher intraday leverage, cover orders are the right choice. Using cover orders allows you to get Intraday leverage of up to 20 times for Equities and only 25% of the total overnight margins get blocked for trading F&O, intraday.
Extension of Intraday Square off time from 3:10 pm to 3:20 pm.
AmiBroker Trading Plugin: Partnership with Global Data Feeds to offer discounted pricing on data feeds for your charting tool and also the development/deployment of the AmiBroker Trading Plugin, using which you can place orders directly from AmiBroker.
Option Strategy Tool: A tool which suggests various option strategies based on what your views on the markets are including the payoff graphs for each of the suggested strategies.
4. Launch of Zerodha Connect (Z-Connect): Our platform to stay connected with all of you. Z-Connect will presently be covering topics on the trading software and various policies at Zerodha. Soon we will be connecting you with experts who are ready to share knowledge in their respective domains. We intend to make this as a Wiki on Capital markets, an informal blog like format which will keep improving with time. If you have any queries on any aspect of trading at Zerodha or the Financial markets in general that needs to be answered, email us at [email protected] & we'd write a blog and put it up for you & for others who might have similar queries.
The year 2012 has been amazing thanks to you and Team Zerodha. I look forward to your continued support and we will surprise you with a lot more this year in terms of tools and features.
Do remember to put a word out about us via our Associate Program if you are satisfied with our services.
Thanks once again and wishing you a lot of winning trades this year.
Happy trading,