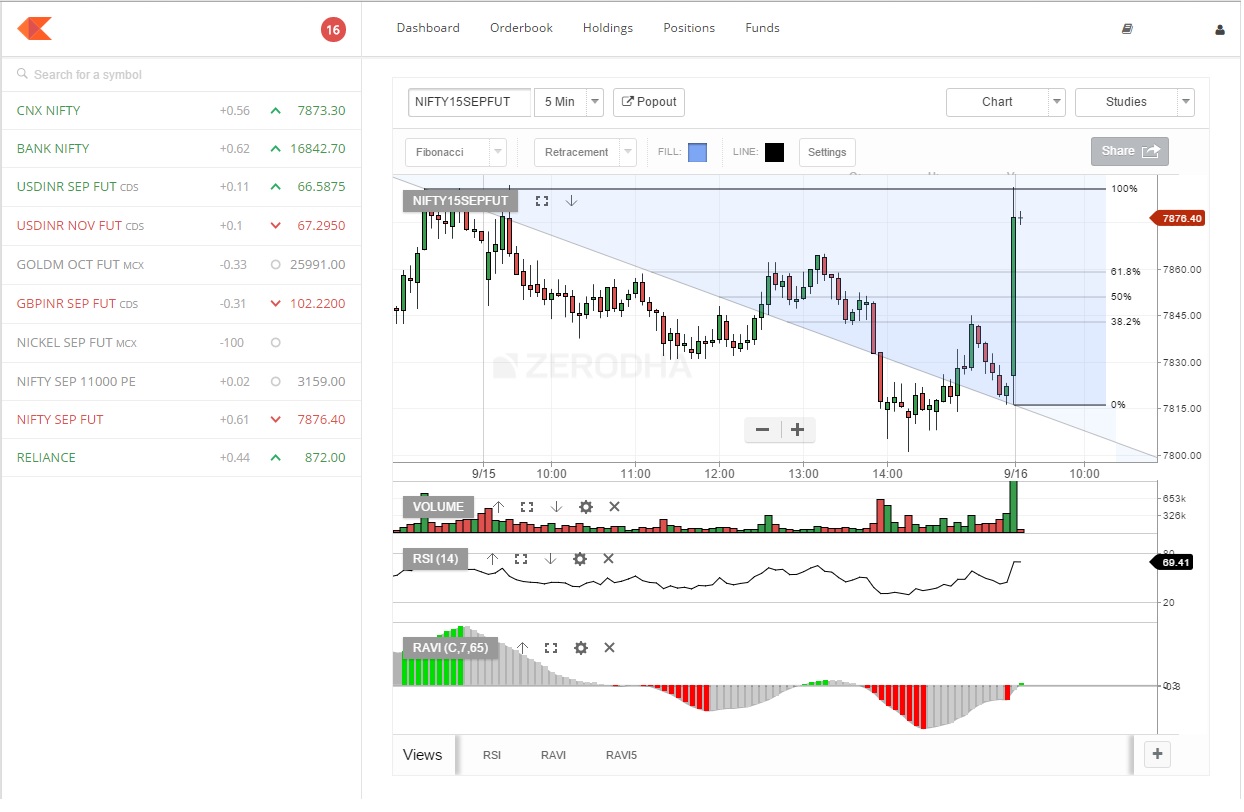 Traders/Investors,
We have been working on a bunch of things which are fructifying now. Some very exciting updates for all of you.
1. Kite (web) which is in beta has just received a major overhaul in terms of charting. 99 indicators, 15 drawing tools, templates, ease of changing time frames, and much more. If you haven't checked it out yet, visit  https://kite.zerodha.com and let us know what you think. Here are some pointers if you are using Kite for the first time.
Press the ~

key, or simply click on the search box,

to bring out the contract omnisearch (lets you instantly search tens of thousands of contracts across exchanges).
Put whatever keywords you want in the search box separated by spaces.
Examples:
nse eq icic
nifty jul fut
nifty opt ce 8500
opt bank nif aug
You can use up and down arrow

keys

to browse the entries you've added to the marketwatch. With an entry focused on, you can press:
B – buy
S – sell
D – toggle market depth (bids and offers)
C – chart
Del – delete the item
2. Quant & Q have been updated with a few new features
Holdings visualization to track your sector wise market exposure.
Notifications for all your account activity and a symbol wise search for a quick summary of trades, profitability, open position, completion of trade process and more.
3. Our DP business has finally gone live. You can now hold a Zerodha demat account instead of having to maintain it with IL&FS. All our existing clients who wish to migrate to our demat account will have to sign a new demat form (also available on download section of our website) and send it back to us. You don't need to send us fresh set of documents as we would already have what you had submitted while opening the trading account.
If you already have opened an IL&FS demat account, make sure to also send the ILFS closure letter so that all stock can be moved from ILFS to Zerodha demat with zero cost. The AMC charges for Zerodha Demat of Rs.300 are collected at the end of the financial year on a pro-rata basis and the Demat account opening charges are Rs.100. DP charges are Rs8 +Rs.5.5 = Rs.13.50 which is charged only on the sell side of the transaction
4. Varsity's option theory module  is coming up beautifully. From basics to understanding volatility, normal distribution, option greeks and more.  Click here to check it out.
We will soon have the official launch of Kite, and hopefully Kite mobile will follow soon after. We are also working on a bunch of surprises for all of you before the end of 2015. If you have complaints, ideas, or suggestions don't forget to email me on [email protected]
Do help spread the word!
Happy Trading