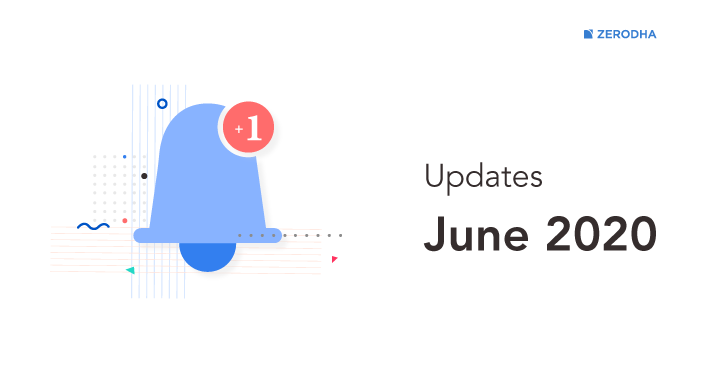 We hope you and your loved ones are staying safe in these tough times. While we have been working from home for over 100 days now, but have been hard at work to improve your experience with us. Here are a few of the latest updates we thought you should be aware of.
1. Mandatory TOTP to trade risky illiquid contracts
Because of an increase in online phishing frauds in India post the lockdown, we've now made it mandatory to have additional security for your account before you trade in any penny stocks or risky options contracts.
2. Margins on the Kite order window
This feature has been a very popular demand from our customers for a long time now — the ability to see the margin required before taking a trade on the order window itself.
3. Stock price on Kite holdings shows exchange with higher close price
Holdings on Kite uses the last traded price (LTP) to show the value of your investment. Until now we showed the LTP on NSE. But we had cases where our customers lost out on money by selling without seeing where the price was higher. This has now changed. We no longer have a "default exchange", but use the exchange with the higher previous close to show you the investment value.
4. Watchlist on Coin mobile
You can now easily track multiple mutual funds that you want to invest in by adding them to your watchlist on the Coin app.
5. Uniform Stamp Duty
As per instructions from the Ministry of Finance, Stamp Duty will be charged uniformly irrespective of the state of residence effective from July 1st, 2020.
6. What does it take to be a profitable trader?
Lessons from over 25 years of trading and interactions with thousands of traders.
7. Introducing Finshots Markets
A weekly newsletter on the markets for all Zerodha customers that will be sent every Saturday. We hope you love this as much as we do. ♥ If you haven't read the older issues, you can find them here.
We hope you enjoy using all these new updates. As always, we will continue to work to make your trading and investing experience with us better.
Stay safe,