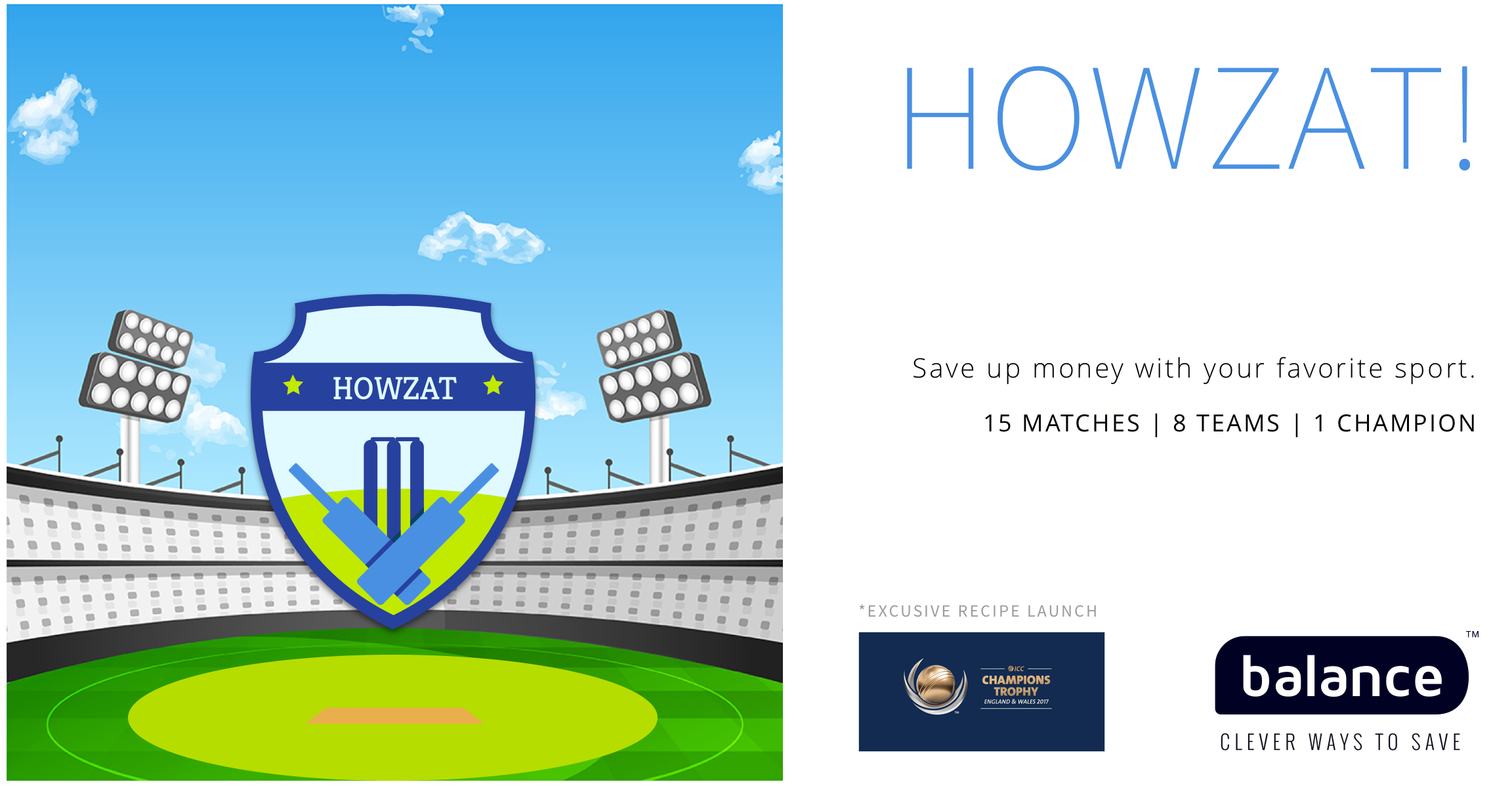 With the ICC Champions Trophy 2017 starting today, Balance is proud to announce a brand new Recipe: Howzat! This recipe allows you to save up money automatically while enjoying cricket, our nation's favourite sport.
"Saving money while watching cricket is like losing weight while eating parathas." – Navjot S. Pidhu
Howzat! lets you pick your favourite cricket team starting with the ICC Champions Trophy 2017. It automatically prompts you to save an amount set by you for every match your team plays and a larger amount every time you team wins. Follow your team's performances with Howzat!
Sounds similar to our Football Fan Recipe?
Very much so! Howzat! adds a new dimension by sending you daily match prompts as well. Correctly predict the winner for the match of the day and save some more!
We've also added a whole range of trophies for you to win and share as well! So select the all new Howzat! Recipe on Balance and introduce a clever way to save in your life, a way that bleeds blue, just like you.
Howzat! has immense saving potential, just like Football Fan- which has helped users transact for more than ₹1.3 Lacs in less than 4 weeks, with an average transaction per user of around ₹2000. With our unique match predictor saves- you can save even more while earning the right to call yourself a true Cricket Guru!
Here's a quick guide to applying the Recipe:
First, update your app if you are an existing user or simply download the latest version on Google Play. Find out more about Balance here.
If it is your first time on Balance, here's what you need to do:
This is what saving through Howzat! looks like:
Predict match wins and save up with Cricket:
Do you think you have a knack for cricket forecasts and wish to try your hand at match predictions? Look no further. Every time there is a big match, starting with the ICC Champions trophy 2017, Howzat! will send you a notification to predict a winner. Get into the spirit of the game, while saving money when you make correct predictions. Who said saving up money is not exciting? Make predictions on Howzat!
So what are you waiting for? Apply Howzat! today and have some fun while automating your saves with Cricket.
Note: With overwhelming response and queries regarding iOS we are launching soon for Apple users as well. : )