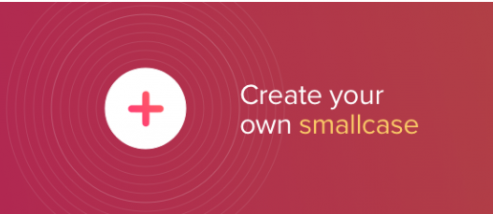 Traders,
Portfolio investing is probably the best way to invest in the stock markets since you are taking a diversified approach to investing in stocks (more here).
However, investing in portfolios is a cumbersome process, involving at least 3 different portals and 100+ clicks for each of the four steps involved.
Discover/Create – finding portfolio-related research or creating your own portfolio happens on different platforms – your broker research, advisory, screeners.
Buy – to buy a portfolio of 20 stocks, it takes you over 100 clicks/20 minutes to buy each stock.
Track – since brokerage interfaces do not support multiple portfolio tracking, you have to export your portfolios onto spreadsheets or portfolio tracking apps & tools to see how they're performing.
Manage – investing more in a specific portfolio, or rebalancing/exiting the portfolio takes another 120+ clicks on your broker interface.
With smallcase now – you have access to 60+ readymade portfolios (or smallcases) – each of them tied to a market theme, trending idea or an investing strategy helping you take an informed decision about where your money is going. At the same time, this is seamlessly integrated with your broker – so you can buy & manage portfolios in 2-clicks. Get started instantly by logging in here.
This week, we also launched the 'Create your smallcase' feature; to help you build your own portfolios and invest in them easily.
In 3 steps, you can create your smallcase and invest in it immediately.
1. Select your stocks & organise them by segments
A smallcase is a weighted list of up to 20 stocks.
Get started with adding a stock, and use the similar stocks widget to see more stocks in the same sector.
Once you have added all your required stocks, use 'segments' to organise and categorise them as shown.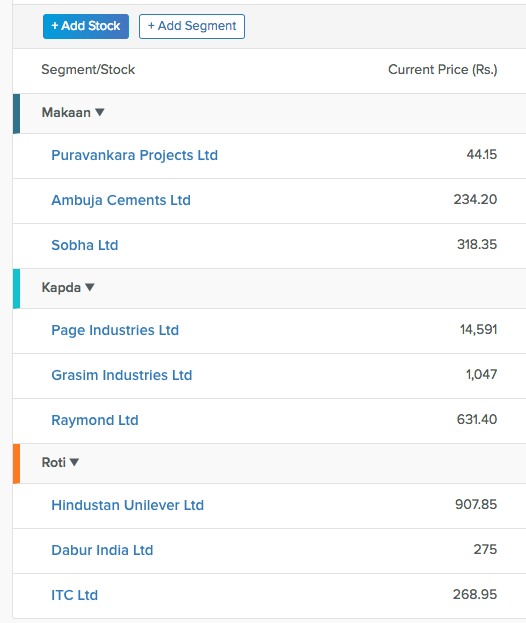 2. Assign a weighting scheme for these stocks, or weight them individually
You can pick between an Equi-weighted or Market Cap-weighted scheme to weight your smallcase (more on weighting a portfolio here).
Else, you can assign individual weights to your stocks or even choose the number of shares for each stock.
While assigning weights, you can see the final weights/shares for that stock along with the minimum investment amount for this smallcase.

This minimum amount ensures you're buying the stocks with the weights you have allocated.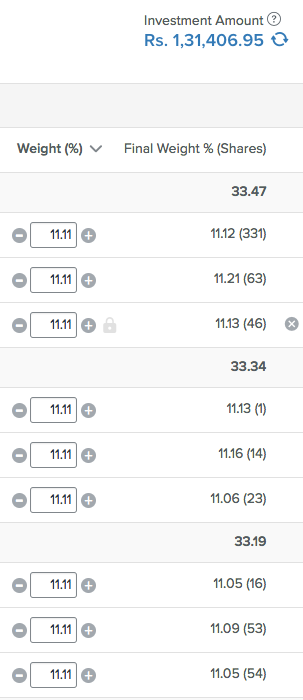 3. See the past performance of your created smallcase & buy it instantly
While adding your stocks, and assigning weights – you can see how the smallcase would have performed in the last 1 year with respect to the general market (Nifty).
Once you are happy with the stocks, weights – you can add details for your smallcase – image, name, overview and buy it immediately.
Or you can also save your smallcase for later, track it on your Drafts page and buy it whenever you feel like.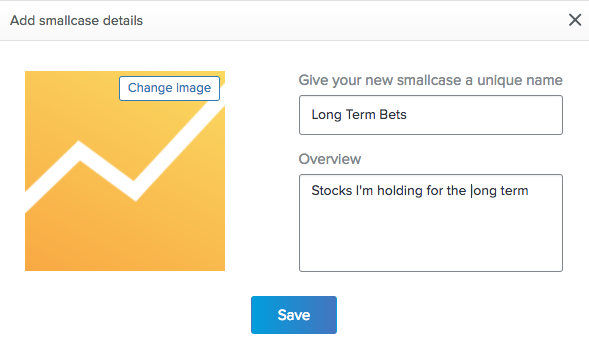 Customise an existing smallcase
You can also use an existing smallcase to start with, and customise the stocks (add or remove stocks), change weights and then buy. When you do this, you will not receive any updates made to the original version of the smallcase though – so only customise a smallcase if you know what you're doing.
You can customise a smallcase from the Stocks & Weights tab of that smallcase page.

With this feature, it's now easy to create, buy, track & manage multiple portfolios for different use-cases you may have, for example
Long Term Holdings
Bets for this month
Dad's Portfolio, Kids' education
Replicate a portfolio from your advisor
Buying a portfolio of stocks mentioned in a news article etc.
The fees for buying a customised/created smallcase are the same at a flat Rs. 100 (or 2.5% of the investment amount, whichever is lesser) for each smallcase. No additional charges from our end when you invest more, add/remove stocks or exit your smallcase.
Note
You can only add NSE stocks to create/customise your smallcase.
Your smallcase will be private and will be visible only to you.
We're adding more options to help you create your smallcase better & easier – better way to select your stocks, easier weighting options and more. Tune into a webinar to learn more about creating your smallcase here. Do let us know how we could improve this experience for you, by commenting below.
Happy investing!