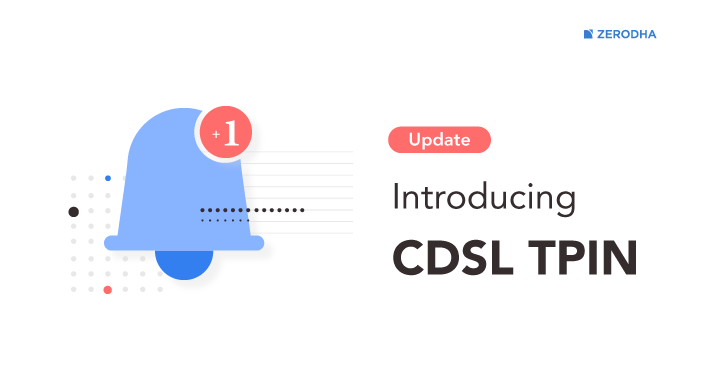 Update your Kite mobile app to the latest version to access this new flow.
Background
When you open an account with us, you are opening a trading account which allows you to buy and sell shares on the stock exchanges (NSE, BSE), and a demat account with a depository (CDSL in our case) where you hold the stocks you own in electronic form. Exchanges and depositories work completely independently. So when you buy shares, we receive the shares on your behalf from the exchanges which are then transferred to your demat account at CDSL. Similarly, when you sell shares, we debit it from your demat account and give it to the exchange. To debit shares from your demat account when you sell on the exchange, brokerage firms have until now taken a POA (power of attorney) over the demat account. This was the only way to allow for seamless online trading. Otherwise, customers would need to transfer shares using a physical DIS slip (sort of a cheque for your demat account) to the broker before placing a sell order.
Demat accounts are very similar to a bank account — anyone can transfer money into your bank account, but to take money out of your bank, either you have to transfer it yourself using a cheque, online transfer or give a POA on your bank account to the other person.
The issue with POA is that signing a document called POA is not only intimidating but also that a POA cannot be signed digitally as per the IT Act. So this means that while the account opening is now completely online thanks to e-Sign using AADHAAR, customers had to physically sign a POA and send it to the broker before being able to sell any stock — a huge drop in user experience.
e-DIS
CDSL, which is currently the largest depository in the country, introduced e-DIS (Electronic delivery instruction slip) to get over the POA issues. We at Zerodha went live with e-DIS in Nov 2019. So instead of asking for a POA or transferring stocks using physical DIS slips before placing a sell order, our customers could now enter the Kite PIN authorising us to debit shares from the demat account before placing a CNC sell order for their stocks. All new accounts opened with us from last November are using e-DIS for selling shares.
There was a small issue in this method; the PIN entered was on the broker's trading platform and CDSL didn't have any way to validate if the brokerage firm was allowing sell transactions (debiting demat account) only after the right PIN was entered. In the case of POA or physical DIS, CDSL has an explicit signed instruction from the client, but not in the case of e-DIS. So they have made a change in their e-DIS process and will be applicable from June 1, 2020, for all our customers who have opened an account without giving us POA. You'll now have to use the CDSL TPIN instead of your Kite PIN and authorize them to be sold at CDSL before placing a selling order on Kite.
This process isn't applicable for our customers who have submitted the POA (accounts opened before Nov 2019). We will soon allow these customers to revoke the POA and shift to this new e-DIS process. All the new customers who want to use the POA method can download the POA here, print, sign, and courier it to our office.
Generating the CDSL TPIN
You would have received the CDSL TPIN to your registered mobile and email address (from [email protected]) with CDSL. If you haven't received it, you can click here to generate it. Make sure to confirm that the correct email address and mobile are updated at CDSL by checking your profile on Console. Do remember this TPIN, as it would be required to authorise the sale of stocks with CDSL before you can place an order for them on Kite.
Preauthorization process
When you place a sell CNC order, you'd see the below screen going forward.
Once you click on "Continue", you'll be taken to the screen shown below.
If you don't know the TPIN, you can generate it here on this screen by clicking on "Forgot CDSL TPIN". This will generate a new CDSL TPIN which will be sent to your registered email address and mobile number by CDSL. You can also change this to a TPIN of your choice on the confirmation screen shown below.
Click on "manage authorisations" on the "Authorise sell transaction" screen to select stocks that you wish to authorise for selling. It is best to have all your stock holdings authorised to sell, so you don't have to do this process multiple times. This authorisation is valid for a maximum of 90 days, after which you will have to go through this authorisation process once again.
Clicking on "Continue to CDSL" opens the below CDSL page with a list of all the stocks that you have selected to be authorised. Enter your CDSL TPIN to verify and validate.
On successful authorisation, you will get the below confirmation message.
Now you can place the sell order on Kite. You would not need to go through this authorisation process once again unless you purchase more stocks that you intend to sell.
You can also authorise the sale of your stocks by clicking on "Authorisation" on the holdings page on Kite during off-market hours as shown in the screenshot below.
Note: There can be instances where the CDSL TPIN service is down. In order to prevent the risk of not being able to sell a stock in such instances, you can courier the physical PoA for your account to us.