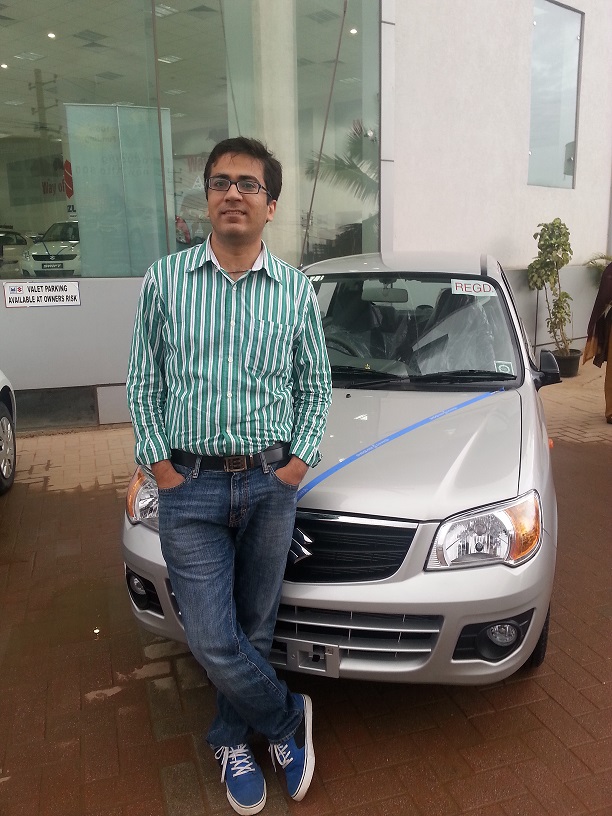 Traders,
Find following interaction with Pawan, a software engineer from Bangalore who has made over 400% on his trading capital with consistent profitable trades during the 60-day challenge.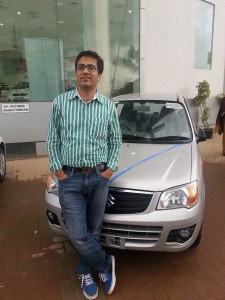 Education: B.Tech (Computer Science)
Profession: Software Engineer
Hobbies: Teaching Quants to students preparing for CAT and playing badminton.
Following is the interaction on July 19, 2013.
You don't seem to come from a capital market background, how did you get into trading markets?
When I joined a software company, I had a lot of my colleagues who were already trading the markets who introduced me to it. The interest developed, and when I was abroad on work for 1.5 years I spent time researching and developed my trading skills.
What type of a trader are you?
I trade both intraday and positional. Intraday trading is usually via options and positional trades using futures, but most of my trades are positional futures. I never keep my option positions open for the next day, they are always squared off intraday.
What do you trade on?
I prefer trading only on Nifty futures and options. Nifty options for intraday and futures for positional trades.
What is your bet size? How much % of the capital do you bet every time you trade?
Usually my bets are never more than 25% of my trading capital.
As Nithin's favourite quote says, "If you don't bet, you can't win. If you lose all your chips, you can't bet." So you have to make sure that you won't blow your account in a single trade. You have to make sure that you should be in this game for a longer period rather than coming and vanishing in weeks and then cribbing that trading is gambling.
What do you follow, Technical Analysis, Fundamental Analysis or anything else?
I rely completely on Technical Analysis.
You have made a fantabulous return on your capital, up 400% in 60 trading days! Anything that you can share with fellow traders?
Every trader has a different style, but I believe that the bigger the time frame on which you trade, the better it is for your health and ledger. To filter all the short term noise, I use the hourly charts.
I am a trend follower and I don't keep a target for profits. When I get into the trade I define the stop loss to know the risk of the trade. The stops keep getting pushed higher when market goes in my favor and if you look at most of my trades I never put target orders to exit, usually the market stops me out.
Let's take a hypothetical situation – I have a long position and want to book Nifty longs at 5940 level. Nifty is currently trading at around 5920. Now there are two scenarios: either it will take a U-turn before touching the 5940 level or it will go past 20-30 points 5940. In both the cases I will repent – In the first case, "Why was I so greedy? I should have sold it at a lesser price." In the second case, "Why did I sell it at 5940? I should have held onto my temptation to book a profit." I will only feel good when I sell at 5940 and Nifty takes a U-turn right after that point. At that time I will feel on top of the world. But how many times can it happen? The answer is – very rarely.
Until and unless we take out this feeling of regret (should have done that, would have done that) out of trading, it's very difficult to be successful. In the month of April I had made more than 600-700 points because Nifty zoomed up from 5500 to 6200 Levels, and it went up without giving any major pullbacks. So if I would have booked just because I want 40-50 points per trade, I wouldn't have made that much money. It's not that I was not stopped out in between. I was stopped out, but my system is a trend following system and it gave me re-entries again. So my one advice to traders – Trend following is the best way to sustain in market.
Any advice for others?
1. Try to make a continuous trading system, which means you will be either long or short at any time in the market. You won't feel left out if there is any major move on either side, but because you are following the trend, you will most likely be with the move. Make sure to have the stops to ensure that the loss is minimal if it goes against you. Such systems can go wrong in range bound markets, so be careful while designing the system.
2. Don't overtrade. I believe this is the biggest mistake made especially by beginner/novice traders. Because markets don't move in a linear fashion, traders mistake a small retracement for a trend change. With every such small illusive move, traders tend to change their stand and convert short to long and vice versa very frequently and overtrade.
How do we avoid overtrading? Start working on larger time frames, move to hourly charts rather than minute charts, you will get lesser signals, wider stops and will remove all small intermittent noise.
Future Plans?
Trading full time.
———————————
We thank Pawan for sharing insights and wish him all the best for his future endeavours.
Happy Learning,
Do check out the other Winners